Kate Middleton and Meghan Markle Have 'Vastly Different' Parenting Styles Claims Royal Expert
Kate Middleton and Meghan Markle have a lot in common, but when it comes to parenting, their styles are 'vastly different.'
Meghan Markle has a completely different approach to parenting than Kate Middleton. Unlike her royal counterpart, Meghan, Duchess of Sussex, has largely kept her son, Archie Harrison, out of the spotlight and wants him to live as normal a life as possible. Kate, Duchess of Cambridge, on the other hand, has largely raised her three children, Prince George, Princess Charlotte, and Prince Louis, in the public eye. While Meghan has received a lot of criticism over her parenting style, royal experts have officially weighed in on which approach is best.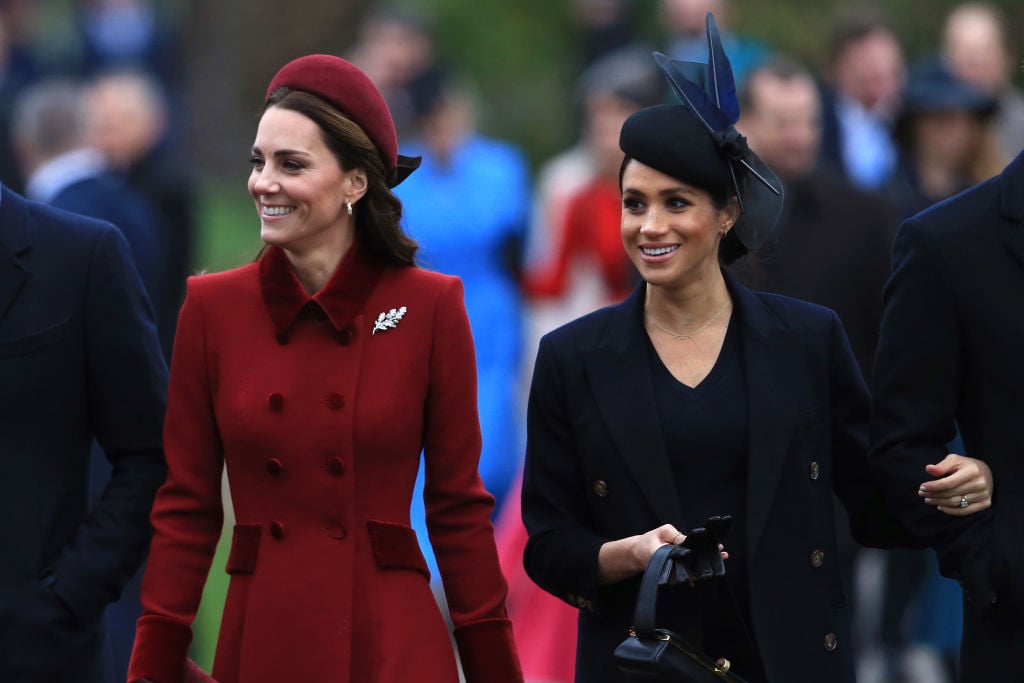 Meghan protects Archie at all costs
No matter how much they stay out of public view, it is almost impossible for members of the royal family to have private lives. But that did not stop Meghan and Prince Harry from trying to protect Archie from prying eyes.
Ever since his birth in the spring of 2019, Meghan has kept Archie out of the royal spotlight. Not only did she forgo the traditional photo op at the hospital following his birth, but she also kept his christening a private event.
Now that Meghan Markle and Prince Harry are no longer members of the royal family, royal experts believe that Meghan's parenting style will be even more noticeable, especially when it comes to keeping Archie out of the public spotlight.
"Now that Harry and Meghan have chosen to shun Royal life, this differing [parenting] style becomes clear," royal expert Martina Mercer shared. "Meghan and Harry have forgone royal expectations while creating a bubble around their little family, putting the welfare of Archie center stage."
Because of her need to protect Archie, Meghan failed to follow royal traditions and did not give the media any access to Archie. Instead, she has only released photos of her son on Instagram, and all of the images are thoroughly vetted before they are posted.
Kate Middleton takes a different approach
While Meghan has kept tight control over Archie, Kate has gone in a completely different direction. With her oldest son set to sit on the throne someday, the Duchess of Cambridge has not been shy about embracing royal traditions.
"Kate, meanwhile, has understood her responsibilities from the outset, while choosing to follow royal tradition," Mercer explained. "She has ticked every box, from the photoshoot after the birth to the annual photos of the children, while making the most of royal privileges, such as the army of staff that are on hand to help in raising the children."
Although Kate Middleton has taken a different approach to parenting, Mercer emphasized that neither method is inherently wrong. The only negative consequence of Meghan's approach is that she has been criticized more in the press.
While the negative press will likely continue, Meghan Markle doesn't have to worry about it as much now that she is no longer a part of the royal family. She and Harry stepped down at the beginning of January and are expected to make their exit official this spring.
Living in North America will definitely isolate Meghan and Harry from British tabloids, which is honestly a good thing for the young family.
Why are Kate Middleton and Meghan Markle's parenting styles so different?
According to Express, the royal line of succession is one reason why Kate and Meghan's parenting styles are so different. Kate has always known that George will be the King of the United Kingdom someday, so keeping him out of the spotlight would do him more harm than good.
Kate Middleton and her husband, Prince William, love all three of their children, but they also understand the importance of preparing them for public life. While it is sad, the Duke and Duchess of Cambridge know that keeping their kids isolated from the media is not the right way to go.
"Kate and William obviously adore their children yet they also understand the huge responsibility that comes with being a Royal Family and Kate's style of parenting ensures their children embrace the royal way of life from the outset while ensuring the children carry on tradition and grow to be respected royals in the public eye," Mercer stated.
Meghan and Harry, however, do not have the same expectations. Harry is currently sixth in line to the throne and will likely never inherit the crown. In fact, the couple did not even bother to give Archie a royal title when he was born, which shows how much they wanted to keep him out of the spotlight.
Experts weigh in on parenting in the royal family
In light of the differences between Kate Middleton and Meghan Markle, a few parenting experts weighed in on the matter and offered their thoughts on which style is better.
At the end of the day, the experts agreed that having a child who is destined to be in the spotlight is not easy. With that in mind, they did not blame Meghan for wanting to protect Archie, but at the same time, they praised Kate for handling the situation like a pro.
"Having to parent in the public eye would be every mum's nightmare, however, the Duchess of Cambridge does it was such grace and serenity I have to say I'm a little jealous," expert Angela Spencer shared. "It's lovely to see her acting so naturally with her children and that they are obviously allowed to let their individuality be part of their public life too."
Kate Middleton and Meghan Markle, of course, have not commented on the reports surrounding their differing parenting styles, both of which clearly have their merits.