Kate Middleton and Camilla Parker Bowles Have 1 Surprising Commonality Behind Their Successes as Royals
Kate Middleton and Camilla Parker Bowles both joined the royal family as commoners. Over the years, they have proven themselves to be very adept at their royal roles.
Both Kate Middleton and Camilla Parker Bowles are commoners who married into the royal family. Camilla became a royal in 2005 after she married Prince Charles. Kate followed in her footsteps six years later when she married Prince William.
According to many royal experts, Kate and Camilla have adjusted to their royal roles rather well and become more popular with the public year after year. One author pointed out that both women share a commonality behind their successes as royals.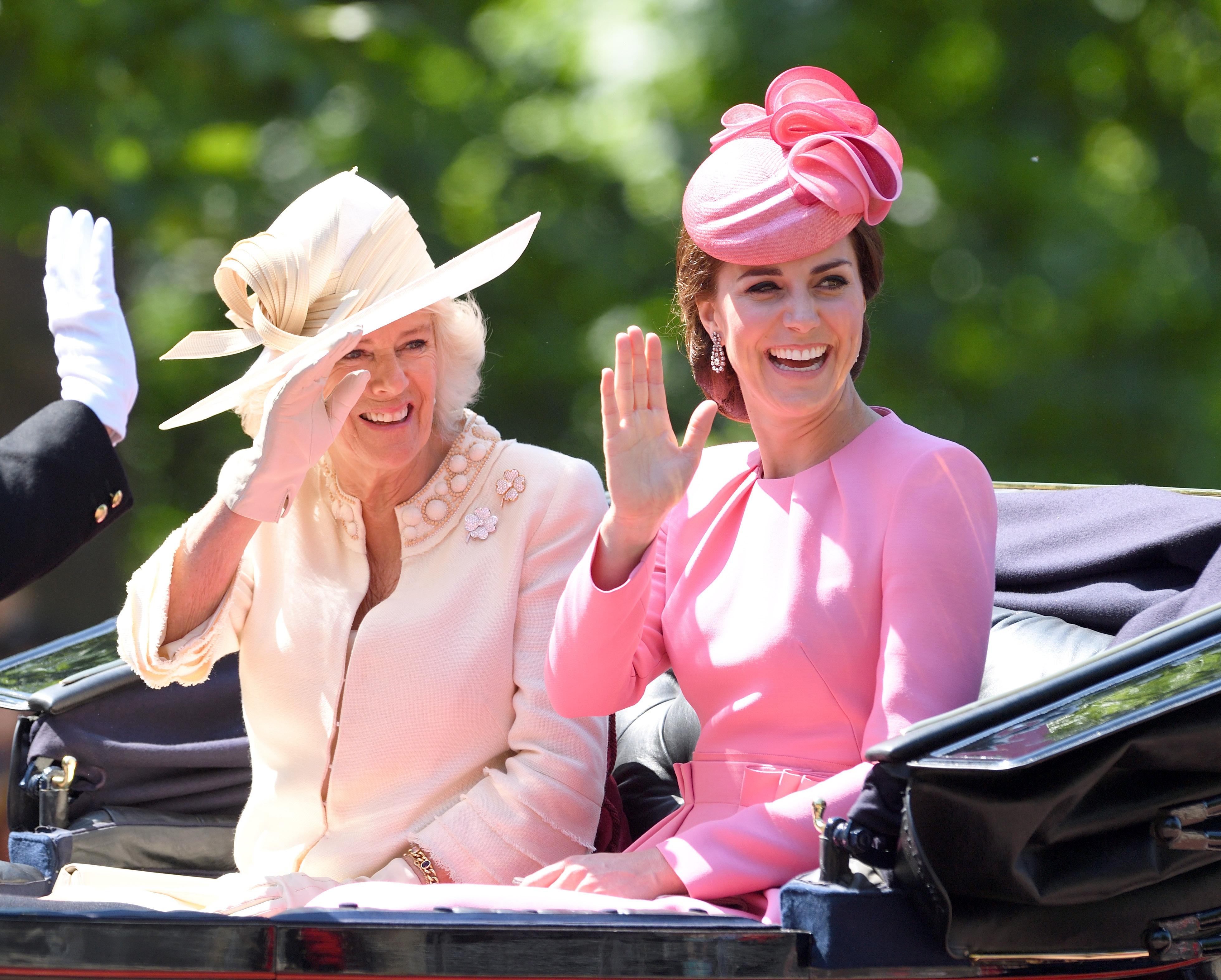 Kate Middleton and Camilla Parker Bowles have been thriving as royals
Kate joined the royal family in 2011 after almost 10 years in the limelight as William's girlfriend. She initially received some negative press coverage due to her commoner background and her lack of career before being a royal, but Kate has since proven herself to be a valuable asset to the royal family. In the past several years, she has done a lot of work to promote causes such as mental health and child development. According to YouGov, Kate is the fourth most popular royal.
Camilla's road into the royal family was filled with more scandals than Kate's. She initially rose to fame as Charles' mistress in the 1980s and 1990s when he was married to Princess Diana. After Charles and Diana divorced, he and Camilla continued their relationship. Camilla was widely disliked when she married Charles in 2005, but she has since proven herself to be a suitable partner for a royal heir. She has managed to stay out of scandals and focused on her work in helping women and children. She is currently the eighth most popular royal. 
Author suggests 1 commonality between both women that helps their successes
Kate and Camilla are examples of people who have successfully used their royal platform to make a difference. They have also helped the monarchy's image by not attracting scandals and negative PR.
According to royal author Tina Brown, Kate and Camilla are able to succeed in their royal roles because they both have supportive families.
"Camilla had the Shand family, who, you pointed out, you know, the major comes out and says our family says, you know, keep your trap shut," Brown told The Washington Post, referring to Camilla's father, Bruce Shand. "That was the philosophy of the Shands–incredibly supportive, loyal, warm, wrapped Camilla in the family blanket."
Brown continued, "Same thing with the Middletons. You know, they forged this guard around her, particularly Carole Middleton, wonderful strategist, the Kris Jenner of Bucklebury–you know, we're absolutely focused on her children and making them successful. And you know, it worked. I mean, she was a kind of wonderful home counties tiger mom, and she's absolutely kept–you know, her children have all done extraordinarily well. So you have that with Kate. So they were hugely important."
Kate Middleton's family also became important to Prince William
According to Brown and other royal experts, William has also benefited from the Middletons' middle-class lifestyle and relative stability.
"I mean, in some ways you can imagine–you know, you hadn't got a mother, and his father has this incredibly sort of grand and sort of old-fashioned lifestyle. You know, whenever he has a dinner party, you have sort of Catherine the Great china, and you know, 15 plates and knives and forks," Brown explained. "Whereas the Middletons were just, you know, the equivalent of a pipe and slippers. You know, they'd like watching TV. They play tennis in the garden. So, in a sense the Middletons became his adopted family, too."
Author Andrew Morton also said in the documentary William and Kate: Into the Future, according to Express, "For a kid from a broken home which is after all what William is, he has always yearned towards the stable and towards the steady. It's not just Kate he's in love with – it's the family."