Kate Middleton Defies Royal Protocol Again, Despite Warnings From Queen Elizabeth
When you are a member of the royal family, there are a lot of rules and expectations. And, when you are the future Queen Consort, following protocol isn't supposed to be an option. However, Kate Middleton continues to do things her way, despite warnings from Queen Elizabeth.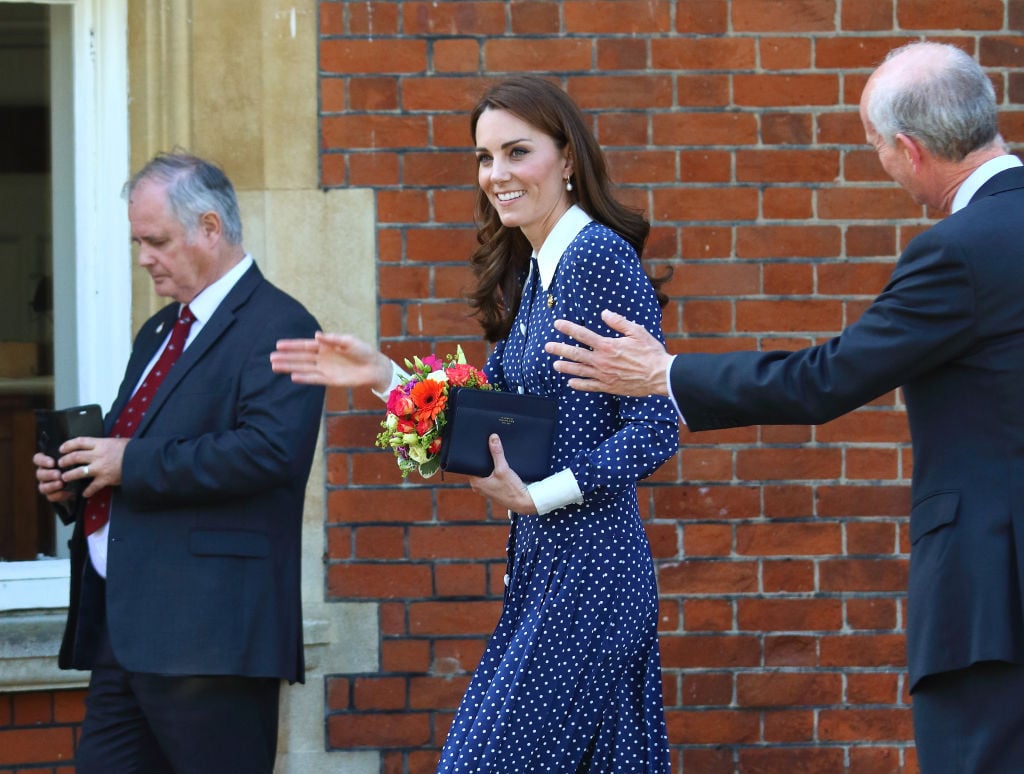 An extra set of rules
During her recent visit to Bletchley Park, the Duchess of Cambridge wore a dress that exposed her legs even though she has allegedly received notes from the Queen about the length of her skirts.
According to The Express, Middleton wore a $2,200 polka-dot dress from designer Alessandra Rich that featured sheer fabric and a long slit in the front. Between the wind blowing up the skirt, and the bright sunshine making the fabric appear see-through, Middleton's fashion choice didn't follow the Queen's rules.
The rule-breaking didn't stop there, though, because Kate Middleton apparently ditched her tights, which is the "only steadfast rule in terms of what the Queen requires," says royal expert Victoria Arbiter.
"You never see a royal without their nude stockings," says Arbiter.
While Meghan Markle can get away with ditching her pantyhose, the rules are very different for Middleton because she is the future Queen Consort and the mother of the future King.
"Kate Middleton has a whole other set of rules and restrictions because she's going to be Queen," says celebrity journalist Ashley Pearson. "She and Meghan are not on the same page. Kate Middleton has to wear her skirts at a certain length. The Queen is regularly, allegedly, giving notes if she doesn't like a certain hem or a certain outfit on Kate, or certain color tights."
Before her 2014 trip to Australia, the Queen allegedly gave Kate Middleton a royal makeover and advised her to cut several inches from her long hair so she would have a more "sensible" style.
Meghan Markle's maternity style was sometimes controversial
Even though the Queen doesn't always approve, Middleton has developed a signature look over the years that is all about class and sophistication. In contrast, Meghan Markle has been a bit more of a rebel, and some of her maternity looks were a little controversial.
Instead of sticking with the rules and going for a traditional look, Markle changed things up because she didn't want to look "frumpy." Her rebellious sense of style reportedly cost more than $600,000, and the "Meghan maternity effect" led to her outfits selling out in stores within 24 hours of wearing them.
The rules also apply for dressing casually
The dress code in the royal family isn't just for formal events and official appearances, it also applies to casual wear. Traditionally, the women in the family are supposed to wear a day dress or a cardigan and trousers, while the men are supposed to wear a collared-shirt with khakis and a blazer.
However, Prince William and Kate Middleton have been known to ignore the traditional rules of casual wear and wear jeans.
The rules don't apply to Meghan Markle
The Duchess of Sussex has not only ditched the rules for her wardrobe, but she is also doing things her own way when it comes to being a mom. She and Prince Harry decided to avoid the steps of the Lindo Wing at St. Mary's Hospital – that Kate Middleton helped make famous – when she gave birth to baby Archie Harrison, and instead, they went with a private photocall in Windsor two days after his birth.
At the Hollywood Reporter's Empowerment in Entertainment Gala, Oprah Winfrey praised Markle for taking control and standing up for herself.
"Oh my God. I'm so proud of her decisions. To be able to stand up and say this is what I really want for my baby and my family and now I'm going to do it a different way when it's been done that way for a thousand years? I'm just so proud of her," said Winfrey.
The daytime talk legend added that Meghan has received unfair treatment from the press, saying that if people really knew the Duchess, they would know she has a giving, loving heart.