Kate Middleton Gave Prince William Ultimatum During Their Breakup: She Didn't Want to Be 'Treated Like a Doormat,' Source Claims
Prince William and Catherine, Duchess of Cambridge's relationship started back in their university days and, while they are happily married with three children now, there was a bit of a rocky patch when they broke up. According to one royal expert, Kate gave William an ultimatum during their breakup because she didn't want to be "treated like a doormat."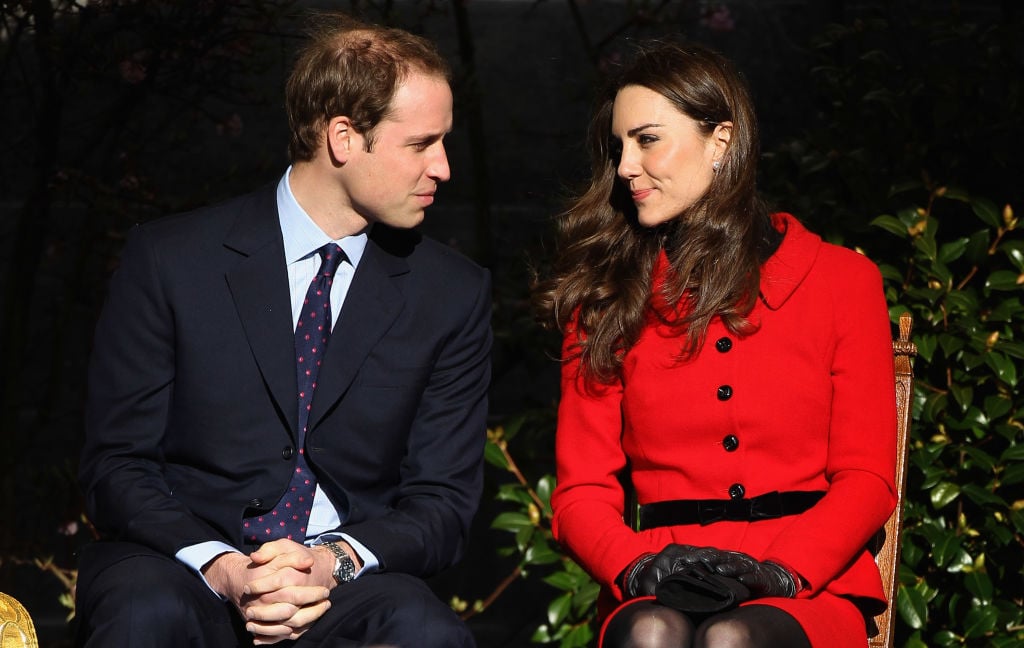 Prince William and Kate started dating during college
Prince William and Kate met during their time at the University of St. Andrews, with the now duchess catching William's attention at a 2002 fashion show. They dated under the radar beginning in 2003 for some time until it became public when they were seen skiing together.
The couple broke up in 2007 for a brief time before rekindling their relationship later that year. Prince William had reportedly felt "claustrophobic" in their relationship.
Prince William reportedly upset Kate with his behavior
During their split, Prince William reportedly was out and about in bars and enjoying the single life, with reports claiming that he told friends "I'm free!" after he and Kate broke up.
According to one royal expert, Kate didn't like the way Prince William was behaving during their breakup, believing it was "cheapening" her image by association.
A 2007 article in the Daily Mail, written by expert Katie Nicholl, claimed that Kate was "humiliated" with the way Prince William was behaving after their breakup and she issued him a warning.
Kate gave Prince William an ultimatum
A friend of Kate's was quoted in the report as having inside information about Kate's unhappiness with William's behavior at the time. "When Kate Middleton issued Prince William with an ultimatum just weeks ago, it was the first such warning she had dished out over the course of their four-and-a-half-year relationship," Nicholl wrote. "It came after she had been humiliated by pictures splashed across every newspaper of William dancing on a podium in Bournemouth, intoxicated and groping a pretty Brazilian."
In her report, Nicholl noted the first-hand account of one of Kate's friends. "Kate told William that he was making her look bad. She has coped for years with girls flinging themselves at her boyfriend and for a while she found it humorous and even flattering," the friend shared.
The way he was behaving didn't sit well with Kate, as the friend spilled, "she gave him an ultimatum and told him that every time he behaved like that in public he was cheapening her image as well as his own."
"She told him she wasn't prepared to be treated like a doormat and that his carefree behavior was affecting her image," the insider added. "She gave him quite a pasting. In the past she had always let go of things like that, but this really bothered her."
They later addressed the breakup
Though it's unclear if Kate issued an ultimatum or not, the couple did reconcile and, during an interview with UK Press Association they gave after they were engaged in 2010, they reflected on the time of their split.
"Well I think, to be honest, I wouldn't believe everything you read in the paper but in that particular instance we did split up for a bit. We were both very young," Prince William said. "It was at university, we were sort of both finding ourselves as such and being different characters… it was very much trying to find our own way and we were growing up."
He added, "It was just a sort of a bit of space and a bit of things like that, and it worked out for the better."
Kate admitted that it was a difficult break but she came out of it "a stronger person" afterwards. "I think at the time I wasn't very happy about it, but actually it made me a stronger person," she explained. "You find out things about yourself that maybe you hadn't realized, or I think you can get quite consumed by a relationship when you are younger. And I really valued that time for me as well although I didn't think it at the time, looking back on it."