Kate Middleton's Iconic Wedding Dress Was Once at the Center of a Lawsuit Over Its Design
Kate Middleton married Prince William in 2011, and the royal wedding was televised to millions around the globe. The Duchess of Cambridge had a show-stopping dress designed by Alexander McQueen's creative director, Sarah Burton. However, soon after William and Kate's wedding, Alexander McQueen was sued for allegedly stealing some of the designs.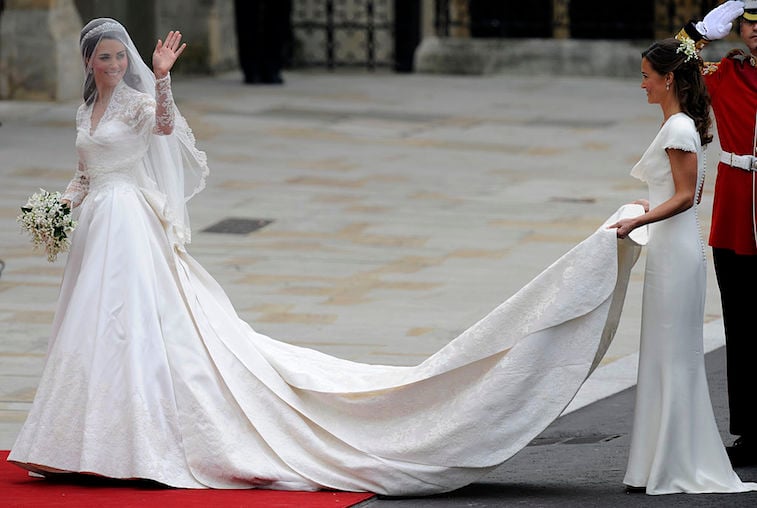 Kate Middleton earned the nickname 'Waity Katie' while dating Prince William
William and Kate dated for 10 years before they were officially married. Though the couple moved at their own pace, the press had a field day with the idea that William was dragging his feet. The two had broken up twice in their decade-long relationship before they finally walked down the aisle. They split for a few months in 2007, but once they were back together, people started to wonder when William would propose.
It took the prince another three years to pop the question, during which time Kate earned the nickname "Waity Katie" for waiting around so long for her future husband. Rumor has it, though, that Queen Elizabeth was concerned about Kate's work ethic, which had William waiting so long to get down on one knee.
Kate Middleton wore a $400,000 wedding dress on her big day
Nothing about the couple's massive wedding was done lightly. Kate's wedding dress, a custom gown designed by Sarah Burton, cost a whopping $400,000 — and not a cent was paid for by the royals. Kate's parents, who own an online party supplies company (that saw plenty more business once Kate started dating the prince), footed the entire bill.
The gown was Victorian-inspired and had a train that was nine feet long. The dress featured plenty of lace, all of which was done by hand, and was later put on display at Buckingham Palace.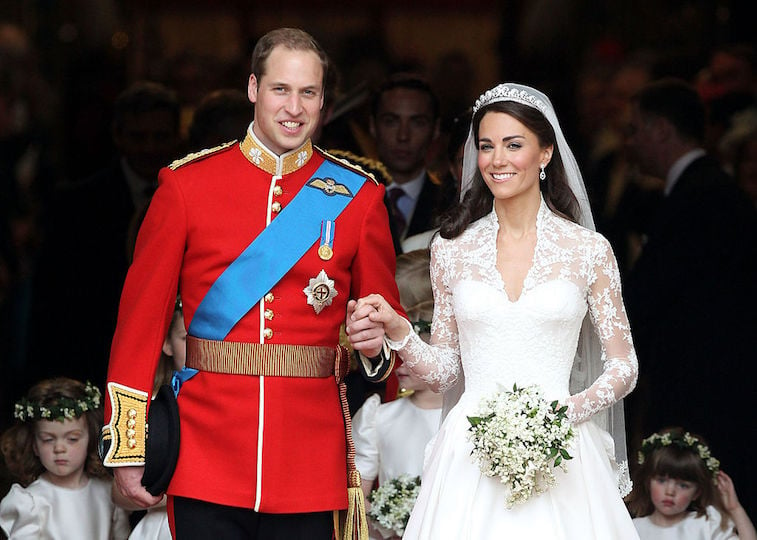 Alexander McQueen was sued for allegedly stealing the designs
Kate's iconic dress was part of Alexander McQueen, and when one British designer claimed that her sketches were copied, she filed a lawsuit in 2016 with the fashion house. Christine Kendall, a British wedding dress designer, claimed that Sarah Burton copied ideas from her sketches and used them as her own on Kate's wedding dress. Kendall sued the fashion label for breach of copyright.
Alexander McQueen released a statement about the accusations, claiming that Burton never saw Kendall's designs nor knew who she was before Kendall reached out. Alexander McQueen called the claims "ridiculous." It's unclear how the lawsuit ended.
The duchess reportedly had two backup dresses, which is common among royals
Kate wasn't taking any chances with her dress design being leaked. The duchess reportedly had two more wedding dresses designed as backups in case her first wedding dress became public prior to her wedding. This is common among the royals — Princess Diana also had a backup dress made for the same reason.
Nobody wants the public to see their dress before the wedding, so it makes sense that Kate wouldn't take the risk. Of course, everything worked out, and Kate was able to walk down the aisle in the original design.