Kate Middleton Is More Popular In Canada Than Meghan Markle
Meghan Markle is poised to start a new life in Canada, yet Kate Middleton still trumps her in popularity. In a new poll, Canadians voted Kate, Duchess of Cambridge, as more popular than the Duchess of Sussex, who is relocating to North America with Prince Harry. The poll comes weeks before the couple's exit from the royal family becomes official.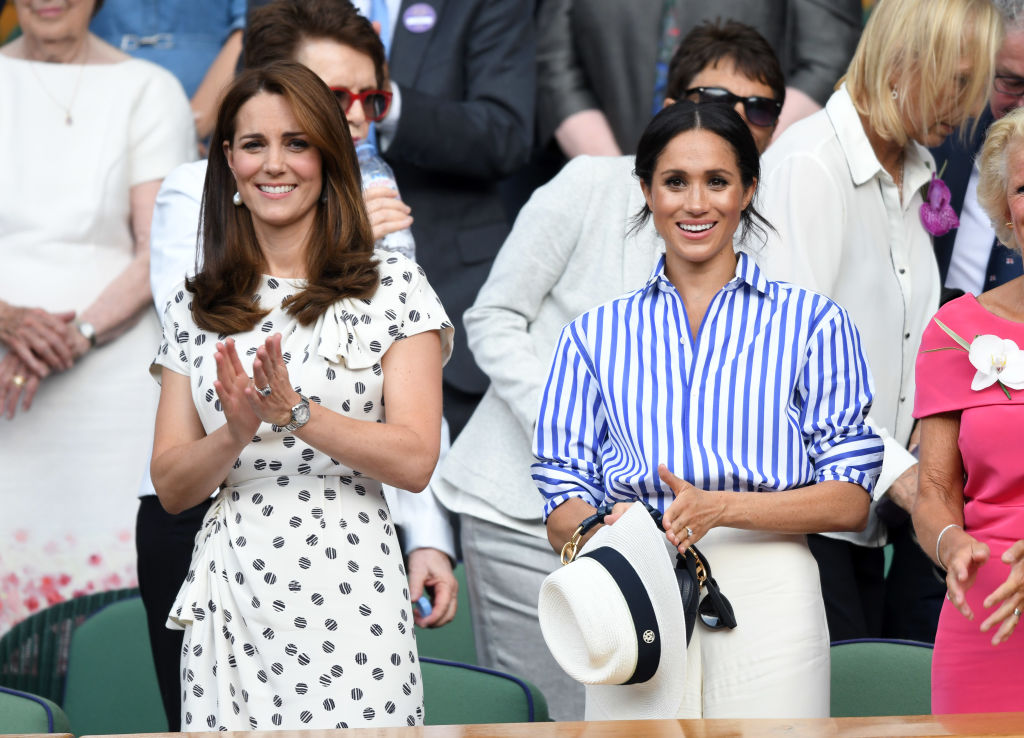 How do Canadians feel about the monarchy post Megxit?
The new poll was created by Research Co and asked residents in Canada about how they feel about certain members of the royal family.
Aside from the popularity numbers, Canadians were asked who they thought should be the next head of the monarchy. According to Express, around 25 percent chose Prince Charles, who is first in line to the throne, while 35 percent picked Prince William, who is second in line.
Another interesting stat from the poll is how people felt about the future of the monarchy. Following all the drama the royals have faced over the past few months, including Megxit, more and more individuals feel as though the monarchy should end.
"The proportion of Canadians who simply do not care when asked about the monarchy increased by nine points in a year," one of the pollsters concluded.
The poll comes following Meghan, Duchess of Sussex, and Harry's final appearance as active members of the royal family. The couple joined other senior members of the monarchy, including Prince William and Kate, for the Commonwealth Day service at Westminster Abbey.
Kate Middleton is more popular than Meghan Markle in Canada
When it comes to popularity, the poll revealed that Meghan has suffered a mild drop compared to last year's numbers. On the whole, Meghan's popularity was at 56 percent, which is four points below what she got in 2019.
Kate Middleton, on the other hand, was at 64 percent, a good 12 percentage points ahead of her royal counterpart. Kate has enjoyed a boost in popularity over the past decade, though it is surprising that she is more popular than Meghan in Canada, where the former Suits star used to live.
For reference, Meghan was not the only member of the royal family who received a dip in popularity in the new poll. Queen Elizabeth also decreased in popularity by two points, while Harry had dropped down to the same as Kate at 64 percent.
While Meghan is not as popular as Kate in Canada, there is one place where she comes out ahead of the Duchess of Cambridge.
Meghan Markle has more Instagram followers than Kate Middleton
As far as social media is concerned, Meghan has more followers and gets more interactions on Instagram than Kate.
Meghan and Harry got over 15 million likes per their top 10 posts on Instagram, while Kate and Prince William struggled to get 6 million likes in their most popular posts.
Although Meghan and Harry's Instagram briefly surpassed Kate Middleton and William's account, they are both sitting at 1.3 million followers. But what makes the Sussexes Instagram page impressive is the amount of time it took for them to hit one million followers.
According to International Business Times, the couple made Instagram history by becoming the fastest account to reach one million followers.
"From the outset, @SussexRoyal was runaway popular. It set a Guinness world record for reaching 1 million faster than any account in Instagram history — in 5 hours and 45 minutes," royal expert Caity Weaver shared.
That said, it is unclear what will happen to the couple's Instagram account once their exit from the royal family becomes official. After March 31, the two will no longer use their royal titles, which means they will stop using their main brand, Sussex Royal.
Kate Middleton and Meghan Markle reunite
With their exit becoming official in a few weeks, Meghan and Harry joined the rest of the royal family for the Commonwealth Day service. The Sussexes and the Cambridges were not a part of Queen Elizabeth's procession and were seated within one row of each other.
When Kate and William arrived, they exchanged a brief greeting with the Sussexes, which included a quick wave from Meghan. In 2019, Kate and Meghan kissed each other on the cheek, making their most recent greeting quite reserved.
Kate Middleton and Prince William were originally scheduled to appear in the procession but backed out at the last minute. Sources claim that the pair opted out of the march to help ease tensions between Her Majesty and the Sussexes.