Kate Middleton Is Queen Elizabeth's 'Number 1 Priority' When It Comes to the Future of the Monarchy
Kate Middleton is focusing on the future following her recent birthday. The Duchess of Cambridge turned 38 years old on January 9, but inching closer to 40 is probably the last thing on her mind. Now that Prince Harry and Meghan Markle are stepping down as senior members of the royal family, Kate is reportedly Queen Elizabeth's number one priority when it comes to the future of the monarchy.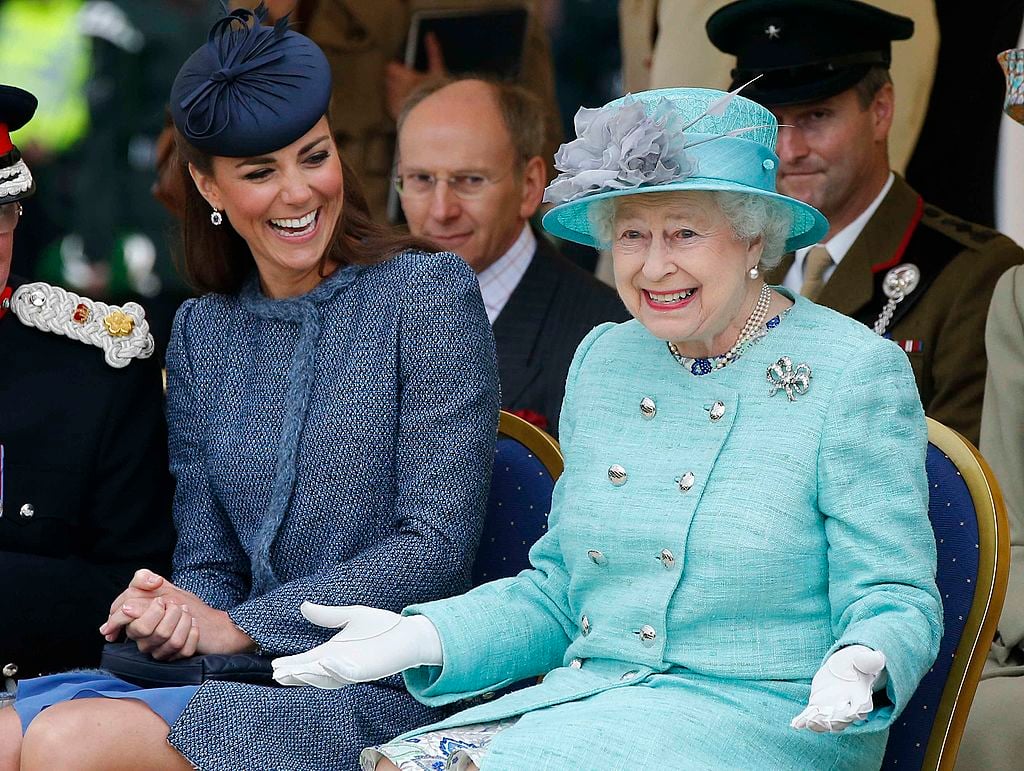 Inside Kate Middleton's transformation
Kate has come a long way since she started dating Prince William in the early 2000s. The couple tied the knot in 2011 and now share three children: Prince George, Princess Charlotte, and Prince Louis.
Although Kate has experienced some rough patches along the way, royal experts believe that she has done a wonderful job winning over public opinion. In her book, Royal Romances, author Leslie Carroll argued that Kate Middleton has matured into a "polished and poised" member of the royal family.
"She grew into the role of the royal bride, having been William's girlfriend for nearly a decade," she wrote. "Now that she has been a duchess for nearly the same amount of time, we've gotten a good look at who she is as a royal and what's important."
William is currently second in line to the throne and will someday become the King of the United Kingdom. When that happens, Kate Middleton will most likely take on the title of Queen Consort.
Kate will never be referred to as Queen because she was not born into the royal family. But she will share similar duties as Prince Philip, who is Queen Elizabeth's consort (and husband). She might not have the same authority as William, but her role in the monarchy will be very important.
Duchess Catherine and Queen Elizabeth grow close
Kate's transformation has partly been aided by the arrival of Meghan, who exchanged vows with Harry in 2018. Although Meghan and Kate do not share a lot in common, they have helped each other define specific roles for their families.
As a result, royal experts claim that Kate Middleton has appeared much more confident in public engagements. She has also done an amazing job handling the press and has avoided sparking a bunch of scandals – which is easier said than done.
While Kate has matured over the years, royal expert Neil Sean argues that Queen Elizabeth has played a huge part in mentoring her. According to Fox News, Sean revealed that Kate is officially Queen Elizabeth's top priority as the monarchy enters the new decade.
"A… notable feature within the last year is [Kate's] closeness to… the queen," Sean shared. "… A courtier told me that 'Kate is the queen's number one priority as she knows it will be her who the real monarchy will fall onto in the future.'"
That said, Kate Middleton's development is far from over. Over the next few years, experts believe that Kate will begin to take on more responsibility in the family — which means adding more royal engagements to her schedule.
Queen Elizabeth wishes Kate Middleton happy birthday
Taking to her official Twitter account, Queen Elizabeth recently wished Kate a happy birthday. She also shared some sweet photos of her and Kate from previous royal engagements, which proves yet again how close they have grown.
"Wishing The Duchess of Cambridge a very Happy Birthday!" she wrote alongside the post.
Her Majesty also included a link to her main website, which gives a detailed account of Kate Middleton's duties as a senior member of the royal family. This includes Kate's work with her Heads Together project and Early Years initiative.
Prince Charles and Camilla Parker Bowles also wished happy birthday to Kate this week. The pair posted a photo collage of Kate with the tweet, writing, "Wishing The Duchess of Cambridge a very Happy Birthday."
Fans, of course, also got in of the fun and showed their support for Kate in a big way.
Will the Duchess of Cambridge have more children?
With Kate Middleton and Prince William being the future of the monarchy, there has been a lot of talk about her having another child in 2020. Although nothing official has been confirmed, Kate reportedly admitted that expanding the family is not off the table.
"… She has always quietly stated she would have loved two boys and two girls," Carroll explained. "She has achieved so much already, [but] could 2020 be the year we see yet another royal pregnancy announcement?"
Kate had her third child, Louis, back in 2018, so the timing is perfect for her to have one more if she wants to go through with another pregnancy.
In the meantime, the Duke and Duchess of Cambridge are both getting back to their royal duties following the holiday season. The two have yet to announce anything major for 2020, but Carroll believes they will continue working on modernizing the monarchy while paying respect for its traditional values.
Kate Middleton has not commented on the rumors surrounding a fourth pregnancy.