What Foreign Languages Does Kate Middleton Speak?
Although the royal family speaks English, many of its members are actually bilingual — and some are even multilingual. From French to German to Swahili and Spanish, Queen Elizabeth, Prince Charles, Prince William, and many other members of the royal family, including Kate Middleton, know at least one foreign language.

What foreign languages does Kate Middleton speak? Find out, ahead.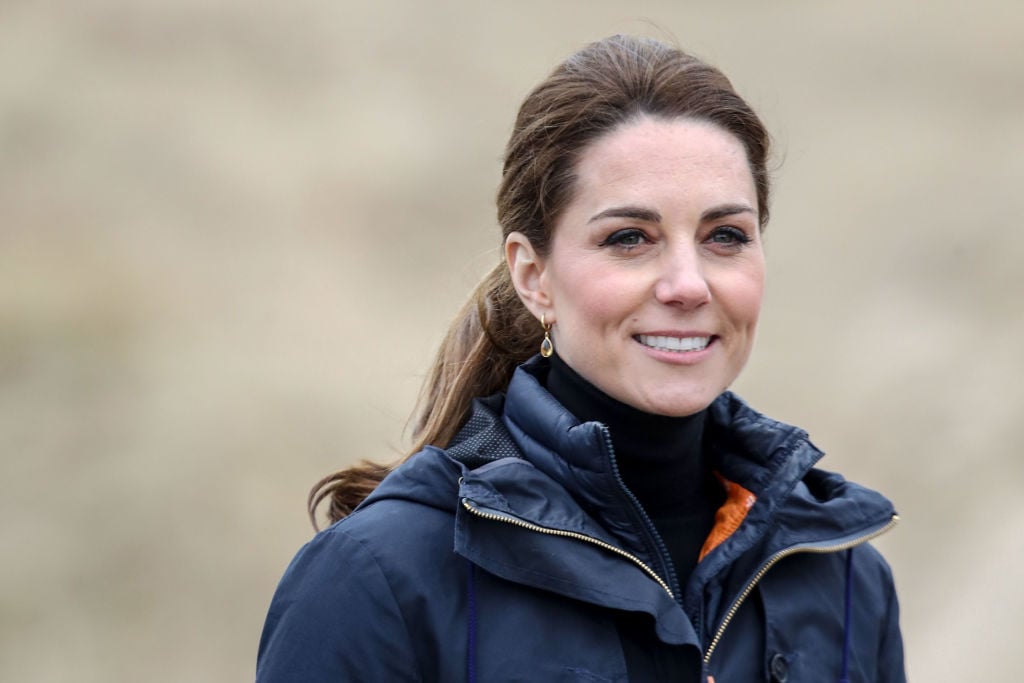 What languages does Kate Middleton speak?

For the most part, Kate Middleton speaks English — especially while visiting countries in the United Kingdom. That said, English isn't the Duchess of Cambridge's only language. In addition to English, Kate Middleton can also speak a little French and Italian. However, she admits she needs some practice.

Before going to college, the Duchess of Cambridge spent a gap year in Florence, Italy where she studied art and learned Italian. That said, she doesn't remember much of the language but did manage to say "ciao" while greeting a fan from the country. "How shall we say, ciao?" She said to the woman while mingling with a crowd in Leicester in November 2018. The crowd erupted in cheers, but Kate Middleton confessed she needs a refresher. "I have to practice my languages, they are so bad," she told the woman. She then noted how she hopes her children can master a foreign language better than she can. "My language is so bad, I have to make sure my children are better than me."

Prince George and Princess Charlotte have already started their education foreign language education and speak Spanish with their nanny, Maria Teresa Turrion Borrallo.

What languages does the royal family speak?

The royal family is chock full of impressive linquest. And while some — like Kate Middleton and Prince Harry — don't remember much of their learnings, others (Prince William) can speak up to five almost fluently. What languages does the royal family speak? Find out, below.

French

Kate Middleton can allegedly speak a little French, but others in the royal family are much more fluent. Queen Elizabeth and Prince Charles both speak the foreign language. And, their children, Prince Charles, Princess Anne, Prince Andrew, and Prince Edward also speak French. In addition, Prince William and Meghan Markle can speak the foreign language. According to her biography on the royal family's website, she studied French for six years.

Spanish

Prince George and Princess Charlotte aren't the only ones with a little Spanish under their belts. Their Aunt Meghan can also speak the foreign language. According to her biography, the Duchess of Sussex learned Spanish while living in Buenos Aires, Argentina for a college internship at the US Embassy.

Welsh

As the Prince of Wales (and future Prince of Wales), Prince Charles and Prince William were both required to learn Welsh. Prince Charles allegedly didn't learn the language until a little later in his life, but he encouraged his son to start learning from a young age. Their fluency is unknown, however, it is believed that they know enough to get by and hold conversations.

Gaelic

Prince William and Prince Charles can also speak a little Gaelic. That said, the type of Gaelic (Irish or Scottish) is unknown as well as their fluency.

Swahili

Africa holds a special place in the royal family's heart, particularly Prince William and Prince Harry who have spent lots of time there. Prince William took his love for the land one step further and taught himself Swahili — the continent's most popular language — to better connect with the people there.

German

Prince Philip is fluent in German, as he grew up in a family that spoke the foreign language, plus French and English.

In addition to these foreign languages, some members of the royal family know words and phrases in Russian, Tagalog, and Arabic. They have also learned foreign greetings and incorporated them into speeches and welcomings while on royal tours.

Check out The Cheat Sheet on Facebook!