Kate Middleton and Meghan Markle Meme Debunked by Body Language Expert
Like many famous people, royals occasionally find themselves becoming internet memes. Kate Middleton and Meghan Markle have been on the receiving end of this, and their meme was used to compare the two women. However, a body language expert recently debunked the meme and added a different story to the situation.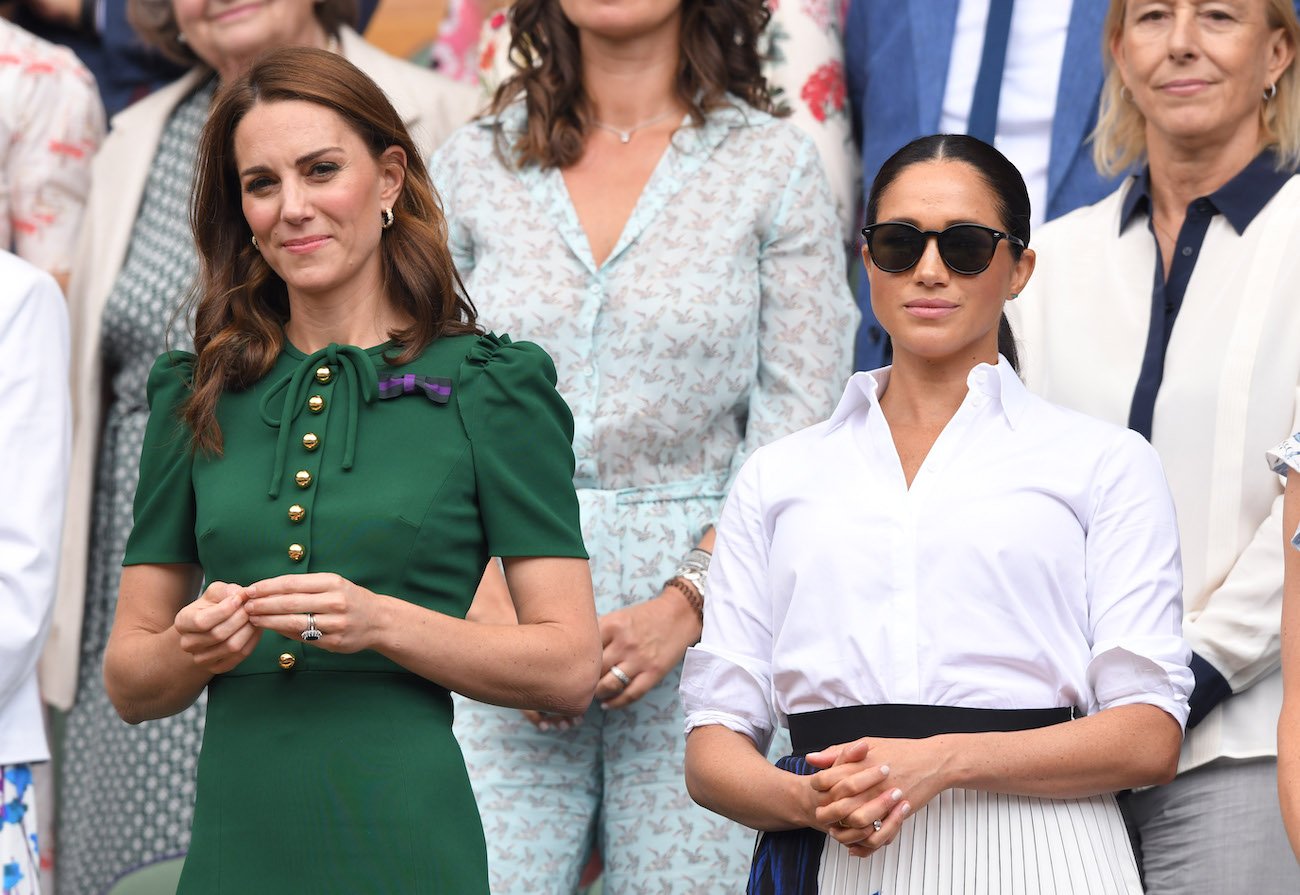 Kate Middleton and Meghan Markle became a meme after an event in 2018
In June 2018, Kate, Meghan, and other royals attended Trooping the Colour, which is an annual event that celebrates the official birthday of the British sovereign. This came just weeks after Meghan married Prince Harry and marked Meghan's first royal event as a duchess.
One part of the event included the royal family standing on a balcony of Buckingham Palace and watching a parade. Afterward, a meme appeared on the internet of a photo that came out from the balcony scene. In the photo, Kate and Meghan could be seen covering their mouths. the Duchess of Cambridge appeared to have a sad expression, while the Duchess of Sussexes' expression was less clear.
According to some netizens, the photo was taken when Field Marshal Lord Guthrie fell from a horse. The meme stated that Kate was showing compassion upon witnessing the incident while Meghan was laughing at the fall.
A body language expert debunked the meme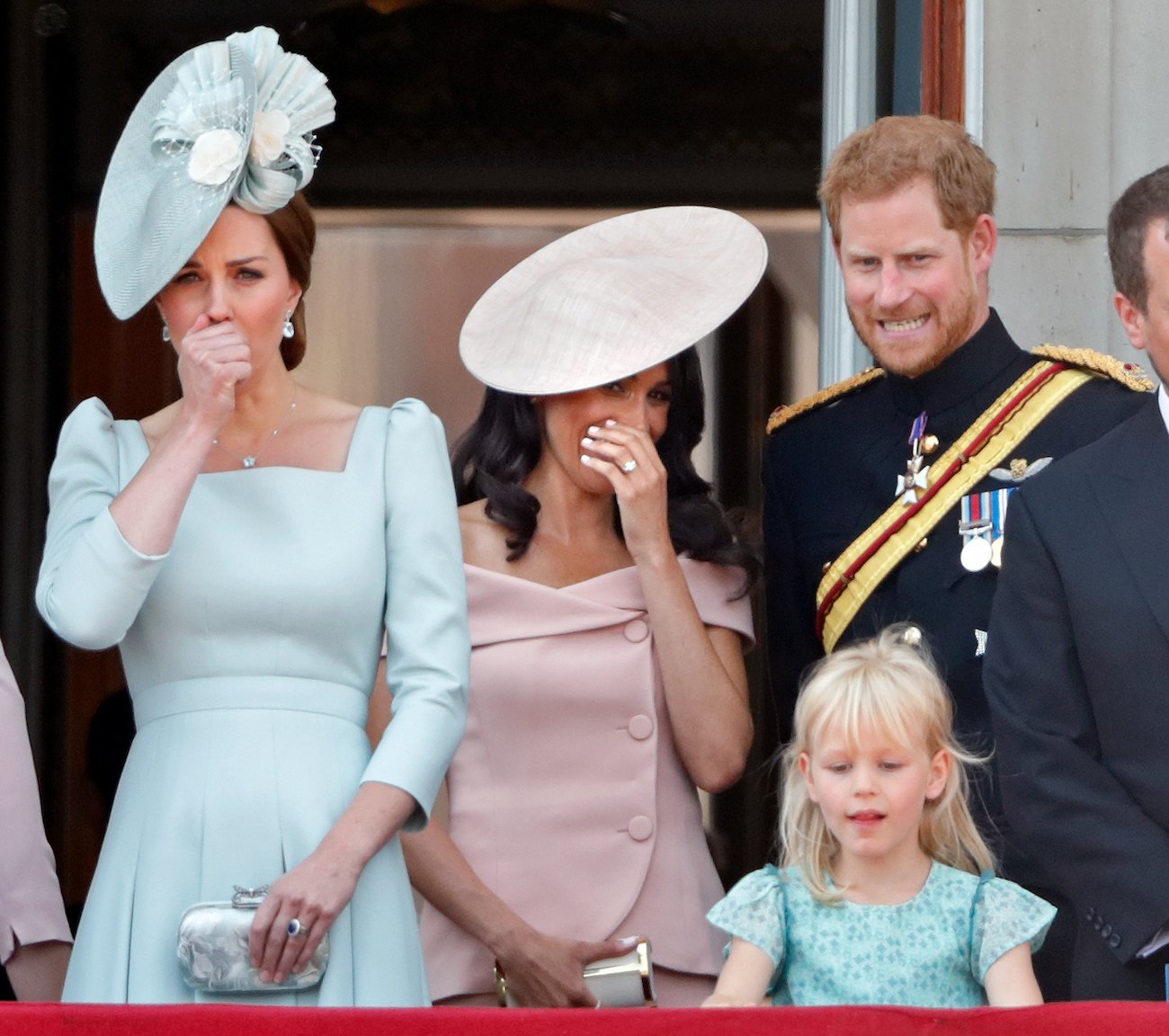 RELATED: Prince Harry and Meghan Markle Allegedly Did Not Call Kate Middleton for Her 40th Birthday, Royal Commentator Says
In a recent YouTube video, body language expert Jesús Enrique Rosas (who also goes by The Body Language Guy on social media) examined the infamous photo of Kate and Meghan. According to Rosas, the photo does not show Kate and Meghan reacting to Lord Guthrie's fall as the meme suggests.
"In reality, Lord Guthrie fell so far away from the balcony that it would have been really hard for anyone there to spot what happened, unless they had been purposefully expecting it," Rosas said.
The guru also showed a video of what seemed to be the moment the photo was taken. In the video, Meghan could be seen covering her mouth and leaning toward Harry, suggesting that she was having a conversation with him. Then, Kate appeared to be coughing.
"So the answer to 'What happened at that moment?' is 'Nothing,'" Rosas said. "Catherine was just coughing and Meghan… well, maybe she was gossiping with Harry or something."
Rosas also pointed out that no one else on the balcony had any discernible reaction at the moment the photo was taken.
Do Kate Middleton and Meghan Markle get along?
When Meghan joined the royal family, many onlookers imagined the two women becoming friends and working closely with one another. However, sources have since alleged that Kate and Meghan did not get along all that well.
According to the book Finding Freedom, which had some contributions from Meghan, Kate seemed to keep Meghan at a distance. The authors Omid Scobie and Carolyn Durand wrote, "Meghan envisioned Kate would reach out and help her understand everything an outsider to the Firm needed to know. That didn't happen. Meghan was disappointed that she and Kate hadn't bonded over the position they shared, but she wasn't losing sleep over it."
Some people also believe the tension between Prince William and Harry has affected the women's relationship as well.
"Unfortunately, they follow the lead set by the brothers," Scobie told Entertainment Tonight in 2021. "The brothers aren't talking, there really isn't much communication between either side altogether. Although there was never really a feud between the duchesses, there was some distance. They were never able to get as close as possible."
RELATED: Meghan Markle Was Already Comparing Herself to Kate Middleton Long Before She Joined the Royal Family