Kate Middleton's Mom Carole Recently Wore a Hand-Me-Down From the Duchess of Cambridge
Carole Middleton recently wore a hand-me-down from her daughter Kate Middleton to the Royal Ascot.
Kate Middleton is a fashion icon, and that great sense of style runs in her family. Kate's mom, Carole Middleton, has made it clear over the years that she and her daughter share the same taste in clothes. In fact, there are occasions when Carole raids her daughter's closet. And she just did it again.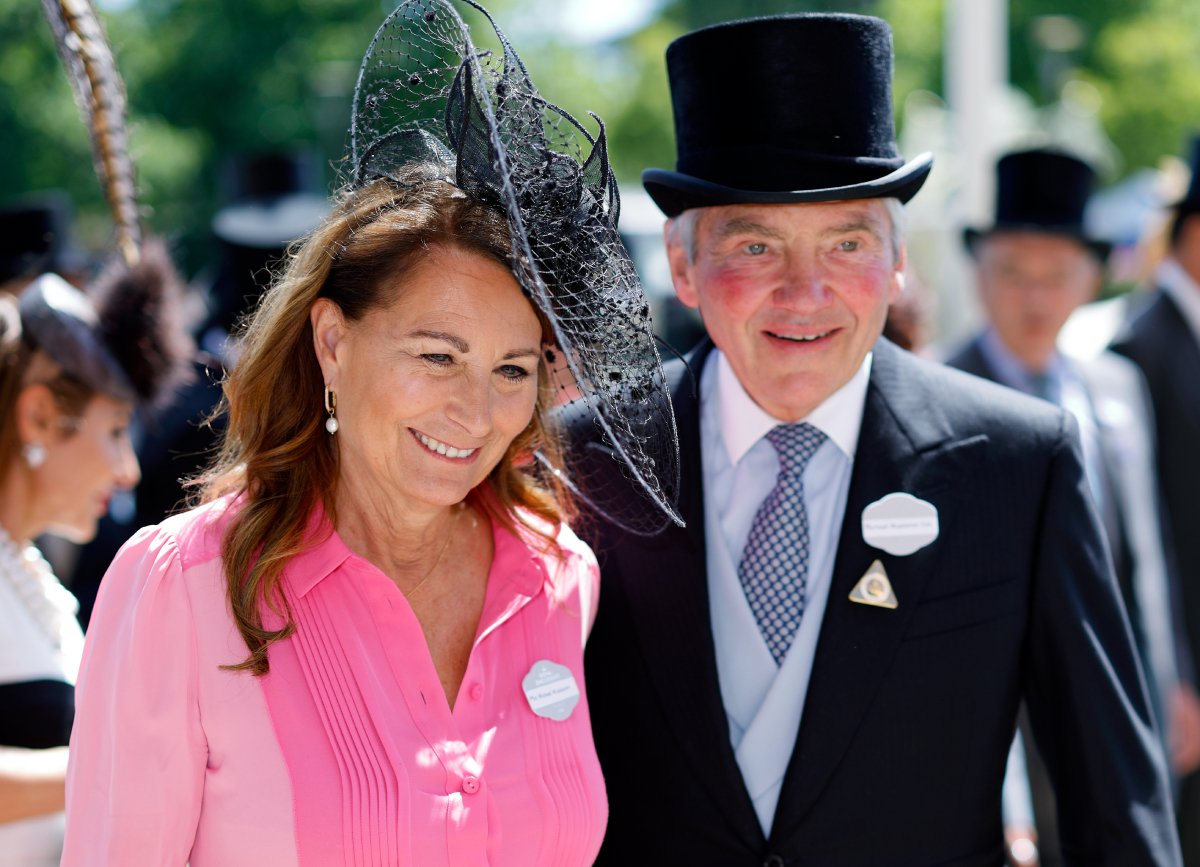 Kate Middleton and her mom have a similar style
Kate's style choices have been so closely watched since she became a member of the royal family that the phrase "the Kate Middleton Effect" was invented. Whenever Kate wears an outfit that catches the attention of royal watchers, those items immediately sell out wherever they are sold. 
The Duchess of Cambridge is a huge influencer in the world of fashion, and it looks like she got that sense of style from her mother. Carole Middleton has been photographed over the years wearing very similar clothing to her daughter.
In the summer of 2019 the mother and daughter wore nearly identical green midi-wrap dresses to two separate events. Kate wore hers while visiting the RHS Back to Nature Garden, while Carole wore her green dress to Wimbledon.
At Prince Harry and Meghan Markle's wedding in 2018, Carole wore a teal dress and coat set that looked similar to what Kate wore to the centenary of the Royal Air Force that year. Both women added identical fascinators to those outfits and styled them with stiletto shoes.
Carole Middleton just raided her daughter's closet again
In addition to wearing similar styles, the mother and daughter sometimes wear the exact same dress. Last spring, the Duchess of Cambridge met with a young cancer patient named Mila Sneddo who asked that Kate wear a pink dress when she met her. 
Per the request, Kate wore a pink Me + Em silk shirt-dress style midi, and added a structured pink belt from Boden instead of the dress' included soft sash. She accessorized the look with pink Emmy London pumps and gold hoops from Missoma London. 
This past week, Carole wore that exact same dress to the Royal Ascot. But instead of adding the Boden belt, Carole wore the included sash tied loosely over the dress. She accessorized the look with an oversized black fascinator with netting and a black clutch.
But, this isn't the first time that Kate and Carole have worn the exact same thing.
Kate Middleton matched her mom before she was Duchess of Cambridge
Two years before she married Prince William, Kate wore a white fascinator with a blue flower to her friend's wedding in 2009. The following year, Carole wore that hat to the Royal Ascot and paired it with a cobalt dress from Reiss.
During her first ever speech as a member of the royal family in 2012, Kate belted that cobalt dress and wore it to East Anglia's Children's Hospices Treehouse facility.
Carole has said in the past that she credits her modern style and youthful look that she shares with her daughter to the fact that she spends "a lot of time with young people." She told The Telegraph that she hopes she hasn't become set in her ways because that can age you.