Kate Middleton Opens Up About Motherhood In a Very Personal New Interview
Kate Middleton is shedding light on her motherhood like never before. In a new podcast, the Duchess of Cambridge opened up about her upbringing and the challenges of being a mom. Middleton, who is the proud mother of three children, revealed that her grandmother is the one who inspired her the most when it comes to parenting.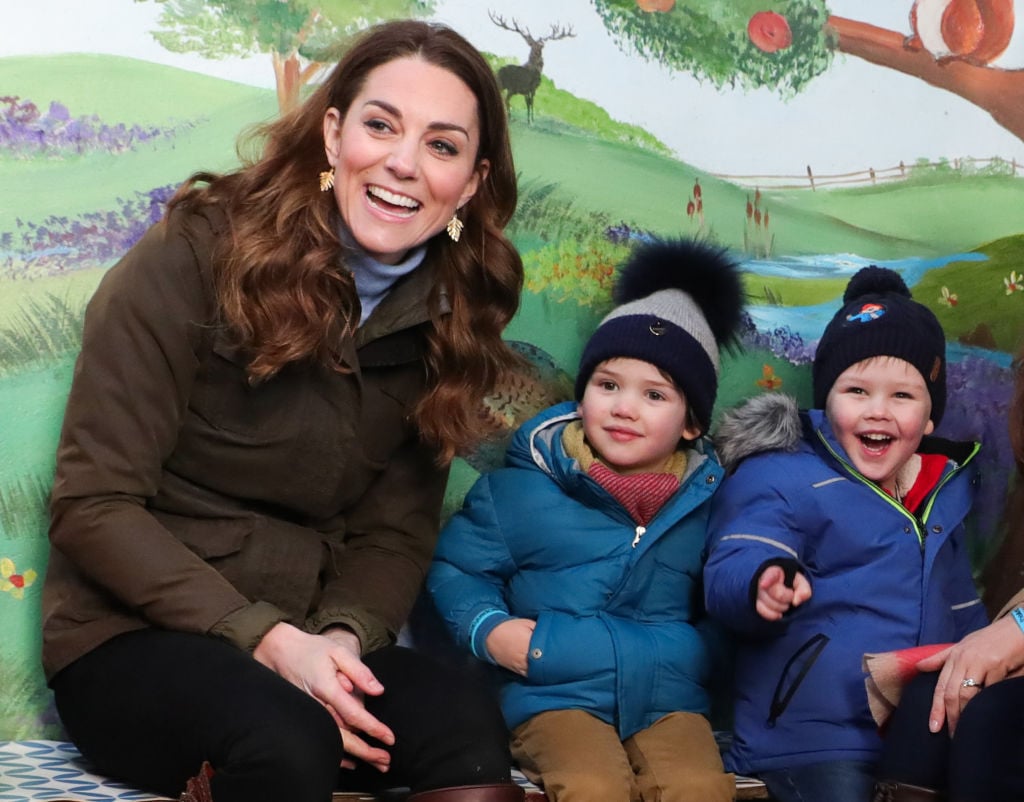 Kate Middleton opens up about motherhood
Over the past few years, Middleton has done a lot of work with early childhood education. Her latest initiative, 5 Big Questions on the Under Fives, has already surveyed over 200,000 people in an effort to promote the importance of raising children in a well-rounded environment.
As part of the program, Middleton sat down for a podcast called Happy Mum, Happy Baby with Giovanna Fletcher, in which she discussed all the elements of motherhood she has implemented in her home.
Middleton said she has learned a lot about parenting from a wide range of sources, including being raised in the countryside with her brother and sister, Pippa and James Middleton, and mingling with experts in her work with early child development.
"There are also the environments you spend time in as well: a happy home, a safe environment," Kate Middleton explained. "As children, we spent a lot of time outside and it's something I'm really passionate about. I think it's so great for physical and mental wellbeing and laying [developmental] foundations."
Middleton added that she learned a lot about being a good mother from one of her grandmothers, who never hesitated to build lasting relationships with her grandchildren.
Middleton shares a personal story about her grandmother
Kate, Duchess of Cambridge, and Giovanna started working together in January as part of her new program. Apart from the podcast, the two visited a nursery and met with mothers to discuss what they value as parents.
In the podcast, Middleton revealed that many of the values she learned in motherhood came from one of her grandmothers, who spent a lot of time with her and her siblings.
"I had an amazing Granny who devoted a lot of time to us, playing with us, doing arts and crafts and going to the greenhouse to do gardening, and cooking with us, and I try and incorporate a lot of the experiences that she gave us at the time into the experiences that I give my children now," Kate Middleton shared.
According to People, Middleton further discussed her early childhood development program and admitted that it will take a long time before parents change how they raise their children. But every little step is important, and the wait is well worth it if the outcome is healthy children.
The podcast was something of a rarity for a member of the royal family, but it is great to see Middleton take part in such a personal interview. Fletcher later admitted that even she was surprised at how open Middleton was and how passionate she is about children.
The Duchess of Cambridge is determined to make a difference
With Queen Elizabeth turning 94 this year, Kate and her husband, Prince William, have been doing everything in their power to prepare for the day when they are sitting at the head of the monarchy.
In the meantime, they are also putting their efforts towards projects that can make a difference right now. Considering how the royal family is currently undergoing a lot of turmoil, William and Kate Middleton's efforts are a breath of fresh air and exactly what the royals need.
"There have been a lot of questions asked about the monarchy in the last 12 months with all the negative attention that they have had," royal correspondent Victoria Murphy stated. "It's a good time for them for people to be hearing about their charity work."
One of the biggest points of contention with the royals these days is Prince Harry and Meghan Markle's exit. At the beginning of January, the pair announced that they are stepping down as senior members of the royal family in what has been dubbed Megxit.
The royals, of course, are also dealing with Prince Andrew's sex scandal, so it's easy to see how the family is in desperate need of some positive headlines.
Kate Middleton opens up about those hospital photos
Following all three of her pregnancies, Kate took part in a quick photo shoot on the steps of the Lindo Wing at St. Mary's Hospital in London. During the podcast, Kate opened up about what it was like posing for a photograph so soon after giving birth.
For Kate, she admitted that it was "terrifying" knowing that a crowd of onlookers were waiting just outside of the hospital doors.
"Slightly terrifying, I'm not going to lie," she said. "Everyone had been so supportive and both William and I were really conscious that this was something that everyone was excited about and we're hugely grateful for the support that the public had shown us, and actually for us to be able to share that joy and appreciation with the public, I felt was really important. "
The Duchess went on to say that she also experienced a mixture of emotions. Not only was she holding a newborn baby, but she also felt a bit unprepared for the task of raising a child.
Kate Middleton followed in the footsteps of other royals who have been posing in front of the Lindo Wing since the late 1970s. The only high-ranking royal to go against this tradition was Meghan, who went to an entirely different hospital when she gave birth to Archie Harrison last year.