Do Kate Middleton's Parents Have a Close Relationship With Prince George, Princess Charlotte, and Prince Louis?
Kate Middleton married into the British royal family in 2011, and she instantly became one of the most well-known women in the world. However, we almost exclusively only see Kate interacting with her husband, Prince William, and his side of the family. Though Kate's parents, Carole and Michael Middleton, have been photographed with the duchess from time to time, the main focus is on Prince William and the royals. So what kind of relationship do Kate's parents have with their grandchildren?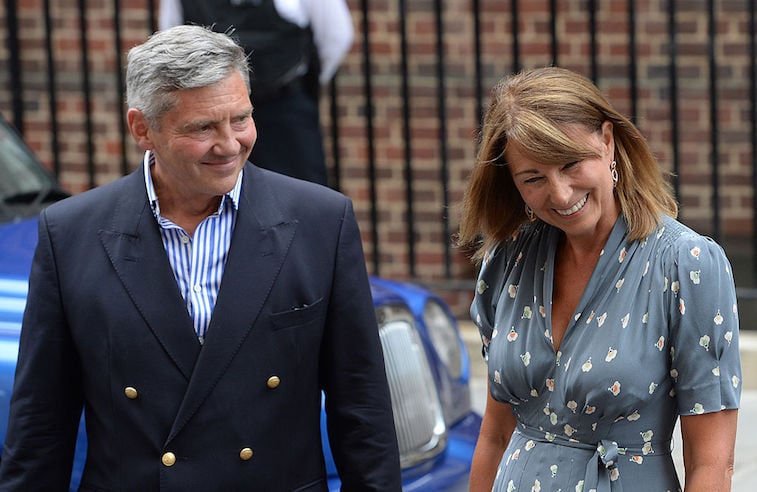 William and Kate have tried to keep their kids' lives as normal as possible
Though it's hard to live a normal life when you're a part of the British royal family, William and Kate have done their best to keep their kids' lives as normal as they can be. Kate once said that the family cooks dinner together often, and William expressed not long ago that he was holding off on informing the kids about their royal roots for as long as he can. William and Kate's older kids, Prince George and Princess Charlotte, have been spotted out and about more frequently as they grow up, but the two have kept Prince Louis far from the spotlight while he's still a baby, and they have only released photos of him on a few occasions.
Despite living a busy life, Kate has always kept a close relationship with her parents
Kate and William have been together since the early 2000s, so she has grown accustomed to being with a royal. The couple met in college, and Kate has learned to balance her current life with her formal life. She's always been close with her siblings, James and Pippa Middleton, and she has kept her parents close to her all while balancing being the future queen. Though Carole and Michael Middleton aren't photographed with Kate too often, they still play an important role in her life and have kept her grounded.
Kate's parents appear to have a strong relationship with their grandchildren
While George, Charlotte, and Louis definitely have a lot on their plates as they grow up, their maternal grandparents have always kept a close relationship with them as if they lived completely normal lives. Carole Middleton and Michael Middleton were recently spotted taking the kids out to a local festival while Kate was at Wimbledon and William was completing his own royal duties. Those who attended the festival said the kids looked like they were having an amazing time and enjoyed playing the different games. Carole also held Charlotte's hand while she attended an event with Kate Middleton earlier this week. And Charlotte playfully stuck her tongue out to the crowd.
Some think Prince George is Carole Middleton's favorite grandchild 
Carole Middleton has several grandchildren now, but some fans of the royal family noticed something on the Middletons' website that hinted she might have a favorite. The Middletons own Party Pieces, an online party supply company. Fans noticed that the name "George" appeared on many decorations throughout the site, including custom cakes. One cake had a "The Lion King" theme, which is George's favorite movie, and the public believes Carole was sending a nod to Prince George — and that he might even be her favorite grandchild. Carole might be partial to George, since he is her first grandchild, but we're certain she loves all three of William and Kate's children (plus Pippa Middleton's son, Arthur), just the same.