Kate Middleton and Prince William: 8 of the Best Photos From Their Royal Wedding
It's hard to believe nine years have passed since the royal wedding of Prince William, Duke of Cambridge and Catherine, Duchess of Cambridge. On April 29, 2011, the longtime couple, who first met as college students, became husband and wife. Ahead, join us as we take a look back at their fairytale-like nuptials with some of the best photos from their royal wedding.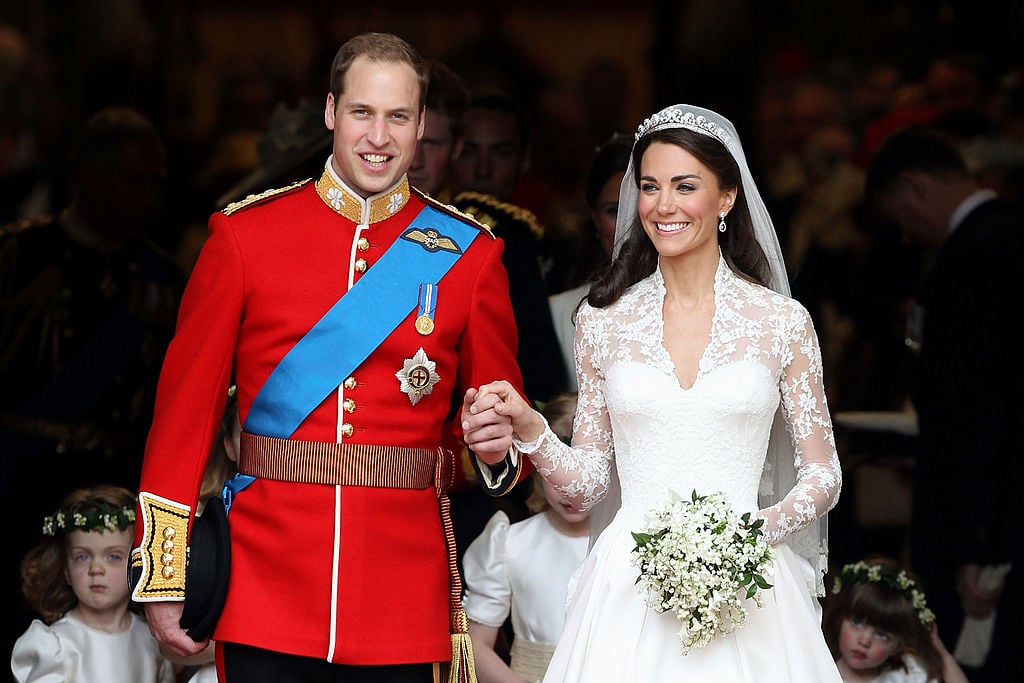 Millions of dollars were spent on security
First, a few stats about their royal wedding. Catherine and William's wedding reportedly cost $34 million. According to CBS News, $32 million went toward security. Other costs included a reported $80,000 on two wedding cakes and anywhere from $800,000 to $1.1 million on flowers. Needless to say their guests were treated to one of the most lavish weddings ever.
Kate Middleton stunned in her wedding gown
Upon her arrival at Westminster Abbey, the world got to see Catherine's custom wedding gown designed by Sarah Burton for the British fashion house, Alexander McQueen. Featuring a nine-foot train, handmade lace, and many nods to Great Britain, Catherine's parents, Carole and Michael Middleton, paid for her wedding gown which reportedly cost $434,000. 
The bride smiled as she entered Westminster Abbey.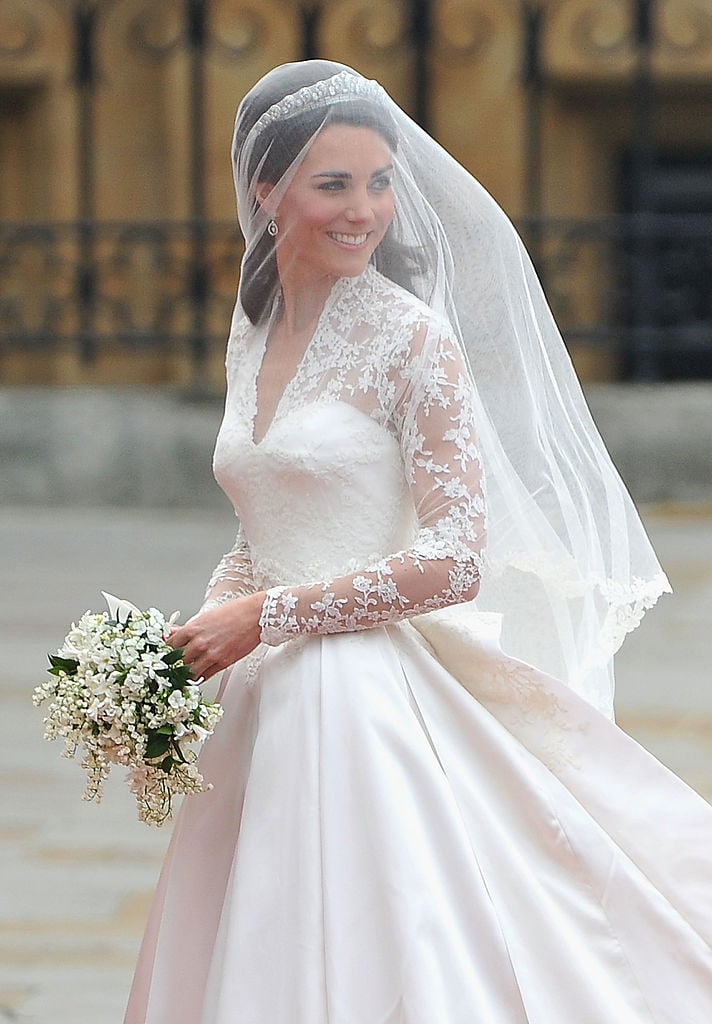 Catherine got some help with her train from Pippa Middleton, her younger sister who served as her maid of honor.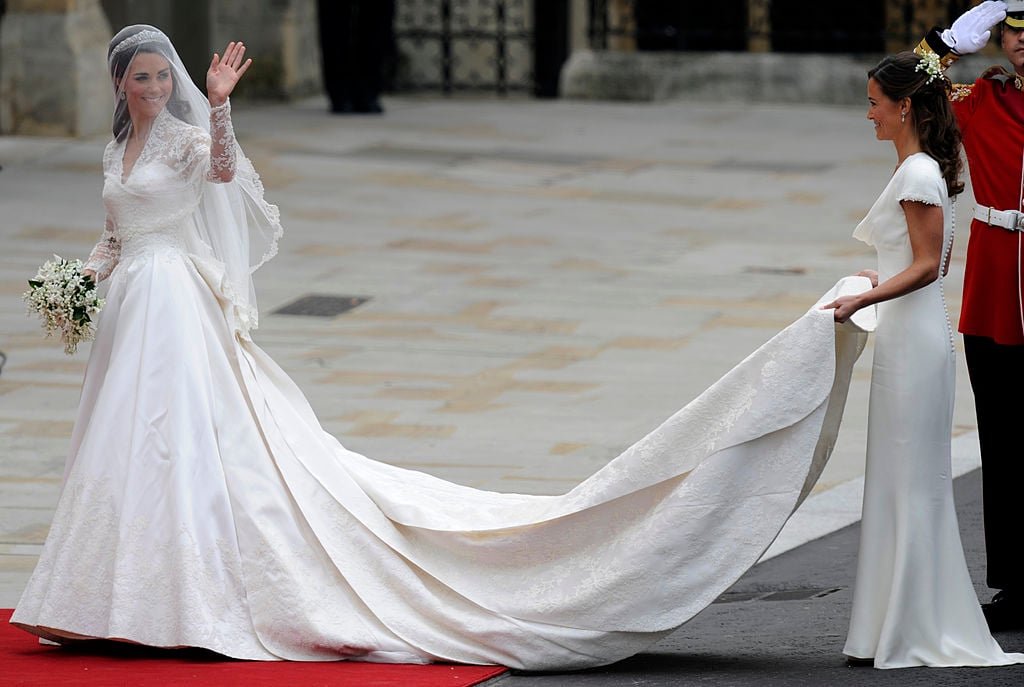 Prince William and Kate Middleton were all smiles during the ceremony
Catherine and William, who now have three children together, couldn't help but smile at their wedding ceremony. The couple shared a sweet moment with each other when they both looked up from their programs and flashed each other a grin.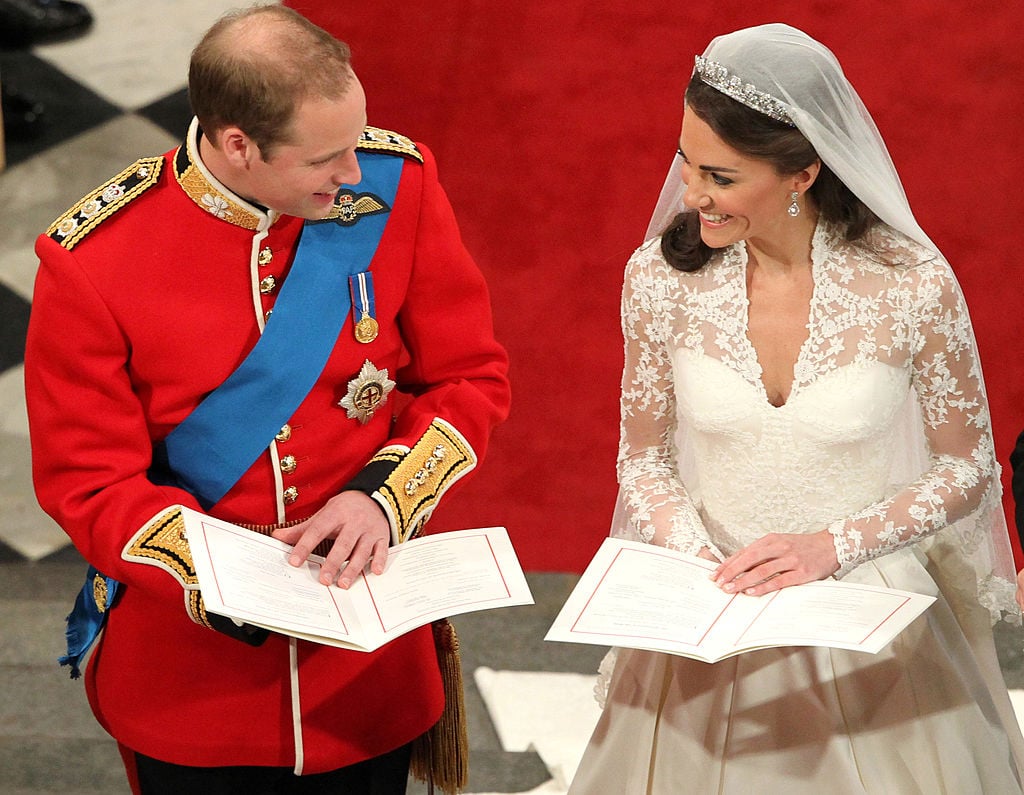 They exchanged rings
Despite being in front of 1,900 guests and millions of TV viewers, William and Catherine looked as if they were the only two people in the church when they exchanged rings. The bride smiled at the groom as he placed a gold wedding band on her finger.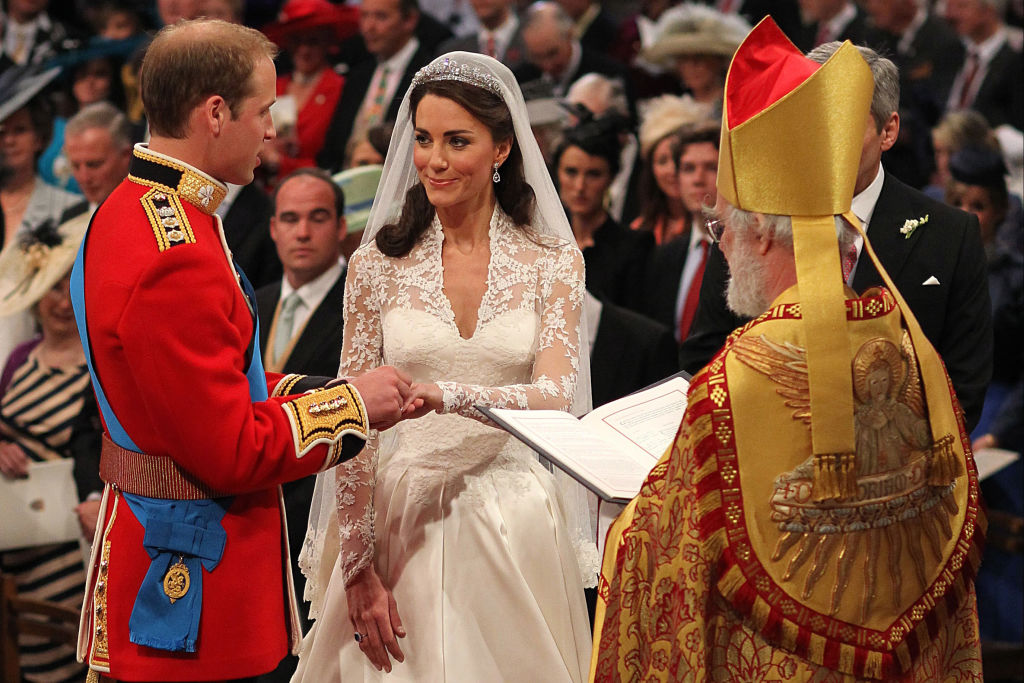 Kate Middleton and Prince William kissed on the balcony of Buckingham Palace
In keeping with the royal wedding tradition started by the groom's parents, Charles, Prince of Wales and Diana, Princess of Wales, William and Catherine shared a kiss on the balcony of Buckingham Palace following their wedding ceremony at Westminster Abbey.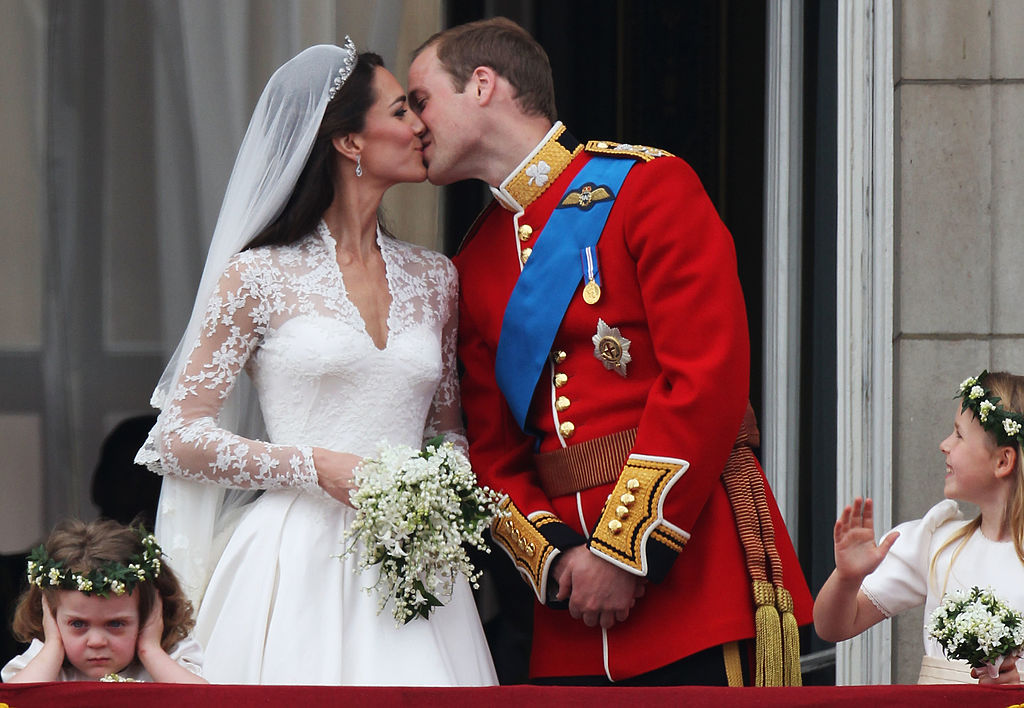 One of their bridesmaids (and William's goddaughter), Grace van Cutsem, made the balcony kiss extra memorable, according to NPR. With a grumpy look on her face, she stood next to the bride and groom covering her ears.
They waved to crowds
Not only did Catherine and William kiss while standing on the balcony of Buckingham Palace after their royal wedding ceremony but they waved to well-wishers too. See them below beaming as they greeted crowds.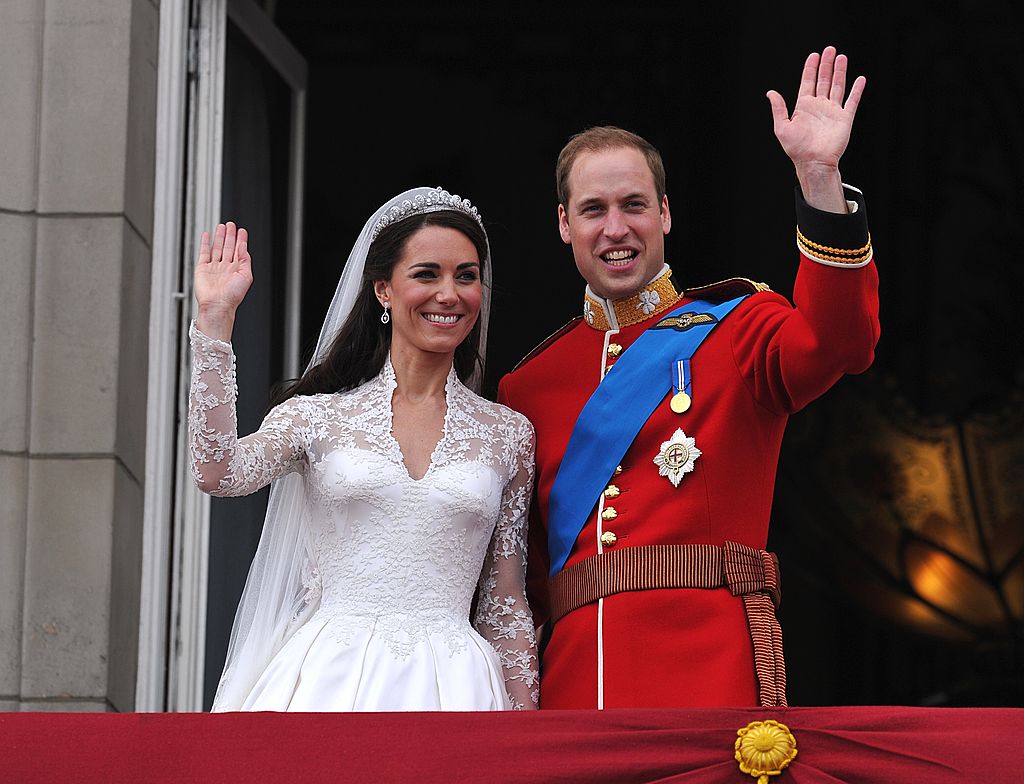 And took part in a carriage procession
Like other royal brides and grooms before them, William and Catherine took part in a royal procession where they rode in a carriage through the streets of London, England.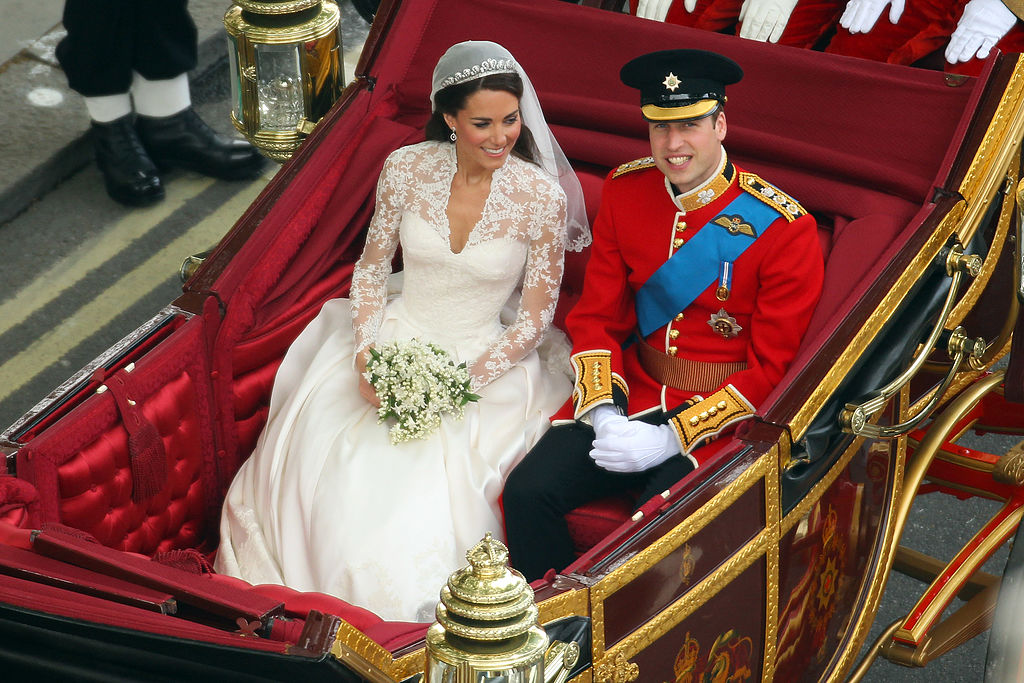 Could their royal wedding resemble a fairytale more than it did at this moment? We don't think so.
Sine getting married in 2011, William and Catherine have celebrated their wedding anniversary in different ways. Here's hoping they mark the occasion by sharing a never-before-seen photo from their nuptials.