Kate Middleton Was Reportedly 'Suspicious' of Meghan Markle Due to 1 Reason
When Meghan Markle married Prince Harry in 2018, many people believed she could become close with Kate Middleton, who had married Prince William several years earlier. However, the two ladies did not end up being tight-knit. In fact, according to a biographer, Kate was initially "suspicious" of Meghan.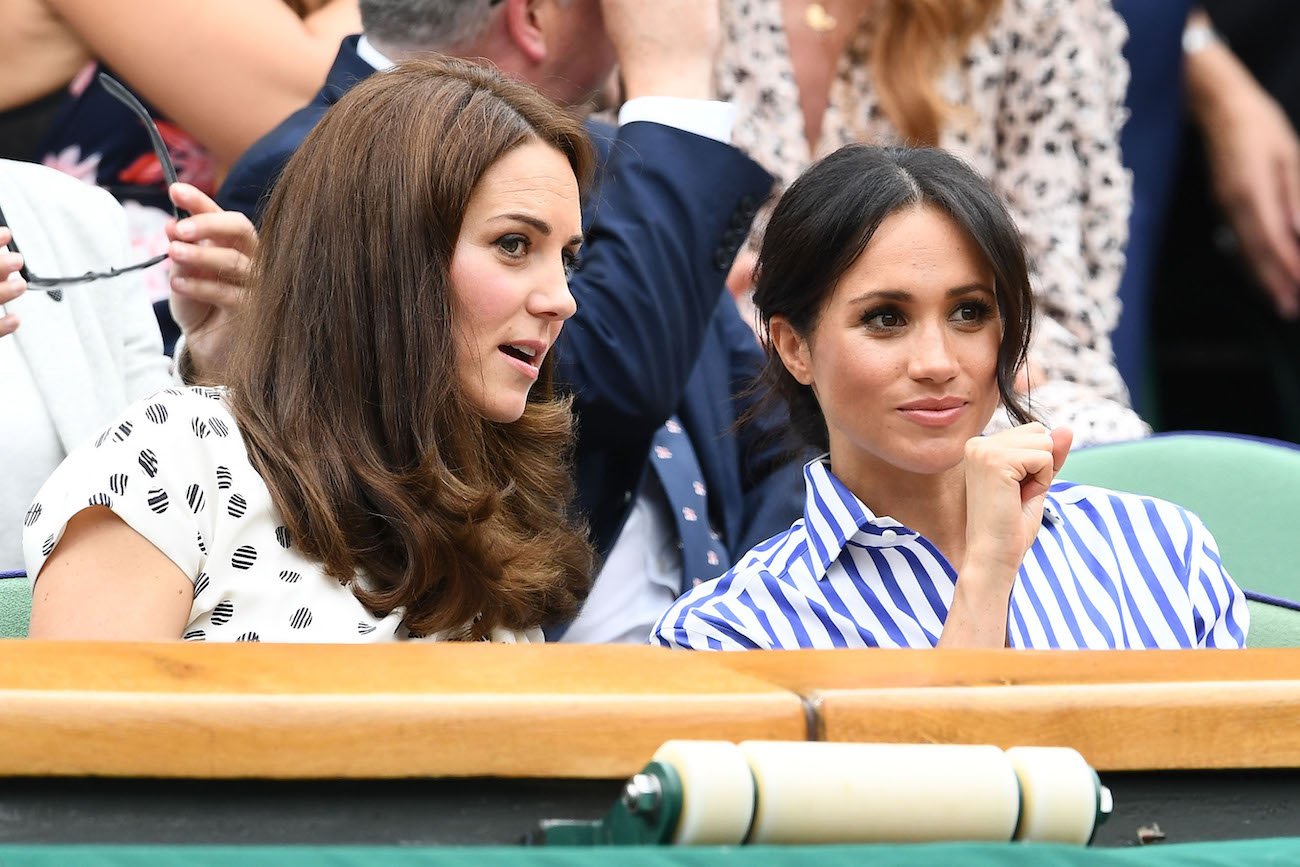 Meghan Markle and Kate Middleton did not become fast friends
According to the book Finding Freedom by Omid Scobie and Carolyn Durand, which had some contributions from Meghan, Kate did not make an effort to become close with Meghan.
The authors wrote that Kate "had seemingly not shown much interest" in Meghan, aside from giving Meghan her number and telling her to call if she needed anything. Although Kate also sent Meghan flowers for her birthday, Scobie and Durand said Meghan allegedly "would far rather have had Kate check in on her during the most difficult times with the press."
There were also many rumors about a feud between Meghan and Kate. In her tell-all interview with Oprah Winfrey in March 2021, Meghan claimed that Kate made her cry during her wedding planning process. However, Meghan added that Kate sent her flowers to apologize and the two women made up.
According to author Andrew Morton, Meghan and Kate simply didn't have the opportunity to become close. He wrote in the book Meghan: The Hollywood Princess, "Kate spent weekends and holidays at Anmer Hall, the Cambridges' country home in Norfolk, while Meghan and Harry were approximately three hours' drive away, living in a large, remote, rented property on the Great Tew Estate in Oxfordshire."
Kate Middleton was reportedly 'suspicious' of Meghan Markle, author says
According to author Christopher Andersen, who recently released the book Brothers and Wives: Inside the Private Lives of William, Kate, Harry, and Meghan, Kate was hesitant about pursuing a friendship with Meghan when they first met. Andersen said that this was because Kate is a private person.
"She hesitated," he explained, according to Yahoo. "She has a very tight circle of friends. She doesn't let a lot of people in."
Andersen added, "By all accounts, she's charming and very intelligent. But she's also suspicious of outsiders. She delayed even meeting Meghan. And I think that confused Meghan in the beginning. Frankly, it must have insulted her. But they did get along. In the beginning, they were all known as 'The Fab Four.' But things aren't so fab anymore."
What is Meghan Markle and Kate Middleton's relationship like now?
Meghan and Harry are estranged from the royal family ever since the couple moved to California in early 2020. Reportedly, there is also tension between Harry and William. As such, many onlookers wonder how this has affected Meghan and Kate's relationship.
In August 2021, an insider allegedly told Us Weekly that Meghan and Kate have been talking a lot. The insider said, "Meghan and Kate are actually getting along really well and have been in touch more often. Meghan and Kate's relationship was never that close. And now they're closer than ever and working on their relationship for the sake of the family."
However, according to Scobie, Meghan and Kate are still nowhere near being buddies.
"I think it's wishful thinking when we see people say that Meghan and Kate are going to work on a Netflix project together or they're talking on the phone," Scobie told Entertainment Tonight. "I even read a story about how they're Zooming whilst making cakes or something, quite recently."
Scobie added, "Unfortunately, they follow the lead set by the brothers. The brothers aren't talking, there really isn't much communication between either side altogether. Although there was never really a feud between the duchesses, there was some distance. They were never able to get as close as possible."