Kate Middleton Returns to a Simpler Life Now that She No Longer Has to Compete With Meghan Markle Claims Royal Expert
Kate Middleton has officially returned to a simpler life now that Meghan Markle's exit from the royal family has become official.
Kate Middleton is taking full advantage of Prince Harry and Meghan Markle's exit. As royal watchers may have noticed, Kate, Duchess of Cambridge, has returned to a simpler look now that Meghan, Duchess of Sussex, is no longer an acting member of the monarchy. Royal experts believe Kate's change in appearance is not an accident and is due to the fact that she no longer has to compete with the former Suits star.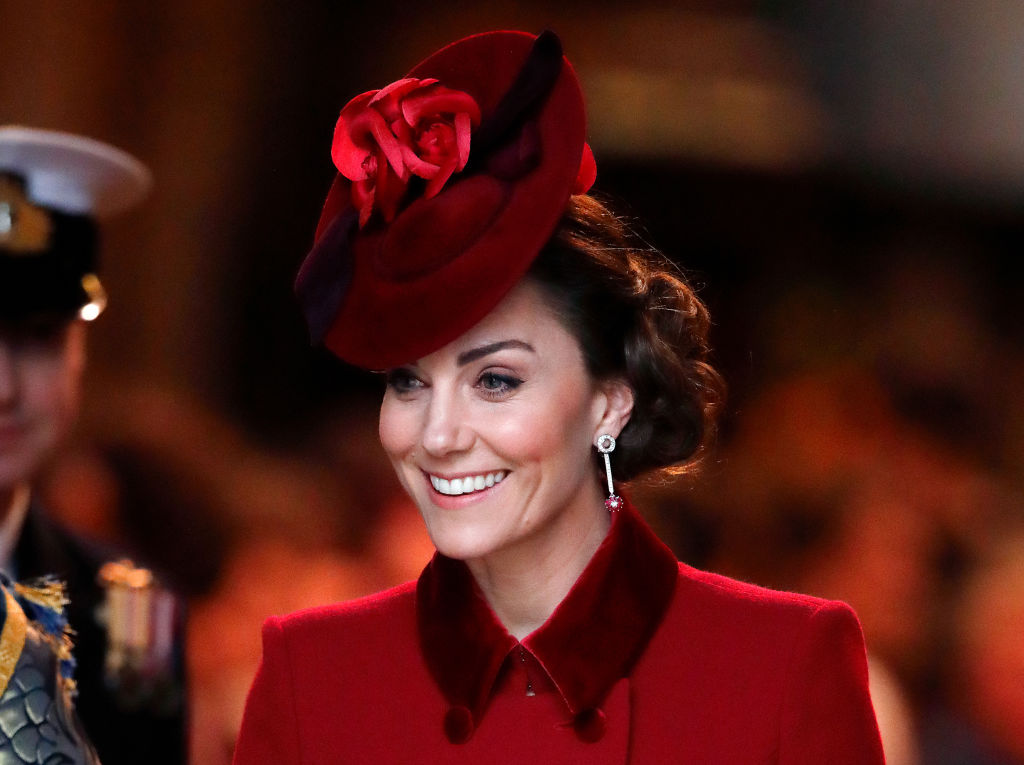 Did Meghan Markle intimidate Kate Middleton?
When Meghan tied the knot with Prince Harry in 2018 she seemed like the perfect addition to the royal family. Not only did Meghan have a successful career in Hollywood before she met Harry, but she had experience being in the limelight.
But for Kate, inside sources told The Sun that she was a bit intimidated by Meghan's presence. For the most part, Kate Middleton's insecurities boiled down to always being compared to Meghan, who seemed to dazzle onlookers wherever she went.
"She most definitely went through a phase two years ago where she seemed slightly intimidated by Meghan," the insider dished. "She was afraid of comparisons being drawn between them and that Meghan was the one who looked glamorous and popular for a while."
That changed, of course, when Harry and Meghan decided to step away from the royal spotlight in January. Their exit from the monarchy became official on March 31 and the couple is now living in Los Angeles with their son Archie Harrison.
Before their final farewell, Harry and Meghan returned to the UK for a quick round of royal engagements, which included one last appearance with Kate and her husband, Prince William.
Kate and Meghan enjoy one last engagement
In what might be the last time we see the Cambridges and Sussexes together in public, Kate and Meghan reunited a few weeks back for the Commonwealth Day service. The event was held inside Westminster Abbey and featured Queen Elizabeth, Prince Charles, and Camilla Parker Bowles.
Needless to say, Kate Middleton and Meghan Markle wore their best to the high-profile event. The Duchess of Cambridge sported a coat dress from designer Catherine Walker, an outfit she has worn on other occasions.
Meghan, on the other hand, opted for a green dress by Emilia Wickstead complete with a matching headpiece.
Although both women looked amazing during the event, an inside source claims that Kate is looking forward to returning to a simpler look now that Meghan's exit from the royal family is official.
Kate Middleton returns to a simpler life
Now that Meghan is out of the picture, a source says that Kate has told her make-up artist and stylist that she wants to go back to a "much simpler" look.
"Someone who knows Kate well said 'the atmosphere since the Sussexes left has noticeably improved. Kate does not feel she has to compete now. She has gone back to a much simpler style," the source stated. "Kate feels very much more relaxed now."
The insider noted that Kate Middleton feels as though a weight has lifted from her shoulders and is now using "less eye makeup, paler lip colors and more high street nail polishes." She also appears less stressful and happier in public, which is definitely a good thing.
During a recent visit to an NHS center, for example, Kate wore a very affordable suit from designer Marks and Spencer. Her outfit was something an average working woman would wear and was a far cry from some of her other looks over the past few years.
We cannot say for sure that Kate's new look is because of Meghan's departure, but she has clearly changed things up in recent months.
How is the Duchess of Cambridge handling the lockdown?
While fans cannot wait to see more of Kate's new look, the Duchess of Cambridge is currently homeschooling her three children amid the ongoing coronavirus lockdown.
Kate and William are staying at their country estate, Anmer Hall, with Prince George, Princess Charlotte, and Prince Louis. According to Daily Mail, a source says that Kate is doing the majority of the lessons, though William has pitched in a little.
"Kate is leading on most of the teaching. She spends time every day doing something with them," the source stated. "William is also rolling up his sleeves and getting stuck in as well."
William and Kate are expected to remain at their country house until the government lifts the lockdown. Other senior members of the royal family are also self-isolating. Queen Elizabeth is currently hunkering down at Windsor Castle while Prince Charles is in Scotland after testing positive for the coronavirus.
Harry and Meghan, of course, are living in Los Angeles and looking to start the next chapter in their lives.
Kate Middleton has not commented on the reports surrounding her new look.