Kate Middleton Returns to Normal Life Amid Rumors of a Grudge Against Harry and Meghan
Kate Middleton is doing her part to move forward amid Prince Harry and Meghan Markle's stunning exit. Following the couple's final royal engagement, Kate, Duchess of Cambridge, has returned to her normal schedule and appears to have accepted her increased role in the monarchy. But royal experts believe she is also holding a major grudge against Harry and Meghan, Duchess of Sussex, whose exit has forced everyone else to pick up the slack.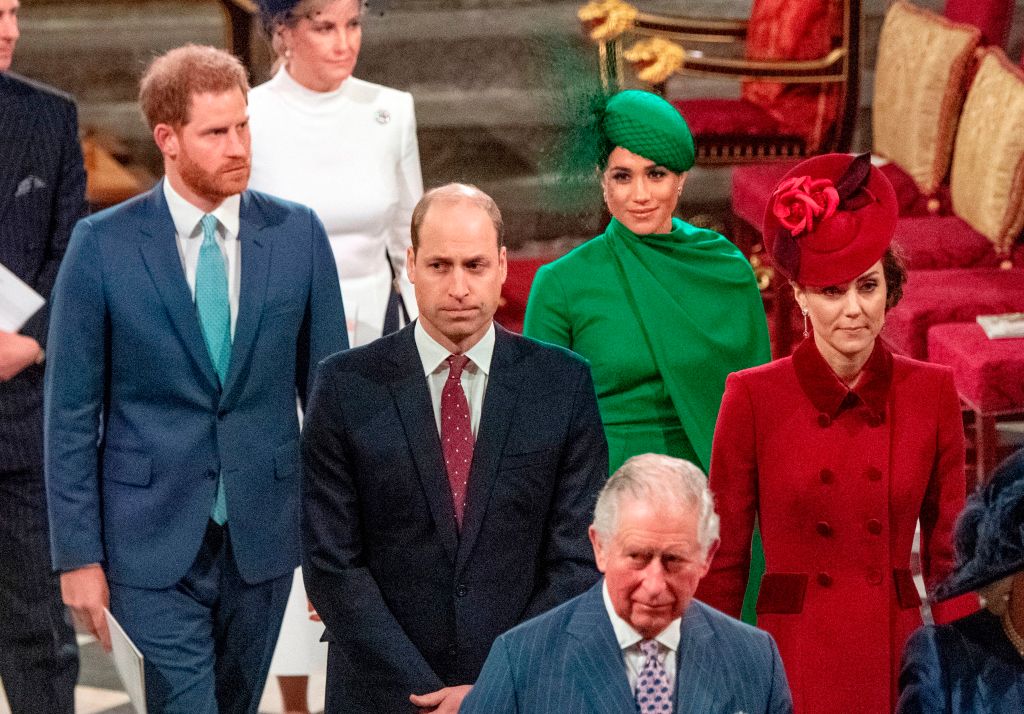 Is Kate Middleton holding a grudge against Meghan and Harry?
Amid Harry and Meghan's exit, Kate and the rest of the royal family have put on a united front in public. But during the Sussexes' final tour of the UK, royal experts believe that Kate showed that she is holding a grudge against the couple.
According to The Guardian, experts have examined Kate's behavior during the Commonwealth Day service and believe that she is not happy about Harry and Meghan's decision to quit their duties.
The service marked the last time Harry and Meghan will appear alongside other members of the royal family before their exit becomes official on March 31. While the Duke and Duchess of Sussex were nothing but smiles during the event, Kate Middleton barely acknowledged them.
Kate and Prince William exchanged a brief greeting with the Sussexes when they arrived, but they ignored them throughout the remained of the service. The Cambridges were seated one row ahead of Harry and Meghan, who spent most of the service talking to Prince Edward and his wife, Sophie, Countess of Wessex.
Is this a sign that Kate is holding a grudge? Perhaps. At the very least, Kate is probably not too keen on the idea of abruptly increasing her royal duties in the months and years to come.
Kate Middleton returns to normal life
Despite all the drama the royals are experiencing at the moment, Kate has returned to her normal duties. Royal watchers recently spotted Kate shopping at Waterstones for some new books for her three children, Prince George, Princess Charlotte, and Prince Louis.
According to Mirror, an inside source claims that Kate asked to see books related to history and the military. The Duchess of Cambridge wore a blue coat for the outing, complete with a gold clutch.
The outing signifies that life as returned to normal for Kate Middleton, who will be taking on more responsibilities in the coming months. It also comes shortly after Harry returned to Canada to reunite with Meghan and their son, Archie Harrison.
While royal watchers wait eagerly for Kate's next royal engagement, she recently opened up about her thoughts on motherhood.
The Duchess of Cambridge opens up about motherhood
During an interview for Giovanna Fletcher's podcast, Happy Mum, Happy Baby, Kate admitted that she feels "mom guilt" whenever she leaves her children at home to go to work.
"Anyone who doesn't as a mother is actually lying," Kate shared. "Yep – all the time, Even this morning, coming to the nursery visit here – George and Charlotte were like 'Mummy how could you possibly not be dropping us off as school this morning?"
Kate Middleton added that she often questions the choices she makes, especially now that she has children. To help combat this and her sense of guilt, Kate surrounds her kids with as many "loving and caring" individuals as possible.
This helps takes a huge load off her shoulders and helps her keep her children happy. Considering how things have gone for Kate and her family, we have to say her tactic is paying off.
Kate Middleton embraces her new role
There is little doubt that Kate has her hands full raising three children at home, but she will have to make room in her busy schedule for additional royal assignments. Now that Harry and Meghan are gone, Kate and the rest of the royals will have to step up to fill the void.
Although Kate's busy schedule is only just beginning, royal experts believe that she is fully embracing her new role within the monarchy. Only time will tell how Kate gets along, but it is a safe bet that she'll handle things perfectly well.
Prince William and Kate Middleton, of course, will see their roles expand even more when his father, Prince Charles, takes the throne. Eventually, Kate will sit by William's side as Queen Consort once he is the King of the United Kingdom.