Kate Middleton Saves on Her Casual Style With Affordable Pieces While Meghan Markle Likes to Splurge on Designer Trends
Both known for their sense of style, Meghan Markle and Kate Middleton spend differently when it comes to their casual looks. Ahead, see their favorite casual pieces and how much they cost.
There's no denying Meghan, Duchess of Sussex and Catherine, Duchess of Cambridge have style. They're both known as some of the best-dressed women in the world and they each have their own distinct personal style. One of their differences is that they have different approaches to their casual looks. 
Catherine goes for more affordable items when it comes to casual items in her wardrobe whereas Meghan splurges. Although they have different takes on the casual elements in their respective wardrobes, whatever Meghan and Catherine wear, no matter the price, can almost be guaranteed to sell out within minutes or hours of them being seen in it. Dubbed the Kate Effect and the Meghan Effect, people want to emulate their styles.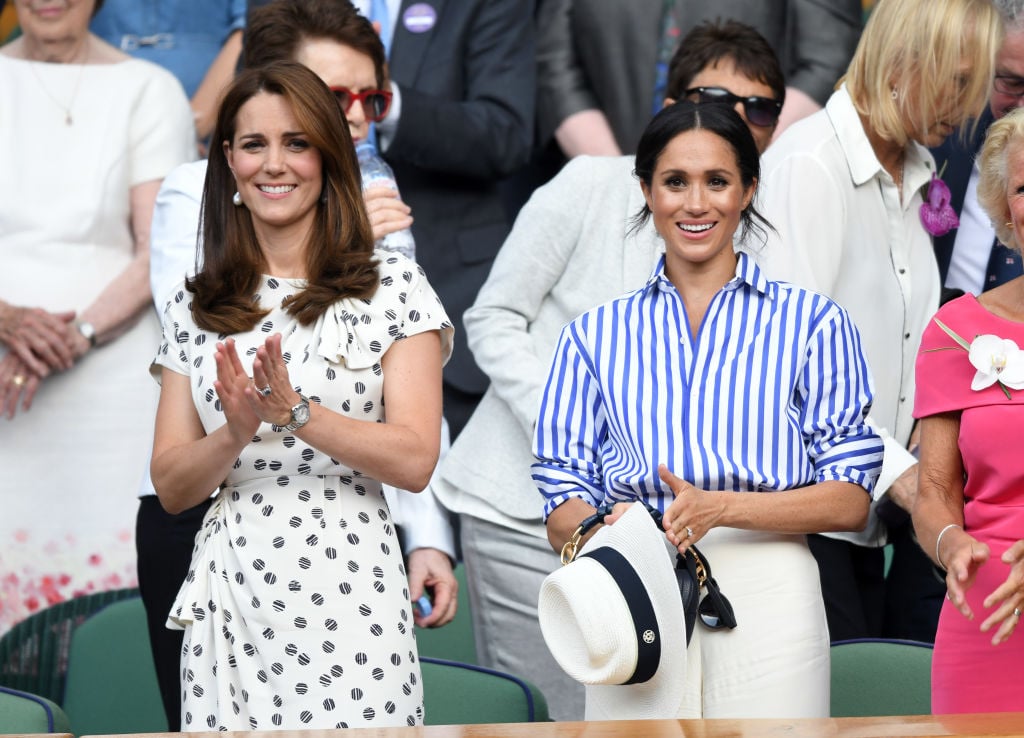 Kate Middleton loves jeans from Zara
Despite being married to the future leader of the British royal family, Prince William, Duke of Cambridge and having a hefty budget for fashion, Catherine prefers the affordable fast-fashion brand, Zara, when it comes to her off-duty style. In fact, every year since she and William got married Catherine has worn something from Zara. She loves the brand that much.
The Duchess of Cambridge wore an electric blue pair of jeans from Zara in 2012 to accept the Olympic Torch at the opening ceremony of the Summer Olympics.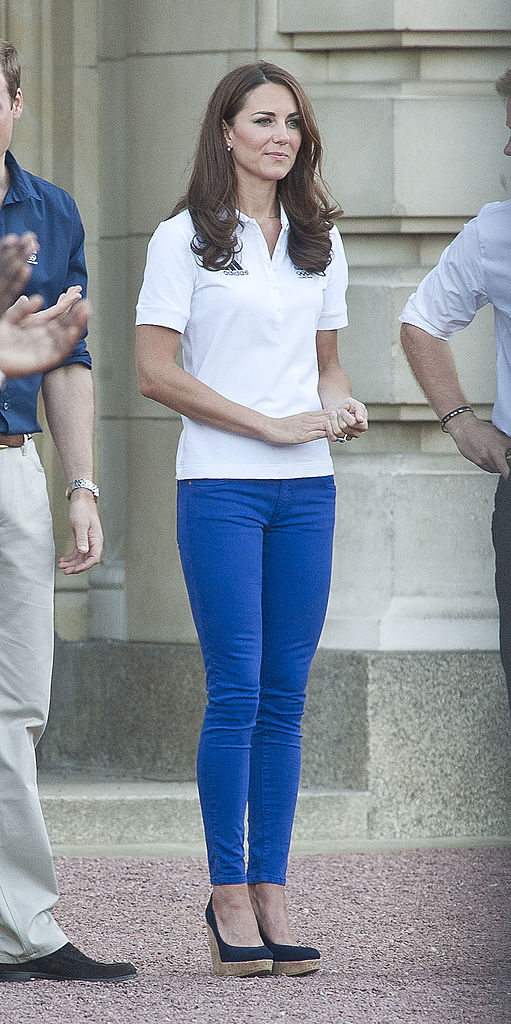 While her exact pair have long sold out, jeans from Zara run anywhere from $20 to $70.
In 2018, Catherine wore a $40 pair of Zara jeans to a royal engagement where she explored a garden with children, according to Hello Giggles. That wasn't the first time Catherine wore those particular jeans. Known for repeating outfits, she previously debuted the pair a year earlier.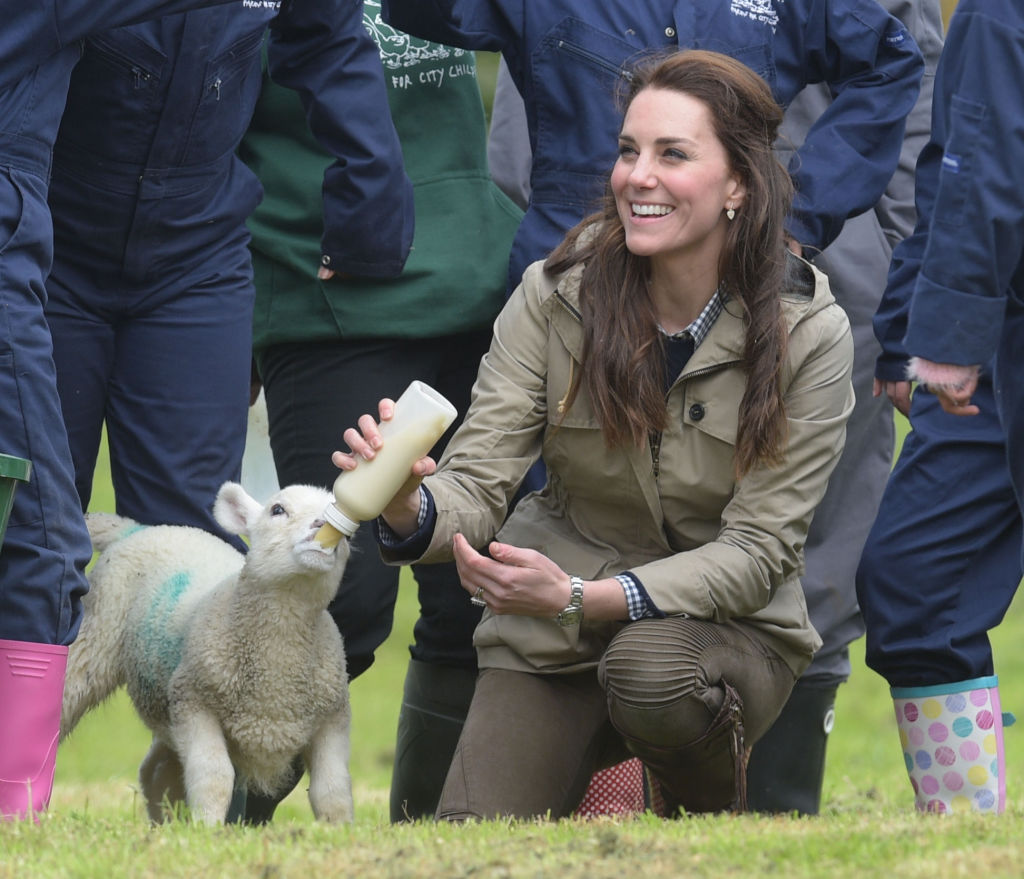 She's worn $65 sneakers from Superga again and again
Catherine also loves to save when it comes to casual footwear. She loves Superga sneakers and has been seen wearing them to royal engagements a number of times. 
Here she is wearing them in Canada.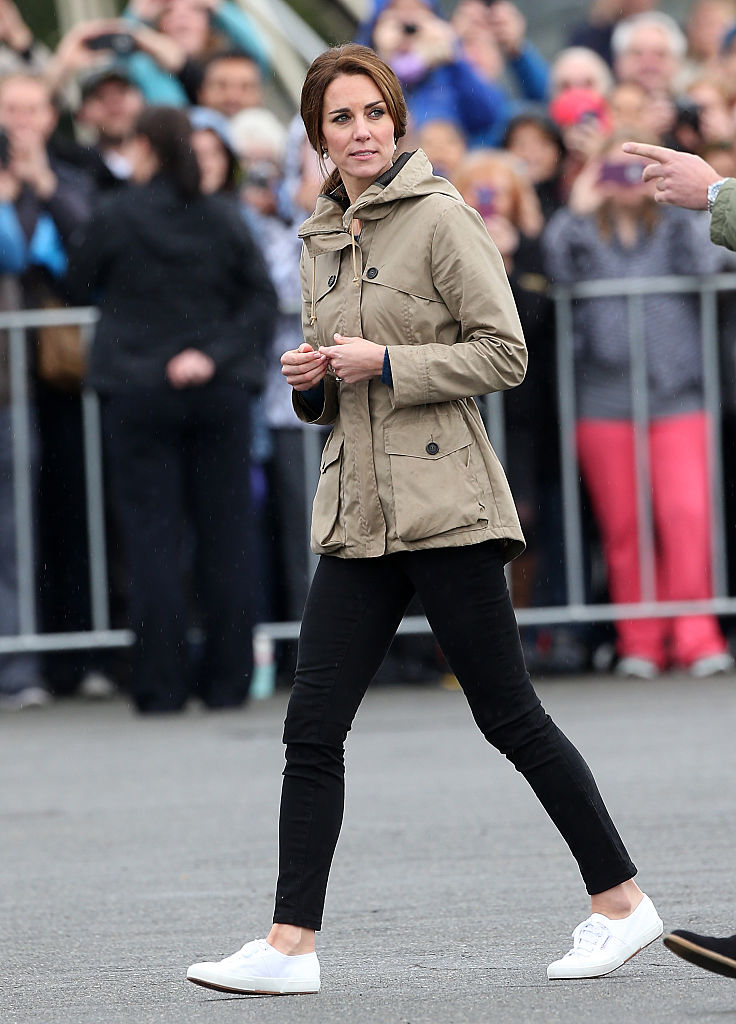 And again in Germany.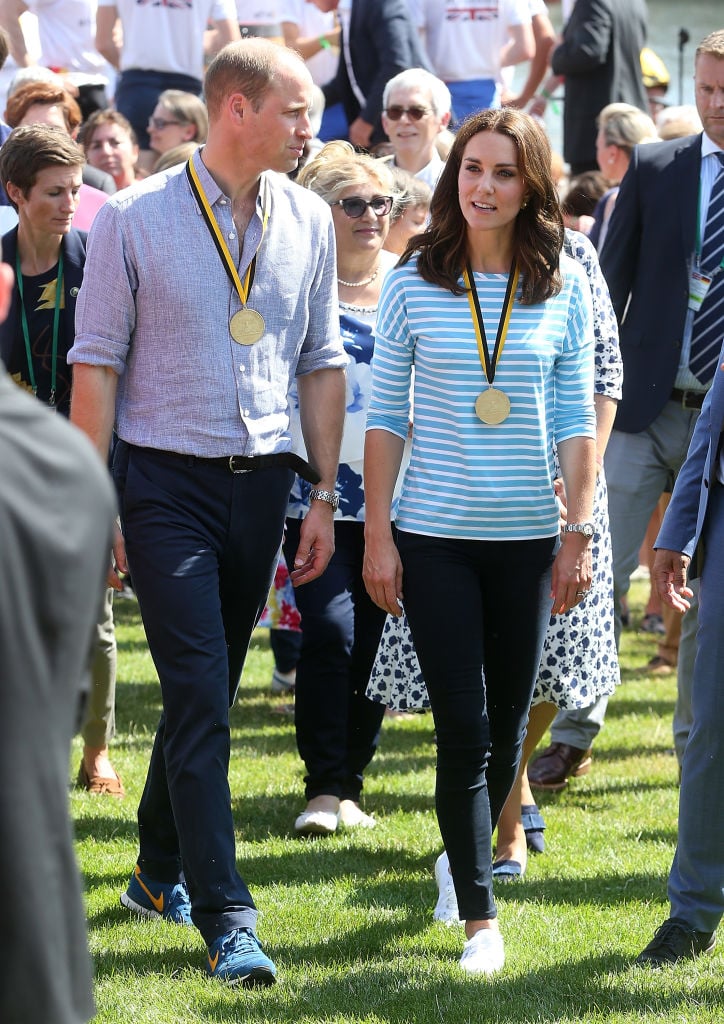 And on another occasion in 2019.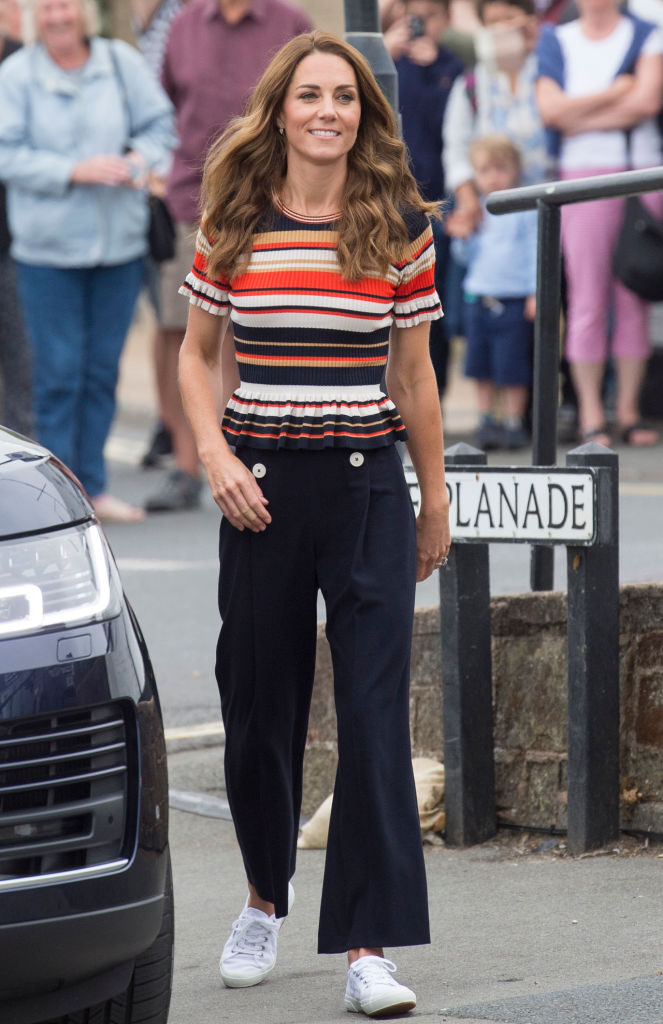 How much does a pair of Superga sneakers cost? A classic pair like the Duchess of Cambridge is so fond of go for $65 on Superga's website. 
Meghan Markle prefers $120 Veja sneakers and designer jeans
Compared to her sister-in-law, Meghan likes to spend a little more money when it comes to her casual clothes. This could be because she bought the items in her previous life as an actress when she didn't have to dress up as much or it could be because she simply prefers those brands. Whatever the reason, Meghan's casual style is popular. 
She's worn sneakers from the fashion brand, Veja, that run $120 a pair. Meghan first wore Veja's Esplar sneakers in 2018 when she went to the trials for the Invictus Games with her husband, Prince Harry, Duke of Sussex in Australia, according to Dress Like A Duchess.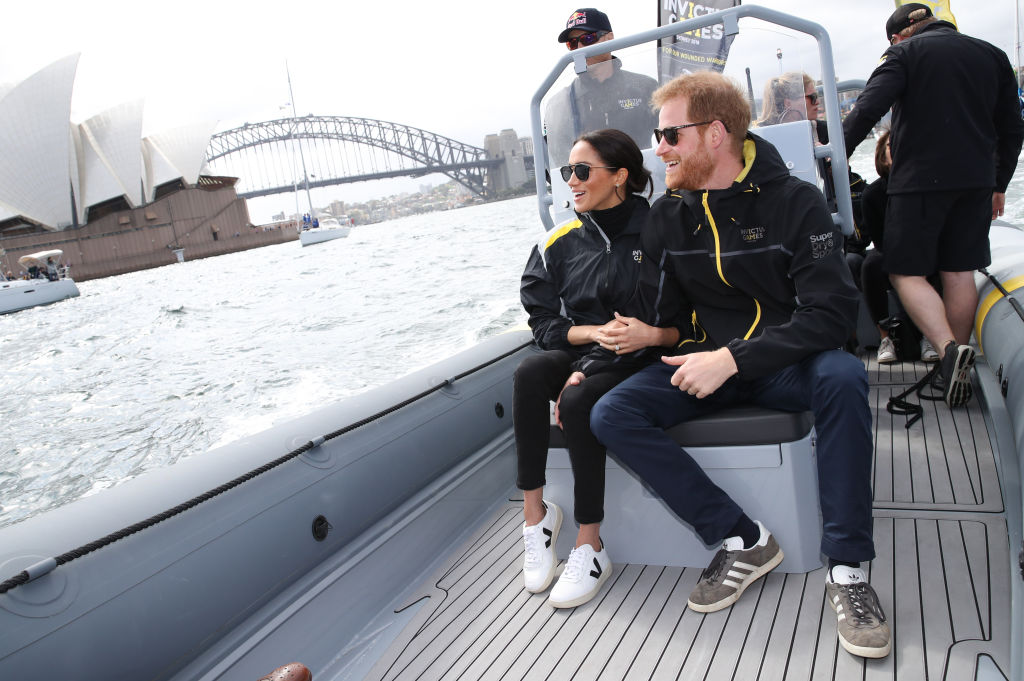 Another staple in Meghan's arsenal of casual clothes is her collection of designer jeans. While Catherine gravitates toward inexpensive denim, Meghan prefers to splurge. During her first public appearance with Harry in 2017, she wore a $228 pair of jeans from the Los Angeles based brand, Mother Denim that, according to InStyle, often sell out.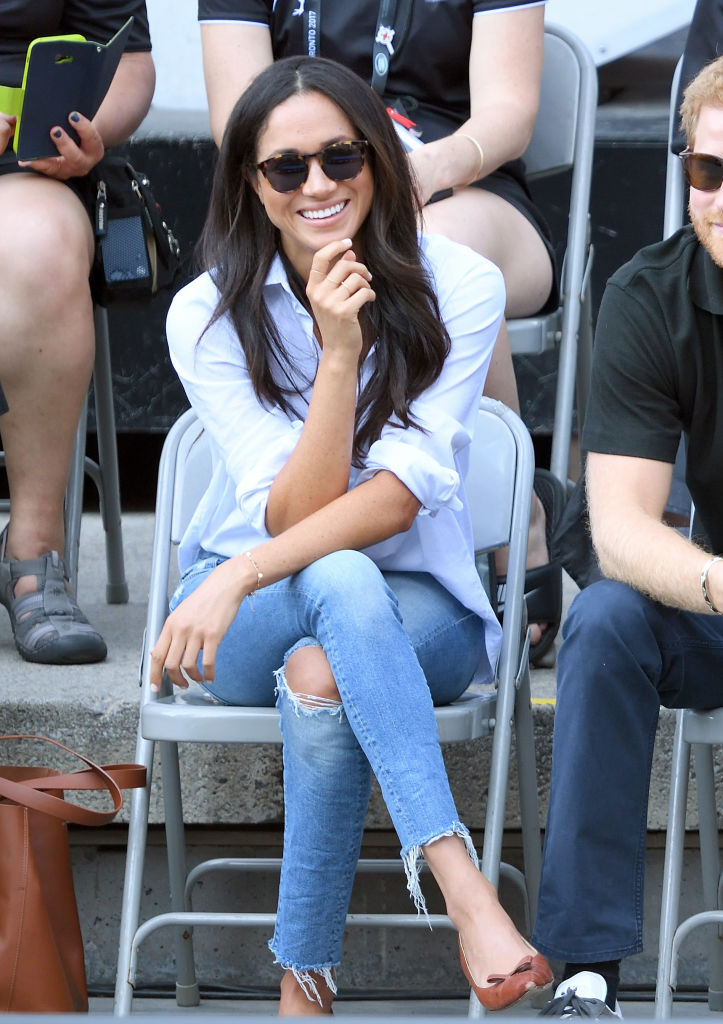 In 2018, she wore a black pair of jeans that cost $196 from the same brand. While Catherine has also been seen wearing designer jeans, it seems the Duchess of Sussex prefers to spend a little more money on the casual items in her wardrobe.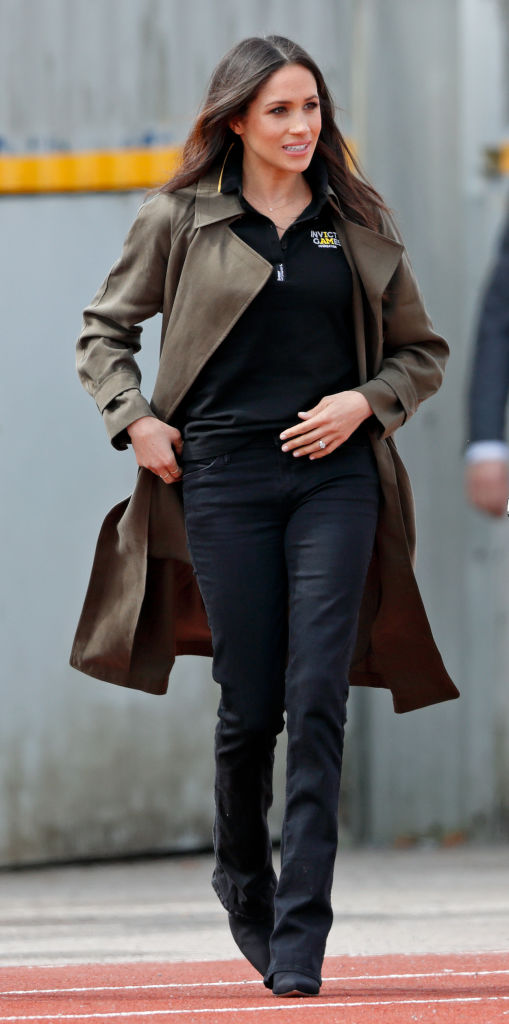 Even though Meghan and Catherine spend their money differently when it comes to casual clothes, they both look equally as stylish.