Kate Middleton Shares How 'Terrifying' It Was to Pose for Photos After She Just Had a Baby
Kate Middleton was glowing when she posed on the steps of the hospital after having a baby, but the experience wasn't so great, it turns out.
Remember how flawless Catherine, Duchess of Cambridge looked when she and Prince William posed on the steps of the Lindo Wing of St. Mary's Hospital after the birth of all three of their children? Little did royal fans know that the experience wasn't as lovely for the duchess as it seemed to be in the photos. In fact, Kate called it "terrifying."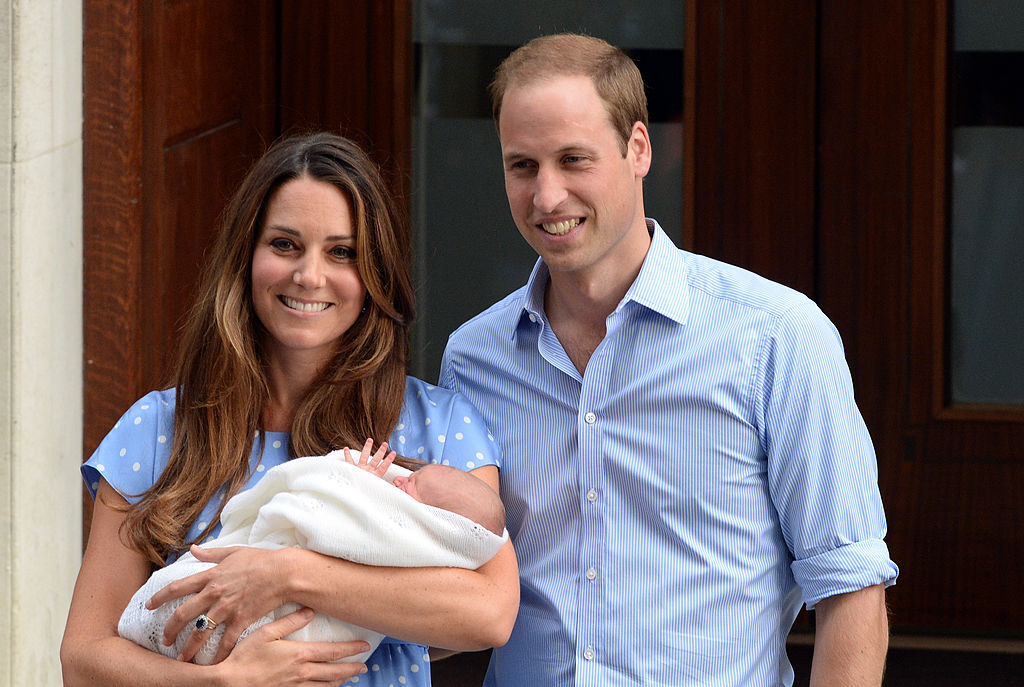 Prince William and Kate posed on the hospital steps
As has been done in the past, Prince William and Kate made their way to the steps of the Lindo Wing a short time after the birth of their babies so the world could see their newest addition.
The experience, while lovely for their royal fans, wasn't all that great for a mom who just hours earlier delivered a baby. "Yeah, slightly terrifying, slightly terrifying, I'm not going to lie," Kate shared about posing after the birth of Prince George in 2013.
She further revealed during her interview on the Happy Mum, Happy Baby podcast: "Everyone had been so supportive and both William and I were really conscious that this was something that everyone was excited about and, you know, we're hugely grateful for the support that the public had shown us, and actually for us to be able to share that joy and appreciation with the public, I felt was really important."
"But equally it was coupled with a newborn baby, and inexperienced parents, and the uncertainty of what that held, so there were all sorts of mixed emotions," Kate explained.
Prince Harry and Meghan, Duchess of Cambridge opted not to pose for photos immediately after their son's birth. According to a report, Markle didn't like the idea of the traditional photo, with a friend of the duchess telling The Post that Meghan "felt sorry" for Kate having to pose for the photos.
Kate opened up about their firstborn
Becoming a mother for the first time was, of course, a special moment and Kate recalled the first time she held George, noting: "Amazing, amazing. It is extraordinary as I've said. How can the human body do that? It is utterly extraordinary actually."
She added: "And he was very sweet. And I was also sort of relieved that he was a happy, healthy boy."
The couple chose not to find out the sex of the baby before he was born. "I didn't know, no it was a surprise. But also seeing… you know your husband, William, and things like that. Seeing the pure joy of his face it was really special," she shared.
A newborn proved to be a big adjustment
Kate and William quickly discovered there is an adjustment to having a newborn baby, something you can't fully realize until you experience it.
"Particularly with your first-born baby, you think everything is going to go back to how it was," Kate shared. "I totally underestimated the impact and the change it had on our lives from that moment really and I think, unless you've got children, you don't realize. No amount of planning and preparation can get you ready for that moment."
She admitted, "It wasn't that quiet in our household!," adding, "William was like 'Oh my gosh is this what parenting is going to be like?' It took us a bit of time to get ourselves settled and going again but that's the beauty, I suppose, of having a newborn baby. You are pulled to your toughest and most unknown places that you hadn't necessarily even thought about before."