Kate Middleton Steps Out Wearing a New Necklace With a Very Special Meaning
Kate Middleton has added a new necklace to her collection. This week, the Duchess of Cambridge toured several facilities in Cardiff and Surrey in promotion of her new initiative, 5 Big Questions. During one of her stops, cameras caught Kate rocking a new necklace — and it has a very special meaning for the future Queen Consort.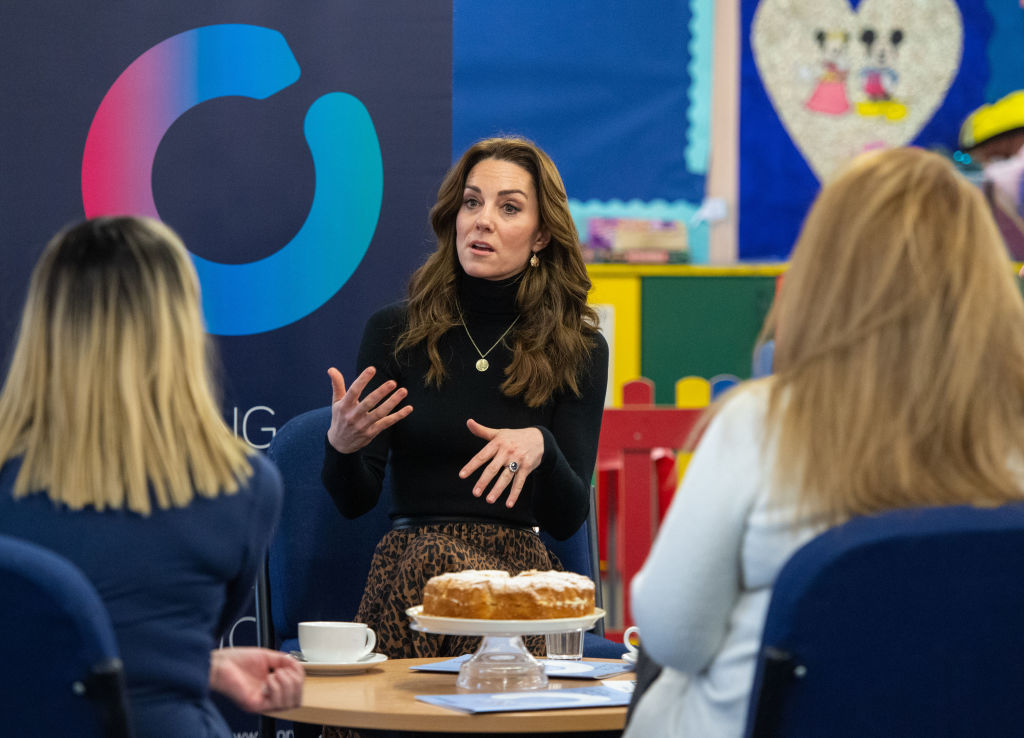 A look at Kate Middleton's new necklace
Kate's new necklace is from designer Daniella Draper and is worth a little over $1,000. The gold piece also has a connection that is very close to Kate's heart.
According to Metro, the necklace bears the letters G, C, and L, which stand for Kate's three children — Prince George, Princess Charlotte, and Prince Louis.
Kate showed off the new item while promoting her early childhood development work. This includes a stop at a children's center before mingling with parents at HMP Send in Surrey.
Following the events, Kate Middleton shared photos from her various visits on social media. Some of the shots included Kate meeting with children, which just goes to show just how much the subject of child development is important to her.
Kate had her youngest child, Prince Louis, in the spring of 2018. There are rumors that Kate is thinking about having one more child with Prince William, though nothing official has been confirmed.
The Duchess of Cambridge pays tribute to her family
This is not the first time Kate has worn something in honor of her family. Back in 2014, the Duchess of Cambridge was spotted rocking a necklace that bore Prince George's name, plus the letter W in honor of William.
It is widely believed that Kate's sister, Pippa Middleton, gifted her the necklace. At the time, George was Kate and William's only child.
While it is sweet that Kate Middleton wears things related to her family, she is not the only royal who has dedicated jewelry to a child.
Last fall, Meghan Markle was seen wearing a necklace with the letters A and H, which are the initials of Prince Harry and their son, Archie Harrison. The former Suits star wore the necklace while watching a tennis match between Serena Williams and Bianca Andreescu at the US Open.
Which royal has the most expensive watch?
Considering how the royal family is worth a staggering $88 billion, one would think that they own some of the richest watches in the world. Surprisingly, that is not the case.
In fact, it is actually rare to see a member of the royal family wear a watch in public. There are no strict rules against watches, per se, but it would not look good if they were caught checking the time at an event.
But when they do rock a watch, it is usually of an elegant design. Prince William, for example, has been known to favor an Omega Seamaster, which runs around $2,000.
Meghan, meanwhile, has been spotted wearing a Cartier Tank Francaise, which fans can purchase for a hefty $3,000. But even that doesn't compare to Kate's go-to watch, which is a Cartier Ballon Bleu that is worth over $8,000.
Kate Middleton prepares for more responsibility
Expensive watches aside, it is clear that William and Kate are going to have to shoulder more responsibility now that Harry and Meghan are no longer senior members of the royal family.
A few weeks ago, the Duke and Duchess of Sussex announced that they are stepping away from the royal spotlight and will be setting up another home in North America. With Harry and Meghan gone, William and Kate will undoubtedly have to pick up the slack.
This week, the Cambridges offered a glimpse at what the royal family will look like without Harry and Meghan.
The couple hosted their first-ever solo event at Buckingham Palace. The reception went off without a hitch, though it helped that Prince Edward and his wife, Sophie, were on hand to lend some support.
While Kate Middleton and Prince William were meeting with guests at Buckingham Palace, Harry was in Canada reuniting with his wife. The two are reportedly looking to purchase a home in the country in the near future.