Kate Middleton Reportedly Swears By This 1 Exercise to Stay Fit
Kate Middleton is the Duchess of Cambridge, easily making her one of the most well-known women in the world. With so much responsibility, it's important that the duchess finds a bit of time for herself every now and then. And working out is a great way to get some alone time while also helping her take care of her body. Kate reportedly swears by one exercise to stay in shape.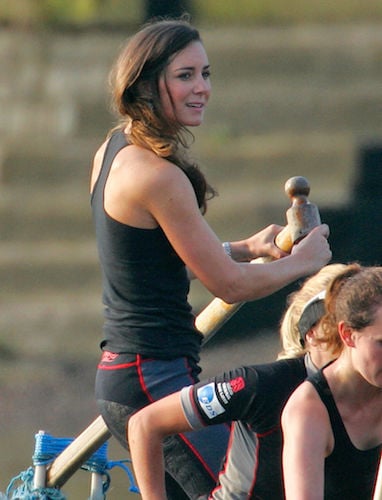 The duchess has a very healthy diet
If there's anyone in this world who can afford to eat anything they want, it's the royal family. Though Kate could eat a five-course meal for every meal if she wished, she makes sure to take care of her body by regularly eating extremely healthy foods. The duchess has long been a fan of the Dukan Diet, which she supposedly used to lose the baby weight from her three children. She still follows a similar regimen, but it is seemingly less strict. The Dukan Diet is very low in carbohydrates and high in protein, vegetables, and healthy fats. Kate eats plenty of raw foods, such as watermelon salads, gazpacho, and ceviche, in order to get the most out of their nutritional benefits.
Though she eats well, she likes to indulge, too
Although the majority of Kate's diet is healthy, she also likes to indulge in some guilty-pleasure foods. She said that Prince George and Princess Charlotte love to make pizzas, so the family often gets together to make the meal and pairs it with a salad. Kate and Will have also admitted to loving takeout; they typically order pizza (no surprise there) or curry. Most takeout places won't deliver to the palace, though, so the two always need to send someone out to pick it up for them, which might be a slight inconvenience.
Kate makes sure to incorporate different planks into her workout routine
When it comes to working out, Kate always makes time. The one move she swears by? Planks. She reportedly makes sure to incorporate different planks into her workout routine, since they provide a total-body workout that works many muscles in one move. According to Harper's Bazaar, the duchess works out for about an hour and utilizes various forms of planking throughout the workout. Normal planks and side planks are her go-to, but she also does a "skydive" plank, which involves laying on the stomach and gently lifting the chest off the floor.
She also reportedly enjoys yoga
The duchess reportedly likes to do yoga, too, which makes sense, since she has a such a busy schedule. Yoga is a great way to calm the mind while also increasing flexibility and burning calories. It's an intense workout but provides the duchess with some time to relax and focus on herself. Meghan Markle, Prince Harry's wife, also enjoys yoga. Her mother was a yoga instructor when she was growing up, and she might have even taught Kate a few new moves when the two women started getting to know each other. Though they aren't the closest friends, they do have a lot in common, which hopefully at least makes for good conversation when they're together.