Kate Middleton Swore By This 1 Diet to Lose Her Baby Weight
The royal family is constantly in the spotlight, so they probably feel the need to always eat right and stay in good physical shape. Kate Middleton has always had an extremely tiny figure. Even after all three children, Kate managed to lose the baby weight in no time and return to her petite frame. And rumor has it she relied on one specific diet to get here there.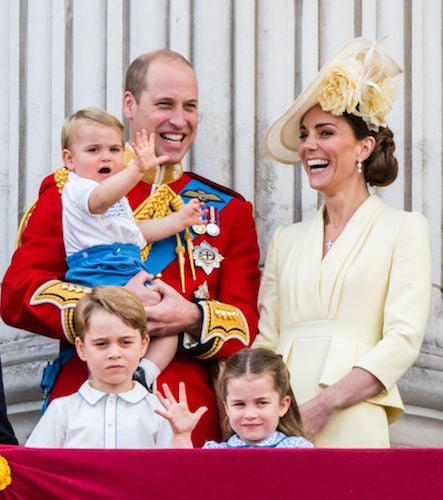 Kate has three children: Prince George, Princess Charlotte, and Prince Louis
The duchess has three children with her husband, Prince William. She and William first met back in the early 2000s when they both attended University of St. Andrews.  They dated for several years, with some even suggesting that William was dragging his feet and delaying a proposal. The two eventually got engaged and wed in 2011, and in July 2013, the duchess gave birth to their first child, Prince George. Kate didn't gain much weight during her pregnancy, which made it easier to lose it, but she managed to also lose the weight for her second and third child, which often isn't as easy.
The duchess cares a lot about working out
Kate works hard to stay in shape. Though she reportedly doesn't have a personal trainer (something surprising for someone so wealthy and high-profile), the duchess does try to make room each day to spend time working out. She enjoys running, and for a quick, total-body workout, she does planks. Front planks, side planks, and skydive planks all play a major role in her exercise routine. She also reportedly enjoys doing yoga, which might have been a bonding point for her and Meghan Markle; Meghan's mother was a yoga instructor, and she grew up practicing yoga.
Kate reportedly relied on the Dukan diet to lose her baby weight
Kate has always been a healthy eater, but when it came to losing her baby weight, she wanted something a bit more rigorous that would give her back her figure in a short amount of time. The duchess reportedly relied on the Dukan diet to lose the weight after her three pregnancies. The diet was first invented Pierre Dukan, and according to the diet's website, it helps redesign eating habits to keep the weight off after it's lost.
The diet has four phases. The first phase, the Attack phase, focuses on an extremely protein-heavy diet to "produce immediate and noticeable weight loss." The second phase, Cruise phase, adds vegetables to the diet, so it goes from pure protein to vegetables and protein. The third phase, the Consolidation phase, helps reintroduce indulgent foods slowly, so as not to promote weight gain. The fourth phase, the Stabilization phase, is essentially all the time after you've completed the first three phases. It's the diet you're meant to stick to for life. There are three rules in the stabilization phase: Eat three tablespoons of oat bran per day, walk 20 minutes daily, and have a "pure protein" Thursday, meaning one must eat a protein-only diet on Thursdays.
Now, she sticks to a similar diet with less restriction
Kate supposedly followed the Dukan diet to lose that baby weight, but once she lost the weight, she returned to a similar diet but with fewer restrictions. The duchess reportedly still eats very low-carb, high-protein meals, but she does indulge every now and then and has said that she loves to occasionally order takeout and cook pizzas with her kids.