Kate Middleton To Become Queen Catherine When Prince William Takes the Throne Despite Her Official Title
Kate Middleton will take the title of Queen Consort when Prince William takes the throne, but royal experts believe she will be known as Queen Kate or Queen Catherine.
Royal watchers have long speculated about what title Kate Middleton will get once her husband, Prince William, is on the throne. Kate's official title will be Queen Consort, but there are royal experts who believe the Duchess of Cambridge will be called Queen after William inherits the crown. What are the chances that Kate becomes Queen when William takes the throne?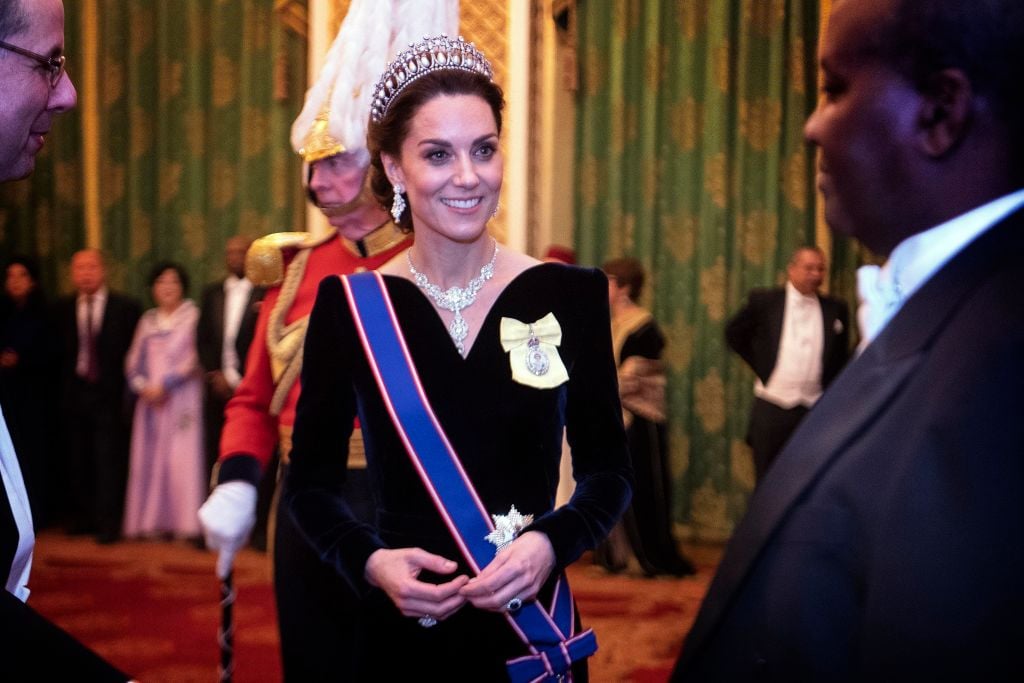 Queen Elizabeth adores Kate Middleton
When Kate first started dating William in the early 2000s, there was a lot of doubt about how she would deal with the pressures of being a royal. But after nearly 9 years of marriage and three kids under her belt, Kate has proven that she is very adept at handling the royal spotlight.
With Queen Elizabeth still on the throne, fans will get to see Kate Middleton mature even more in the coming years. Royal experts Zoe Burrell and Angela Mollard believe that Kate has gone further than any of her peers and has played the game brilliantly so far.
"We are now going to see Kate grow in a way we never saw Princess Diana grow," Mollard shared. "We never saw her reach that maturity and I think Kate is doing brilliantly. She has got three children, she never puts a foot wrong and she is being imaginative with her dresses."
Spouses of the reigning monarch are usually given the title of consort. Prince Philip, for example, currently holds this title and Prince Charles' wife, Camilla Parker Bowles, will be named Queen Consort once he ascends to the throne.
Burrell and Mollard, however, believe that Kate's title will be different — and it all comes down to what the media calls her.
Will Kate Middleton become Queen?
There is no doubt that Kate's official title will be Queen Consort once William inherits the crown. According to Express, Mollard and Burrell argue that the members of the media will call her Queen Kate, a name that will likely stick.
"Camilla will be Queen consort as will Kate actually, she won't be called Queen Camilla," Mollard explained. "However, I think there is a lot more chance that under casual fashion we will call Kate, Queen Kate or Queen Catherine."
Mollard added that Kate Middleton will have earned that moniker by the time William is King, at least when it comes to public opinion. Based on everything the Duchess of Cambridge has done over the past decade, it is hard to argue against that.
There is also a historical precedent to back up the theory. Princess Diana was called a princess ever since she tied the knot with Charles in 1981. Her official title, however, was Diana, Princess of Wales.
Diana mentioned this subtle difference in multiple interviews, but the name stuck even after she divorced Charles. The same could happen with Kate, though a lot could happen by the time William sits on the throne.
The Duchess of Cambridge helps the royals move forward
Talk about Kate's title comes during a turbulent time for the monarchy. A few months ago, Prince Andrew was forced to step down amid his scandalous ties to the pedophile Jeffrey Epstein.
Things got even worse for the royals at the beginning of January when Prince Harry and Meghan Markle announced that they are stepping down as well. The Duke and Duchess of Sussex are planning on splitting their time between the UK and North America and will lose their HRH titles.
Amid all the drama, Kate Middleton has been stepping up her game and has already taken part in several engagements in 2020. This includes her new early childhood initiative, 5 Big Questions on the Under-Fives, and a visit to Scotland and Northern Ireland.
The royal family may be experiencing some serious turmoil at the moment, but Kate is clearly doing her part to keep "The Firm" moving forward.
Are Kate Middleton and Meghan Markle set to reunite?
Although Harry and Meghan are now enjoying a quiet life out of the royal spotlight, they are expected to return to the UK for one final engagement.
Inside sources say that Queen Elizabeth has asked the Duke and Duchess to appear at the upcoming Commonwealth Day service before Megxit becomes official.
If that happens, then Kate and Meghan will reunite for one last event before the former Suits star returns to Canada. Harry and William are also expected to attend the event in what might be one of the last times we see the couples together in an official capacity.
Kate Middleton has not commented on the reports surrounding her title. The Duchess of Cambridge is getting ready for a tour of Ireland and then Australia with her husband, details of which have yet to be revealed.