Why Kate Middleton's Wedding Dress Is Trendy and Inspiring Brides a Decade After Its Debut
Kate Middleton's wedding dress was so classic that it's still inspiring brides.
It has been a decade since Katherine, Duchess of Cambridge became a member of the British royal family. Overall, she has been successful in her role as a future queen consort. Some people describe the duchess as having a magical aura while also being "ordinary." It is one of the reasons why Kate Middleton is one of the most popular British royals. 
Kate Middleton's wedding dress was anything but ordinary and became the center of attention. Many brides wanted to emulate the style soon after seeing it. Even today, Kate's wedding dress remains trendy among boutiques. 
The wedding between Prince William and Kate Middleton
Kate was born in England on January 9, 1982. Today, people know her as the Duchess of Cambridge and the wife of Prince William. The couple first met as university students in 2001. They made headlines everywhere when they announced their engagement in 2010. 
The wedding happened the following year, and it naturally was more extravagant than an average wedding. The special day was on April 29, 2011, and around 2,000 people showed up to watch Kate officially join the royal family. Millions of viewers tuned in to see all the effort everyone put in for the event. 
People noticed how beautiful the Duchess of Cambridge looked during the ceremony. Not only did her outfit stand out, but her makeup appeared flawless. Kate enlisted the help of a professional makeup artist but felt comfortable doing it herself on her big day. 
The royal family spared no expense. The bill ended up being roughly $34 million, with most of the money going toward security. Even though Kate's wedding was years ago, many people still talk about it today. 
Plenty of women wanted a Kate Middleton-style wedding dress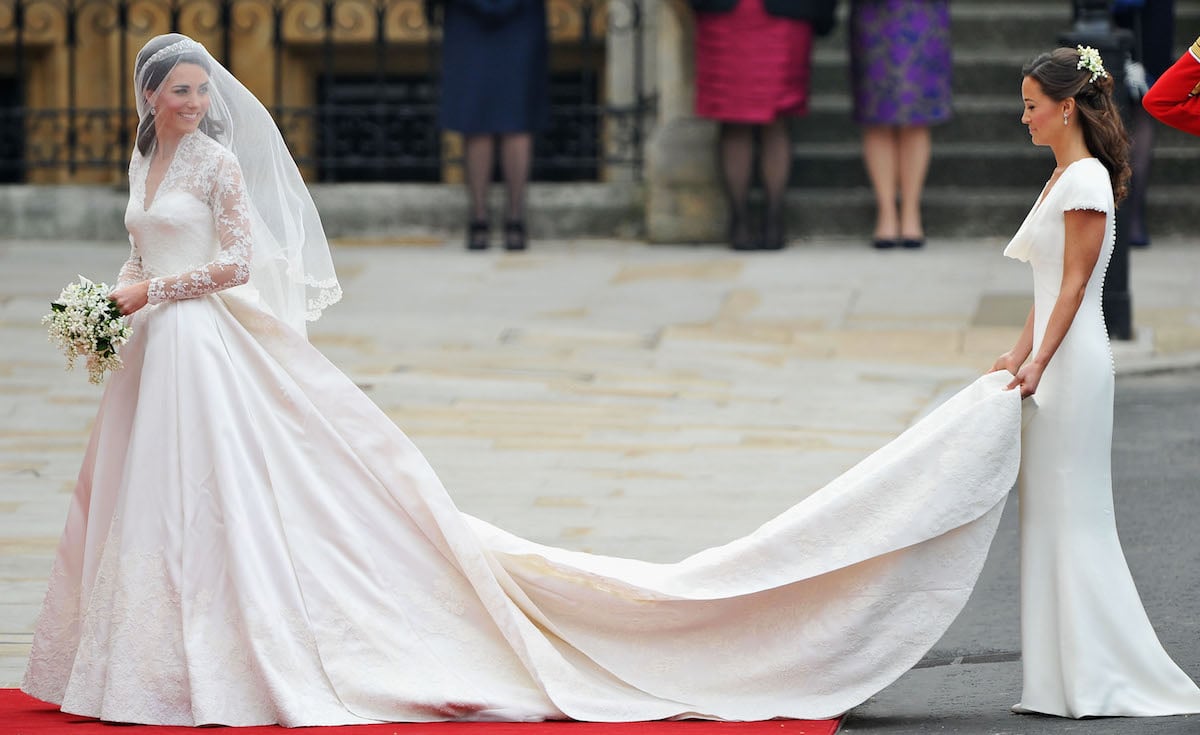 During the reception, Kate wore a second dress that had a more modern style. The dress had a simple design with a diamond belt at the waist. However, Kate's gown from the ceremony remained in the minds of brides in the following years. 
In an article by HuffPost, bridal boutiques often referenced Kate's elegant dress for women looking for something to wear on their important day. It would seem the royal wedding created a shift in the styles people use today. A Kate wedding dress replica even appeared on eBay soon after the event. 
Gowns with sleeves quickly had an increase in demand. People liked the look of long sleeves and lace, and the classic style of the Kate wedding dress helped with its longevity. The design looks similar to actor Grace Kelly's bridal gown in the '50s.  
Brides would not look out of place regardless of the decade, and the lace made Kate's dress more attractive to many women. For some people, the appeal is less about fashion and more about the fairytale of a normal woman marrying a prince. 
The design of Kate's wedding dress
Many aspects of Kate and William's wedding were expensive. For example, each wedding cake was $80,000, and Kate's wedding dress cost a total of $434,000. Why was Kate's wedding dress so expensive? For one, the design was by Alexander McQueen designer Sarah Burton, and the style was elaborate. 
Kate's dress combined both modern and traditional looks and consisted of white and ivory fabrics. The long sleeves had intricate lace detailing that made them see-through. The gown also had a cinched-in bodice made of ivory satin and a fuller skirt. The classic Victorian style was complete with a tail-end that was nine feet long. 
The skirt padded the hip area, and it resembled "an opening flower." Planning weddings often are stressful, but Kate no doubt has fond memories of walking down the aisle in her dress.