Kate Middleton Went Directly To Queen Elizabeth Over Her 'Concerns' About Meghan Markle Claims New Book
Sources say that Kate Middleton was worried about Meghan Markle and wanted Queen Elizabeth's help to deal with the drama.
A new book claims that Kate Middleton expressed some "concerns" about Meghan Markle in a private meeting with Queen Elizabeth. Sources say that Kate, Duchess of Cambridge, was worried about Meghan, Duchess of Sussex, and wanted Queen Elizabeth's help to deal with the drama. The reported meeting took place a whole year before Prince Harry and Meghan announced their exit from the royal family.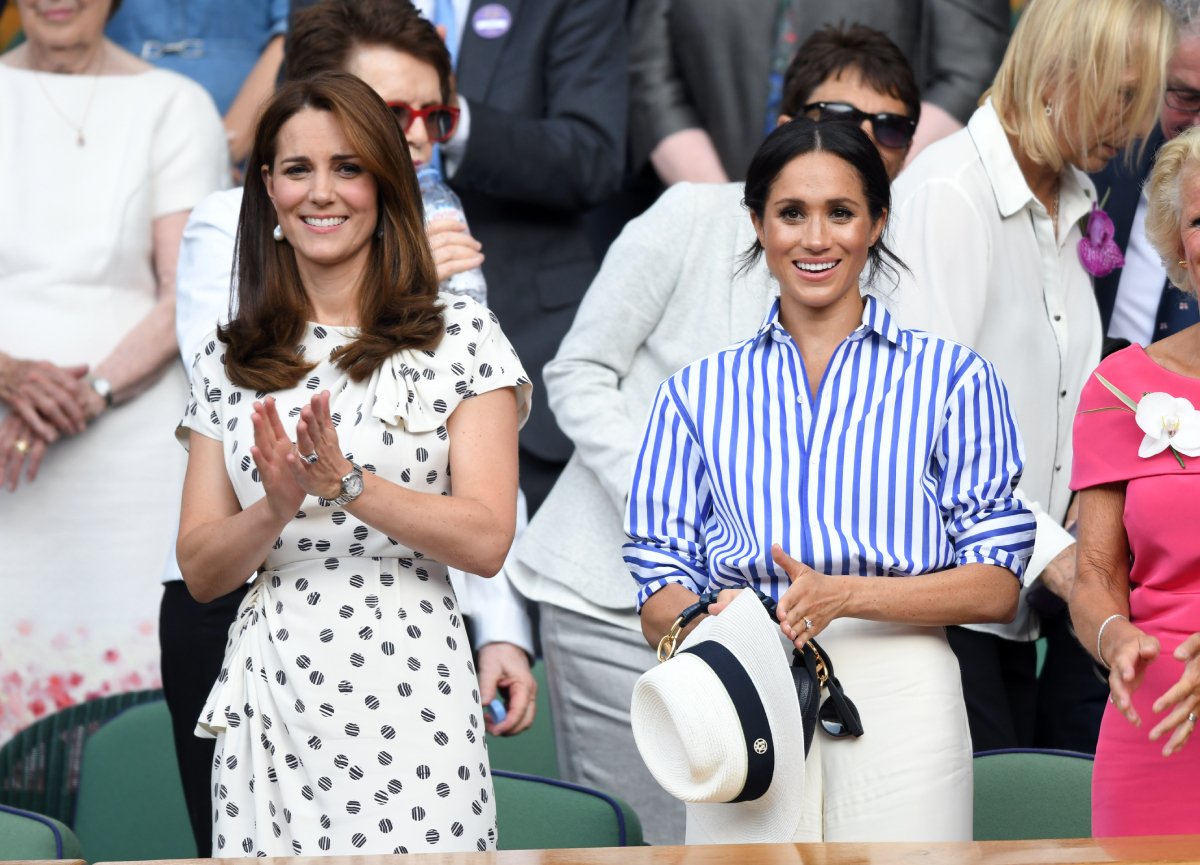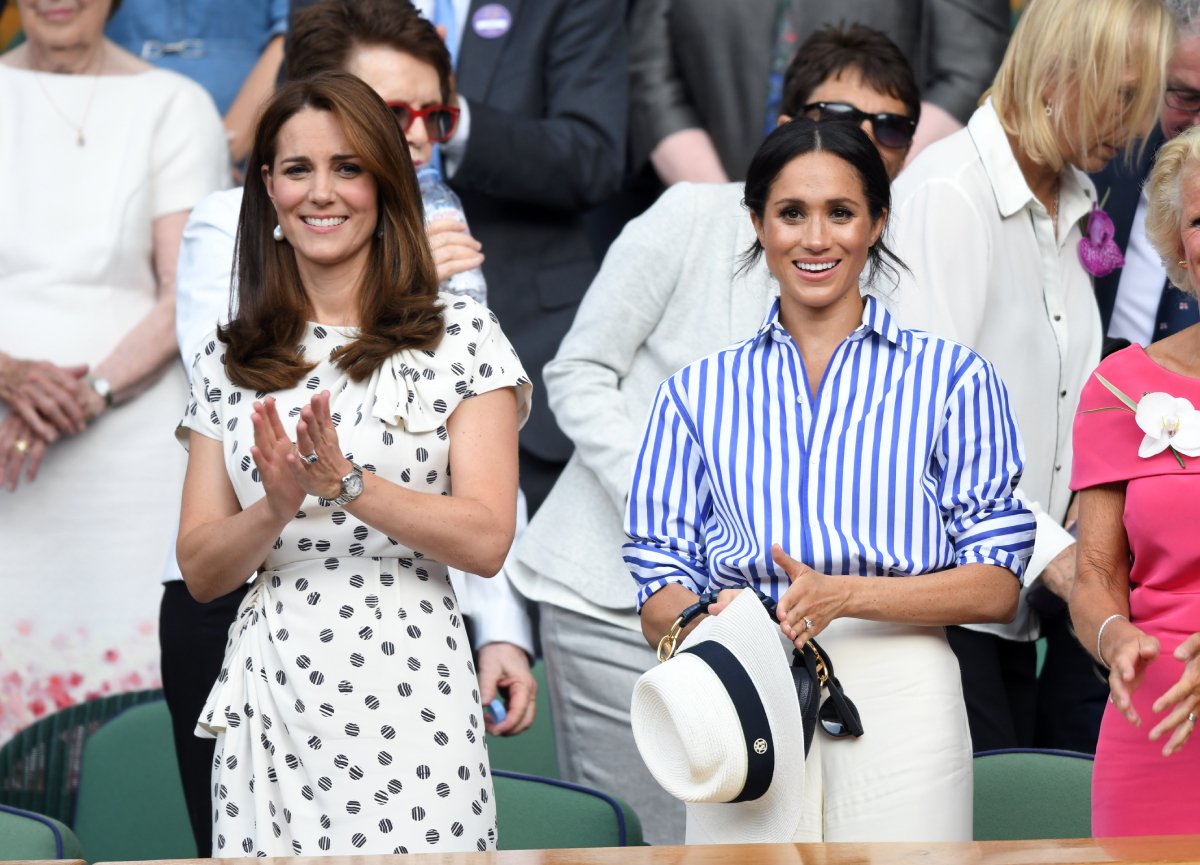 Meghan Markle meets the royal family
When Meghan and Harry went public with their relationship, the future Duchess of Sussex seemed to hit it off great with Prince William and Kate. After they got engaged, Harry recalled the time Meghan first met his family and revealed that everyone was excited to meet his new girlfriend.
"William was longing to meet her and so was Catherine, so you know, being our neighbors, we managed to get that in a couple of — well quite a few times now," he stated.
Harry went on to say that Kate was really great to Meghan, who echoed him by saying the Duchess of Cambridge was "wonderful."
When the Cambridges and Sussexes got together in public, royal watchers dubbed them the "Fab Four." Unfortunately, the goodwill didn't last long and things quickly shifted in the months leading up to Harry and Meghan's wedding.
This is when Meghan Markle's relationship with the royals went bad
Rumors of a feud between Meghan and Kate surfaced shortly after her wedding with Harry in the spring of 2018. According to Express, sources claim that Meghan and Kate had a row when they were doing dress rehearsals for the ceremony.
Their relationship was reportedly never the same. Unfortunately, Meghan experienced quite a bit of criticism in the months after the wedding, which only made things worse.
Royal watchers did not like how Meghan refused to take photos after giving birth to her son, Archie Harrison, something that Kate did following the birth of all three of her children: Prince George, Princess Charlotte, and Prince Louis.
Although Meghan and Kate have had their differences, sources say that things have gotten better between them and the two have worked out "a truce."
Did Kate Middleton warn Prince Harry about marrying Meghan Markle?
Along with the rumors about Meghan and Kate, there have also been reports about William and Harry butting heads. Those feud rumors started after William allegedly told Harry to take his relationship with Meghan slow.
Turns out, William wasn't the only one who warned Harry about rushing into things. In their book, Royals at War: The Untold Story of Harry and Meghan's Shocking Split with the House of Windsor, authors Dylan Howard and Andy Tillett claim that Kate also tried to caution Harry about marrying Meghan.
"[Kate] gently reminded him that he was dating someone with a completely different life, past, and career and it would take time, care and attention for them to integrate," the writers claim.
It is unclear how Harry reacted to Kate's warning, but sources claim that he did not appreciate it when William told him to take things slowly.
Meghan and Harry, of course, announced their departure from the royal family at the start of the year. Their departure went into effect at the end of March.
Kate Middleton meets with Queen Elizabeth
In light of all the issues that arose with Meghan, Kate reportedly reached out to Queen Elizabeth for help. In the Royals at War book, Howard and Tillett claim that Kate made an alliance with Her Majesty in an attempt to control Meghan.
The meeting between Kate and Queen Elizabeth allegedly happened in December of 2018, which would have been around six months after she tied the knot with Harry. In the meeting, Queen Elizabeth agreed to help Meghan with the "trials and tribulations" she was facing as a member of the monarchy.
Inside sources told the authors that Queen Elizabeth wanted to avoid another situation like the royals had with Princess Diana. But after her meeting with Her Majesty, Kate reportedly stopped playing nice with Meghan.
"Kate made visible attempts to get along with Harry and Meghan in the past year but now things have changed," sources stated.
Kate has not commented on the rumors surrounding Meghan and Harry's exit from the royal family. The Duke and Duchess of Sussex are currently living in Los Angeles and are no longer active members of the royal family.