Kate Middleton's Secret Message to Meghan Markle in Her New Year's Instagram Post Is So Revealing
Kate Middleton sent Meghan Markle a message in her New Year's post. See the secret message included in the Instagram post and the meaning behind it.
It's a new year and a time to put any differences in the past, which seems to be exactly what Kate Middleton has planned. In her recent New Year's Instagram post, she's shared a secret message to Meghan Markle that hints at extending an olive branch and moving forward in 2020.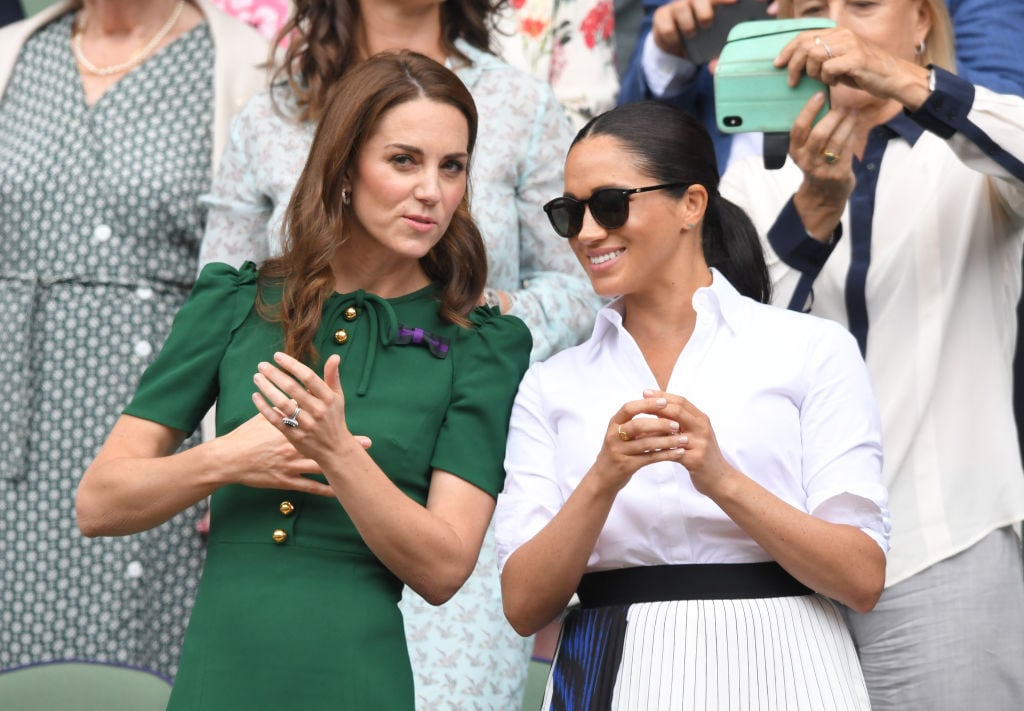 There has been tension between Prince William and Prince Harry
Last year, Prince Harry confirmed that the rumors of a feud between him and his brother Prince William were true.
In October, during an interview for the documentary, Meghan and Harry: An African Journey, Prince Harry revealed there was tension between him and William, as he admitted, "We are on different paths at the moment." He assured, "but I will always be there for him and, as I know, he will always be there for me."
Persistent rumors of feuding between the duchesses, however, was pretty well shut down when the two appeared at Wimbledon in high spirits, with their body language indicating that things are very good between them.
Prince William and Kate Middleton's New Year's message is hopeful
As a new year begins, Prince William and Middleton's Instagram post for their "year in review" left royal fans hopeful that things will continue to improve between the royal couples.
Their two-minute video included footage from their 2019 engagements, as well as photos of Prince Harry and Markle, including the first public photos of baby Archie.
The photo of Middleton and Markle sharing a laugh at Wimbledon was definitely a highlight, proving that the duchesses' relationship will continue to be strong in the new year.
The inclusion of Prince William and Prince Harry with Sir David Attenborough at a screening of the documentary Our Planet also showed a hopeful glimpse at the brothers, perhaps as a nod that they will mend their fractured relationship in 2020.
The Cambridges noted in their message: "To all the fantastic organisations and inspirational people we met and worked with in 2019: Thank you for a wonderful year, and see you in 2020!"
Royal fans found the inclusion of Prince Harry, Markle, and Archie to be a touching gesture, with one person noting: "I love this. I love the fact that you guys include images of Harry and his family. It's beautiful."
Another fan commented: "This is lovely. So nice to see inclusion of @Sussexroyal in this too."
Another person agreed, commenting: "says a lot about their love for Harry, Meghan and Archie."
Still another fan shared: "Thank you for including your brother and his family @sussexroyal in this. You didn't have to, but you did, and this shows your wonderful character. None of us on the outside knows what really has been going on, but family is everything. Thank you for showing this."
Inside Kate Middleton's secret message for Meghan Markle
Did Middleton send Markle a secret message? According to a report from Express, royal blogger Kate Disick explained: "The Duke and Duchess of Cambridge uploaded a clip showing their highlights and favorite moments of 2019. Some of their favorite moments depicted in the video would possibly surprise many royal fans given their [Kate and Meghan's] turbulent relationship."
She continued: "Including the images of baby Archie could be a way for the Cambridges to extend an olive branch to the Sussexes. This is such a subtle and elegant way of showing them [The Sussex royals] that they want things [their relationship] to be better between them, next year."
Disick added: "I think this truly shows that they care about them and want them to know that also."