Kathie Lee Gifford and Hoda Kotb Share the Benefits of Aging: 'I Have No Time For Other People's Opinions'
'Today Show's' Hoda Kotb and former co-host Kathie Lee Gifford talk about getting older in the television industry and how aging has improved their lives.
Today Show anchor Hoda Kotb and her former co-host Kathie Lee Gifford are proof that you can live your best life later. With Kotb's upcoming nuptials to longtime boyfriend Joel Schiffman and their two daughters, Haley and Hope, the NBC journalist is enjoying domestic life with her family of four. Since leaving Today, Gifford put down roots in Nashville and is pursuing a plethora of creative projects she's been dying to get in the works.
The two besties previously spoke on getting older in the public eye, and how aging can bring many positives in life.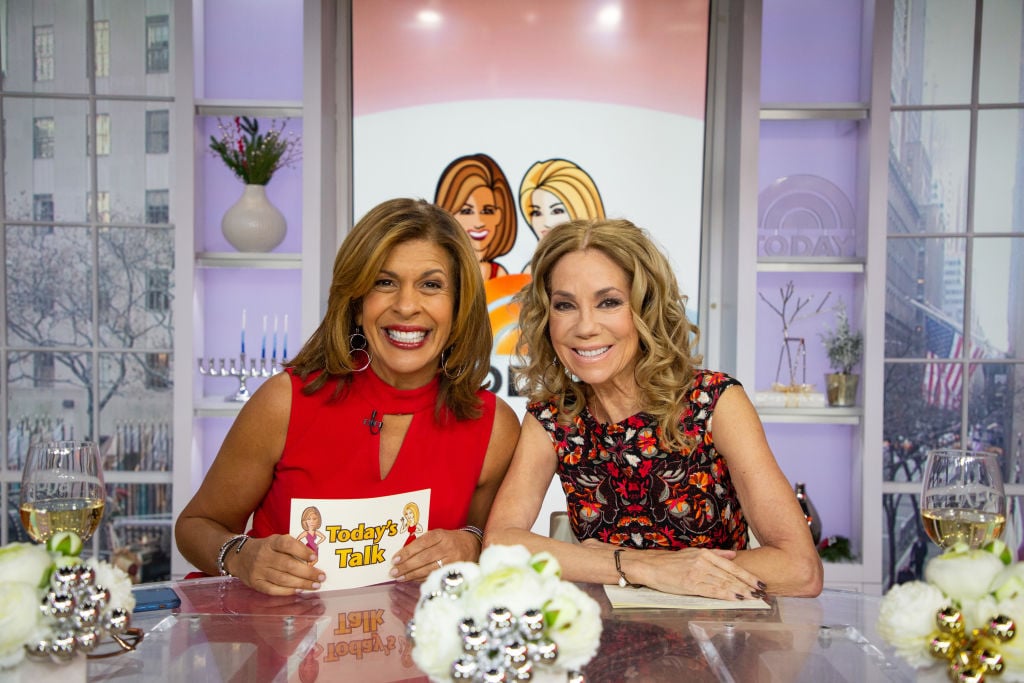 Kathie Lee Gifford is seizing the day
Now focused on songwriting and producing films, Gifford is cherishing her new ventures while creating a home in Tennessee. Since losing her husband Frank in August 2015, the former Today star is very aware of how sacred each moment is. 
"It matters for me now, because I do the math for the first time in my life," Gifford told Prevention in 2017 on aging. "I'm really aware that time is precious and finite and that I'm going to run out of time for some of the big things I want to do."
The television personality feels that those of a more youthful demographic can learn a lot from their elders if they took the time to appreciate their history.
"A lot of young people have no respect for the past," Gifford stated. "They have no idea who came before them, and they think you only have something to say if you're under the age of 30. I'm sorry, your brain isn't even fully formed until you're 25, so you've still got a lot to learn."
Hoda Kotb is having more fun in her 50s
Now as a mom of two young daughters and prepping for an upcoming wedding, Kotb is tackling exciting new adventures she never anticipated. The Today star shared that she enjoying life more now than in her earlier years.
"I was scared of everything. I was always kind of slinking away," she said of herself when she was younger. "I was a pleaser. Getting older is so much fun for me. I think it's because I didn't know that I'd be able to do things for the first time at 50-something… I wake up excited for the day and for life. If someone says something unkind—and people do—about aging or anything, I don't even care. I couldn't care less what they say."
Gifford focuses on gratitude rather than missed opportunities or past regrets. "All day long, life is about choice… I'm healthy, I'm employed, my kids are awesome, life is good," she shared. "I'm grateful. I think the most important reason to love your age is to be grateful for everything. If you grieve what you've lost in life at the expense of being grateful for what you have, you might as well take a dirt nap."
'This is a great ride'
While appearance is often the main focus of women in show business, Gifford and Kotb have started to see a shift. "I'm excited about being a woman in our world today," Gifford said. "I think we're finally getting our due. We're finally being appreciated."
Kotb keeps her mindset on the present rather than who may be upcoming competition. "I have to remind myself that this is a great ride, and it has an end point," she shared. "I know there's a younger, prettier, smarter woman around the corner. I don't live in terms of who's coming… I've never really sold myself in our industry based on what I look like or my age."
Despite her confidence, Kotb still struggles with sometimes feeling in the shadows. "When there are a lot of young guys, even older guys, and a lot of young, beautiful women, you sort of fade away into the background because pretty attracts attention," the Today anchor revealed. "I get it. People are attracted to the shiny penny—that's normal. There is a weird feeling when someone is looking at everyone but you."
Still, both women have achieved a strong level of inner security over the years. Rather than looking to others to validate her worth, Gifford has a select few in whom she trusts.
"I have no time for other people's opinions. That's the other joy of getting older—the number of people whose opinions matter has dwindled down at my age to maybe 10," the former Today star said. "These are the people who know me the best, love me the most. And you learn through the years who they are."