Kathie Lee Gifford Shares What Regis Philbin Told Her After She Announced She Was Leaving 'Today'
Former co-host of Today Kathie Lee Gifford recently stopped by the show's fourth hour to say hi to pals Hoda Kotb and Jenna Bush Hager (who filled her seat after her departure), and update viewers on her latest projects since leaving the show in April.
Gifford exited Today With Kathie Lee and Hoda after 11 years at the news desk with Kotb. The television personality was no stranger to co-hosting a daytime show. She bantered with Regis Philbin for 15 years on their top-rated syndicated talk show from 1985 to 2000. Still very close friends, Gifford revealed what Philbin told her after she announced her departure from Today.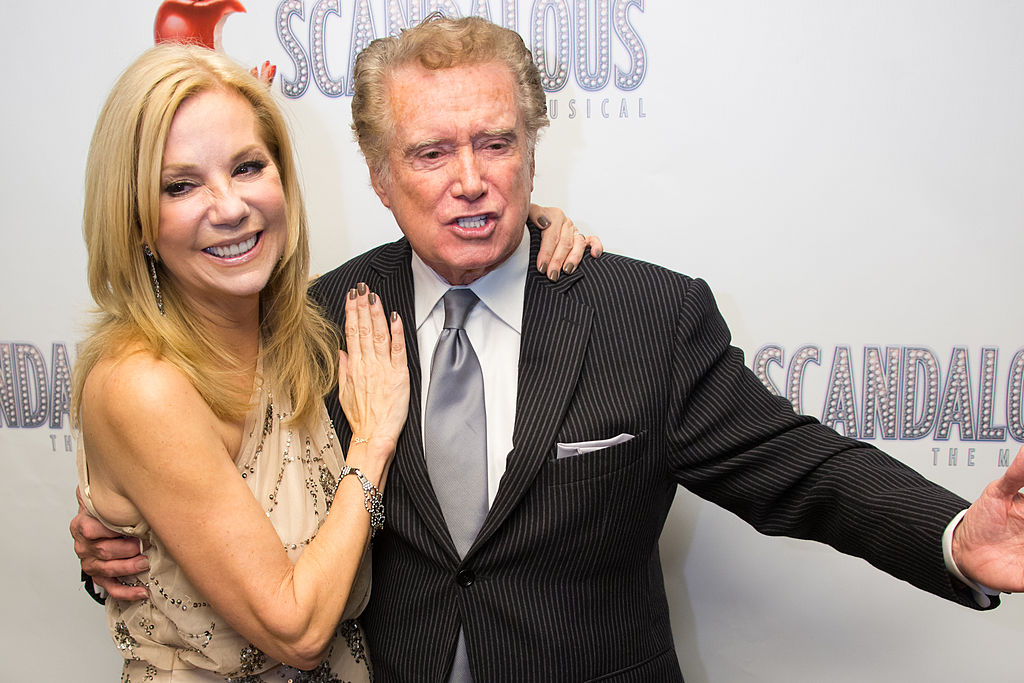 Visiting her NBC family
The former Today co-host dropped in last week to talk of her latest projects and new home in Nashville, Tennessee. Gifford shared that relocating down south helped her overcome the devastating loneliness she was dealing with after both her grown children moved out and losing her husband, NFL Hall of Famer Frank Gifford, in 2015.
"I didn't have a reason to have to stay in this big house anymore," she said of her Connecticut home, according to Today.com. "I found myself dealing with crippling loneliness. I had to make a move to someplace physically, and I had to make emotional moves and spiritual moves. You gotta make new memories or the old ones are going to kill you."
Now forming new roots and relationships in Nashville, Gifford also has several weddings coming up in her schedule. With her son Cody's engagement to girlfriend Erika Brown, her daughter Cassidy's engagement to boyfriend Ben Wierda, and her buddy Kotb's upcoming nuptials to attend, Gifford has a lot of bridal business on the horizon.
"I got three big weddings this year and I'm just excited," she said, adding, "It's life, it's like the thing I was talking about before. You can't concentrate on what you've lost. You will lose whatever life you have left if you do that. It'll eat you alive."
A lifelong bond
In December 2018, Gifford told viewers that she would be leaving the show. "I've been here almost 11 years; thought I would stay one year, something happened along the way. I fell in love…" she said, pointing to close friend Kotb, according to USA Today. "And now, when it's our eleventh anniversary, I am going to be leaving the Today Show." 
Gifford and Kotb had formed an unbreakable bond while working together for over a decade. "(Kathie Lee) totally jumped into my life in a way that I had never experienced before," Kotb shared, as reported by Today.com. "She stepped into it, and I was transfixed by her when we met. I don't know if you've ever had that chemistry where you connect with someone like that. I had it, and it was a feeling I'd never had before — that kind of intensity."
Echoing Kotb's sentiments, Gifford expressed her gratitude for their special friendship. "God brought Hoda into my life for all kinds of different reasons," Gifford said. "I was supposed to learn from her. She was supposed to learn from me. We were supposed to share life together."
Upon announcing her departure, Gifford pledged to her pal that their friendship would continue despite not sharing the news desk. "You and I may not be working together… anymore but we'll be in each other's lives for the rest of our lives," she told Kotb.
Words from another close co-host
Gifford also maintains a close friendship with Philbin. Upon hearing the news of her leaving Today, Philbin wished nothing but the best for his former co-host. "'Kath, I'm so happy for you,'" Gifford said Philbin told her. "'There's not a day that goes by that I don't think about the 15 years we spent together and how much I loved you.' He said, 'It was never the same after you left' because it isn't.'"
Philbin also recorded a special message to Gifford on her last day of Today. "Kathie Lee, you want to know the best part of my life — my TV life — was the 15 years I spent with you," he said in his tribute. "I want you to know how I will always remember the great times that we had working together and how you are as a person, just great."
Though she may no longer be sitting alongside Kotb or Philbin on a daily basis, Gifford is clearly a strong presence in both their lives through a strong friendship.