Kathy Griffin Being Treated for 'Unbearably Painful Symptoms' but Still Isn't Sure If She Has Coronavirus
Only days after her mother's death, Kathy Griffin ended up in the emergency room with "unbearably painful symptoms" she shared to Instagram.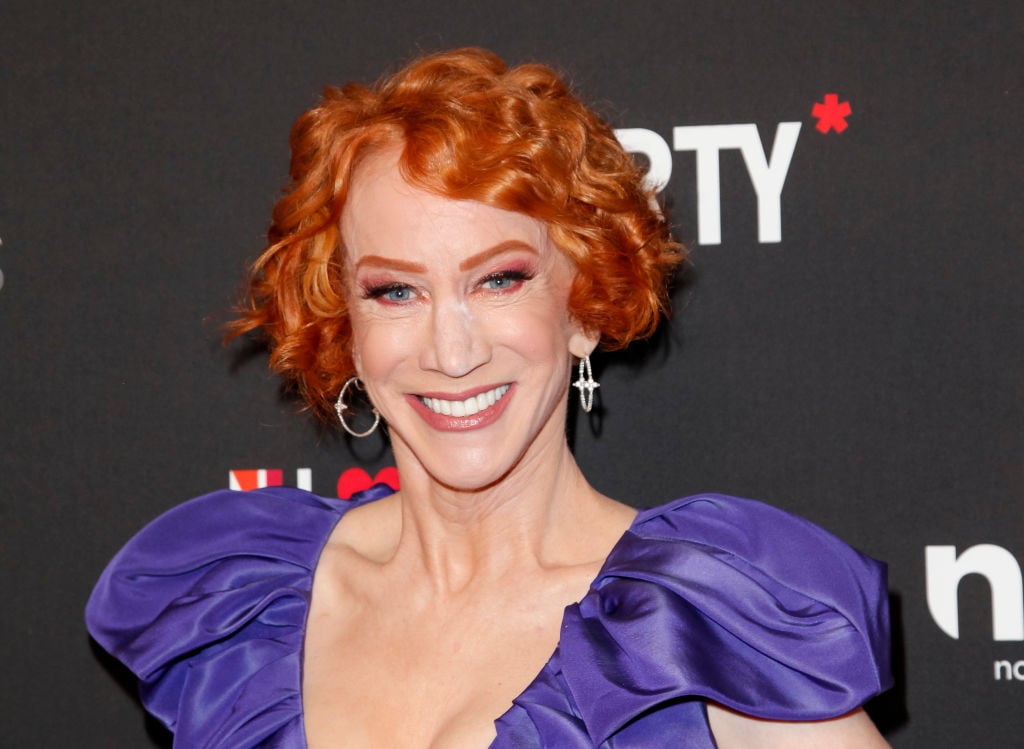 The comedian shared a photo of herself in a hospital bed wearing a protective mask, clearly frustrated that she was unable to be tested for COVID-19 (coronavirus). "He's lying," she wrote. "I was sent to the #COVID19 isolation ward room in a major hospital ER from a separate urgent care facility after showing UNBEARABLY PAINFUL symptoms. The hospital couldn't test me for #coronavirus because of CDC (Pence task force) restrictions. #TESTTESTTEST" ‬
Fans wished her well and waited to see if she too would join the ranks of other celebrities and public figures who have tested positive for the virus. Although she was treated and released, Griffin still doesn't know if she is positive.
Griffin doesn't know if she was exposed to the virus
Griffin shared her story with The Los Angeles Times. She tweeted excerpts from the story. "A) 'Kathy Griffin might have been exposed to the coronavirus. Or she might not have. After a recent trip to urgent care and the emergency room while gravely ill, the comic wasn't able to get tested,'" she shared along with a link to the article.
She then revealed she was diagnosed as having an abdominal infection. "B) 'Griffin has an abdominal infection that is being treated with medication, though she won't know whether she's turned the corner for a couple of days, she told The Times in a phone interview Wednesday afternoon. She's back home, and she's not going out anytime soon.'"
Adding, "C) "I remember vividly the doctor telling me … 'I'm going to send you to Cedars ER today because I don't think I could get you in 13 days from now,' Griffin said. She was freaked out.'"
She praised the medical team who treated her but revealed she could not be tested
Griffin was clearly grateful to the medical team on the frontlines. "D) 'She said she also saw a bunch of 'really smart, incredibly brave people' who cared deeply about what they were doing. Griffin said she kept telling everyone they were heroes. She couldn't praise the health-care workers enough.'"
It still does not appear as though she was tested for the coronavirus. "E) 'Despite going to the ER with a slew of symptoms, she said she still has no idea whether she's positive or negative for the novel coronavirus. Only time and testing will tell.'"
Apparently, Griffin did not fit guidelines for testing set by the Centers for Disease Control and Prevention. "F) "I just don't have an answer. I don't know,' she said. 'Someone at Cedars said to me, we cannot give you this test because of the CDC guidelines. I'm suggesting that the guidelines are still too strict because they don't have enough tests.'"
According to the CDC: "Clinicians should use their judgment to determine if a patient has signs and symptoms compatible with COVID-19 and whether the patient should be tested. Most patients with confirmed COVID-19 have developed fever1 and/or symptoms of acute respiratory illness (e.g., cough, difficulty breathing)."