Kathy Griffin Confronts a Difficult Decision About Her Mother's Funeral
A grief-stricken Kathy Griffin has to figure out how to have her mother's funeral amid the coronavirus.
Griffin's 99-year-old mother Maggie died on St. Patrick's Day. Griffin mourned her loss, sharing her grief on social media. But she now realizes that with her state under an order to "shelter in place," she may not be able to give her mother the send-off she originally hoped.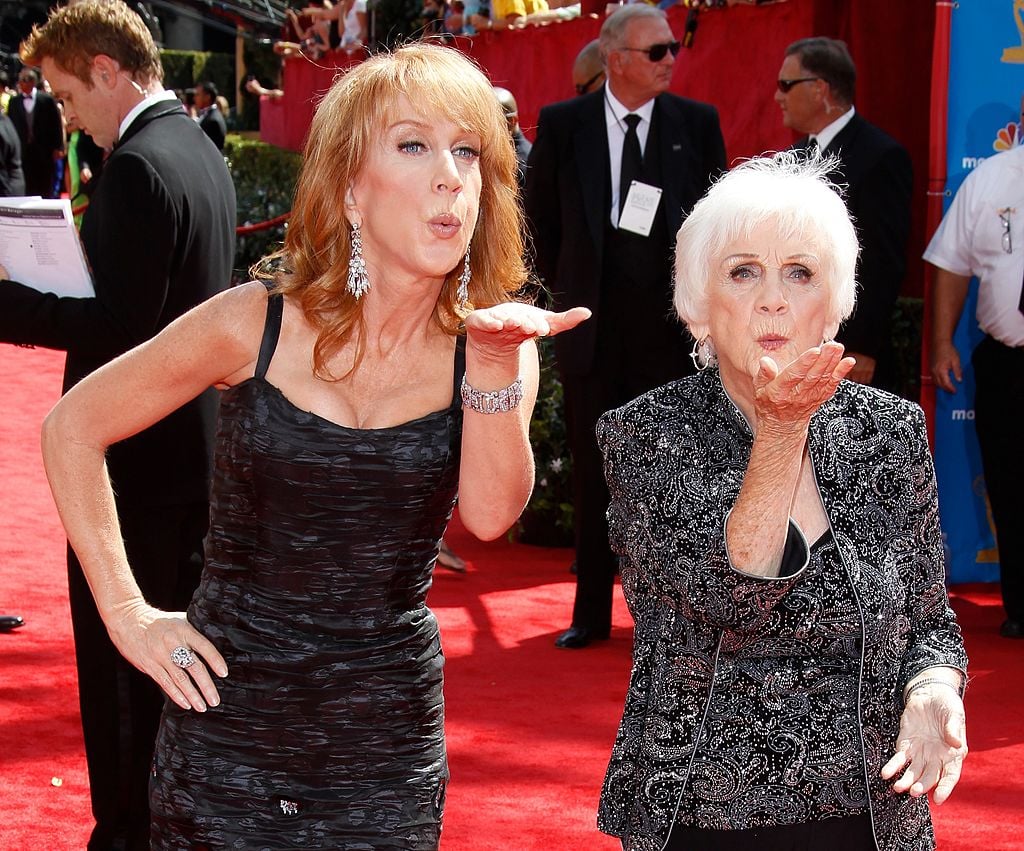 "I know there are many of you dealing with this surreal problem. I don't know how to memorialize Maggie yet. Privately grieving, of course. A virtual memorial? Not sure if that would suit Ms Maggie. Still open to it," Griffin tweeted along with a photo of her mother. "Everything is changing so fast. I'm so grateful to you guys."
The problem is very real for many families
Griffin shared a Los Angeles Times article about how the coronavirus has impacted loved ones who wanted to hold a funeral. "How can you grieve without a funeral? As coronavirus restrictions become more strict, families make heartbreaking choices," the LA Times tweeted along with the story.
Funerals are currently banned as California and the rest of the country tries to reduce the number of coronavirus cases. The LA Times talked to families and funeral directors about how to navigate the new surreal terrain. Like Griffin, one family still was not sure what they were going to do when the family's patriarch died of congestive heart failure during the pandemic.
Directors from funeral homes throughout the country are also still trying to figure out the most compassionate, but compliant way to abide by family's wishes. "I have two services coming up where they were going to be big and public, but no longer," Walker Posey, a spokesman for the National Funeral Directors Association told the LA Times. "I have two services coming up where they were going to be big and public, but no longer."
Maggie Griffin planned her memorial
Maggie Griffin liked to plan her memorial, making this time even harder for the comedian. "She loved to plan her memorial! Pierce Brothers cemetery, where Marilyn Monroe, Jack Lemmon, Natalie Wood & Fanny Brice are," Griffin shared in a tweet along with a photo. "Be beside her husband John P Griffin. Play the song Someone to Watch Over Me. 'For Chrissake Kathleen, no big meal. Just wine and pass arounds' Now what?"
Griffin has been trying to come to terms with her mother's death since Tuesday. "My Mom, the one and only, Maggie Griffin, passed away today. I am gutted. My best friend. I'm shaking. I won't ever be prepared. I'm so grateful you guys got to be part of her life. You knew her. You loved her. She knew it. Oh, and OF COURSE she went on St Patrick's Day," Griffin tweeted along with a photo with her mother toasting the California landscape.
Maggie Griffin had dementia during the last few years of her life.  "As heartbreaking as this is, I feel the need to share some important info about my mom Maggie. I've always been honest with you all, but this one is really hard. The pic below, taken in September, was the last time I was able to have a proper/coherent conversation with her," Griffin shared on Twitter one year ago.
"Since that photo was taken, she has rapidly fallen into the throes of dementia," Griffin continued. "This is never easy for any child, I know this is a reality that millions of people deal with every year. But when it comes to my mom this is particularly hard because her sharp mind was everything."