Kathy Griffin Has an Ally in Sia After Lung Cancer Surgery
Kathy Griffin is recovering from lung cancer surgery in early August after a surprise diagnosis. And she's only getting help from the best. A visit from "celebrity voice doctor" Sia is helping her find her voice again. 
Kathy Griffin has never smoked 
You read that right. Despite never having smoked, the My Life on the D-List star was diagnosed with lung cancer in July. She underwent surgery for the condition in August; and she did it all like a boss. 
"I've got to tell you guys something," Griffin shared via Twitter and Instagram on August 2nd. "I'm about to go into surgery to have half of my left lung removed. Yes, I have lung cancer even though I've never smoked!" Griffin said her doctors were "optimistic"  and that the stage 1 condition was contained to her left lung. 
But days later, she shared personal details about a difficult recovery, publicly stating that after a battle with prescription pill addiction, she would be relying on Tylenol to manage the post-surgical pain. 
"The last time I was in a hospital was in June 2020 when I tried to take my life and overdosed on prescription pills," she wrote. "With over a year clean and drug free, I now know I can do this and anything I want without those devil pills." 
"Hello Tylenol, my new best friend!" she joked. 
She suffered from a raspy voice after the surgery 
Griffin again took to social media to talk directly to fans in the days following the surgery with her newly-raspy voice. "My voice is like, really hoarse," the comedian laughed. "And I don't want to like, scare people." 
"Also, I laugh at everything now," she added. "And if it's horrible, I laugh way more." But the discomfort in her voice was evident. A visit from Chandelier singer Sia on August 20th was just the thing. She shared a video with her followers.  
"Working on getting my voice back with a special visit from my celebrity voice doctor," she captioned the video. "Enjoy!" 
"Hi you guys," she said, with a notably clearer voice than earlier videos. "Here's an update. So my surgery has been I think, three weeks and my voice is still hoarse as you can tell, but my doctor has been giving me vocal exercises…And the weirdest thing happens which is when I sing my voice is fine, like watch." She then lip-syncs the lyrics to Chandelier while a perfectly clear voice in the background sings them. 
"Did I mention my doctor is Sia? Very strict," she then quipped, turning the camera to Sia herself. 
Kathy Griffin will appear in 'Search Party' and 'Unconventional'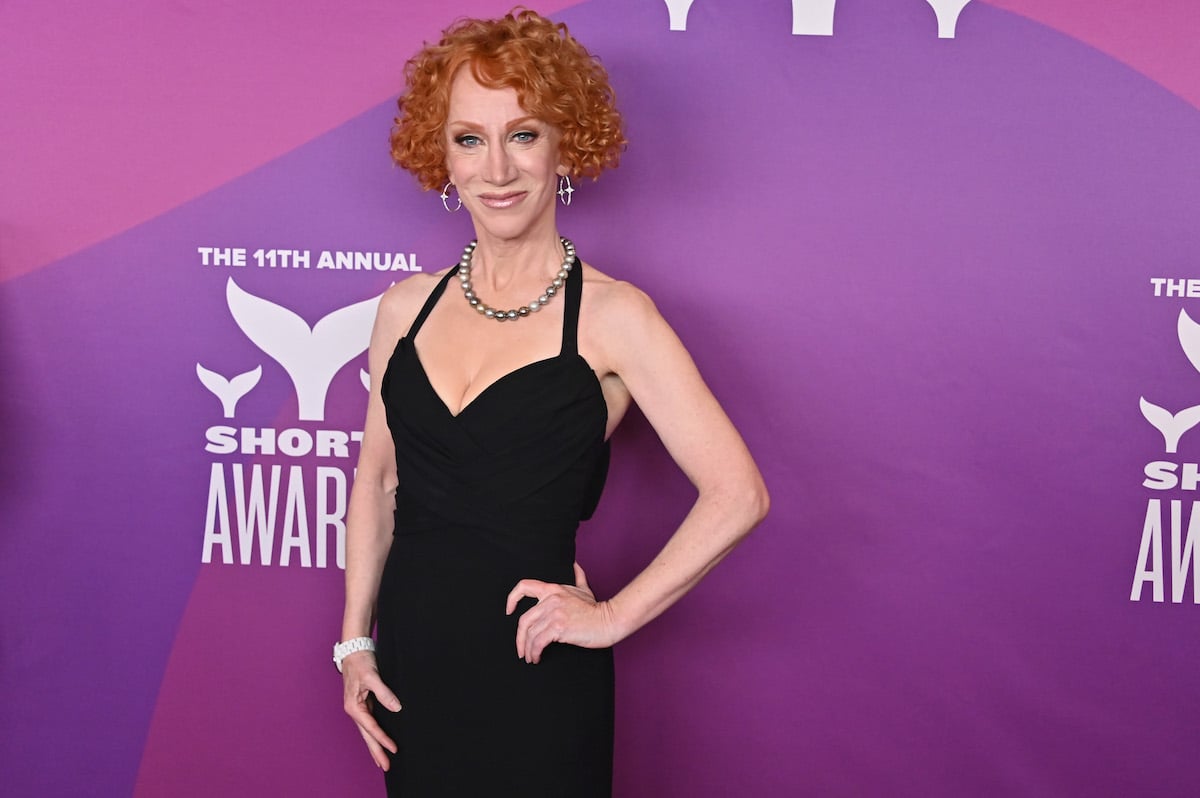 Griffin recently revealed that prior to her surgery, she filmed episodes for Search Party and Unconventional. 
The accomplishments are remarkable, given that the actor has faced so many challenges in the past few years. Her 2017 photoshoot scandal, which involved a picture of her holding a prop that looked like Donald Trump's head, triggered a landslide of criticism, industry alienation, death threats, and lost work — all of which culminated in the pill addiction and overdose attempt she tweeted about. 
Then came the cancer diagnosis. 
But Griffin is proudly unkillable, and with allies like Sia, her return to the public stage is likely to be more triumphant than her detractors are ready to accept. 
How to get help: In the U.S., contact the Substance Abuse and Mental Health Services Administration helpline at 1-800-662-4357.