Kathy Griffin Is Banned From Almost Every Major Talk Show
Kathy Griffin has seen her fair share of controversial moments during her long career in show business. She's certainly never shied away from saying something outlandish or attention-grabbing. But one thing you may not realize is that the number of platforms Griffin can use to say those outlandish things have shrunk throughout the years. She's actually been banned from numerous major talk shows. But which ones has she been banned from, exactly?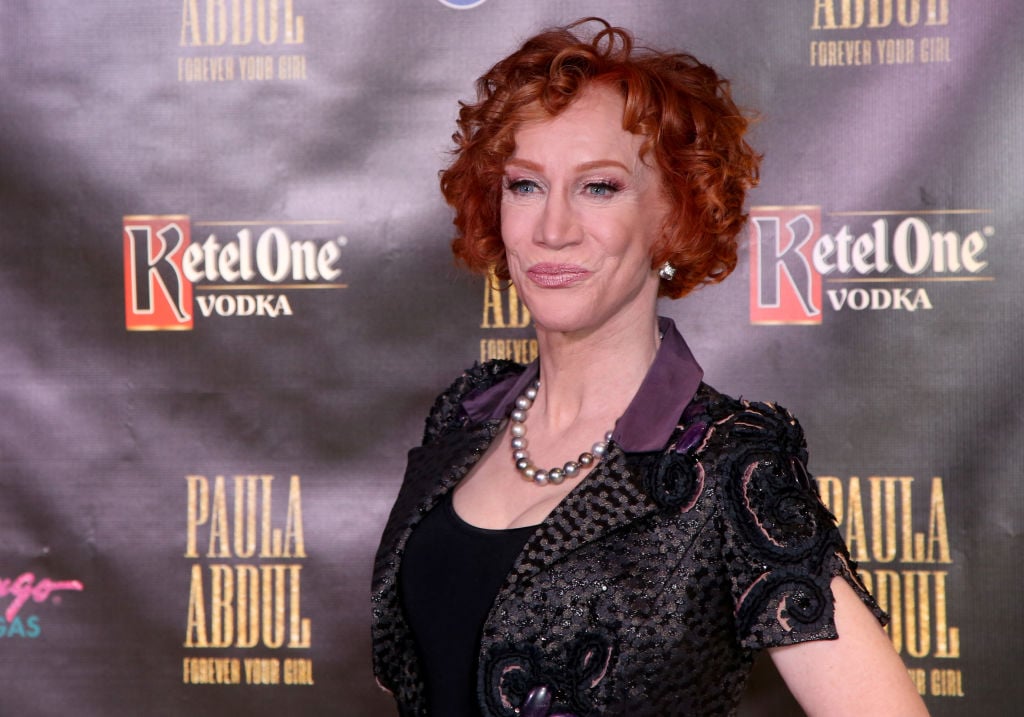 Who is Kathy Griffin? 
According to Britannica, Griffin was born in 1960 in Illinois. When starting out as a comedian, Griffin didn't immediately respond to stand up's more traditional style of setups and punchlines. Instead, she opted for a more alternative, free-flowing approach that resembled a confessional. No topic was off-limits: celebrities, pop culture, dating, or anything else was on the table. This clicked for her, as she began to gain more fame for her comedy career. She guest-starred in multiple TV shows and eventually landed a starring role in the Brooke Shield NBC sitcom Suddenly Susan. She also famously guest-starred on two episodes of Seinfeld. 
Griffin recorded multiple comedy specials in the 2000s, becoming infamous for her hot takes on celebrity culture. For several years, she co-hosted CNN's New Year's Eve coverage alongside her then-friend Anderson Cooper. What Griffin's fan base loves about her is her improvisational style. 
Kathy Griffin is no stranger to controversy
Newsweek reported that a few years ago, Griffin got in some hot water for holding a fake, bloody head of what appeared to be President Donald Trump. That's hardly the only time Griffin got in trouble, though. While hosting the CNN New Year's Eve with Anderson Cooper, she used some profanity on air; years later, she stripped down to her underwear.
In response to CNN reporter Jim Acosta reporting President Trump had asked attendees at a diabetes event if he should be taking insulin, she replied via Twitter, "Syringe with nothing but air inside it would do the trick," reports Deadline. 
Additionally, Griffin won an Emmy in 2007, but had her speech cut from the broadcast for saying the following: "A lot of people come up here and thank Jesus for this award. I want you to know that no one had less to do with this award than Jesus … Suck it, Jesus. This award is my god now."
Needless to say, this ruffled some feathers. Because of Griffin's quick wit and acid tongue, she's received plenty of rebukes and criticism. While Griffin has made more TV appearances than you can count, she's also found herself banned from multiple shows as well. 
What shows are Kathy Griffin banned from? 
Griffin has a penchant for saying whatever is at the top of her mind, no matter the time or place. It's part of what her fans love about her and what makes her style so distinctive. But it's also hurt Griffin's ability to appear on TV. It's left her banned from multiple talk shows. 
According to Collider, Griffin is banned from Conan, The View, Live with Regis and Kelly (now Live with Kelly and Ryan), The Today Show, and Ellen. She was also banned from appearing on The Late Show with David Letterman, though Letterman eventually allowed her to return. What got her banned from these shows? It's unclear and likely different for each one. Griffin spoke about it in her book, an excerpt of which appeared on Today: 
"Here's the lowdown on banning: it's not like anybody makes a declaration outright that you've been banned. You find out by not getting booked on the show anymore. The reasoning can sometimes be elusive."
While she may not be able to promote herself on a lot of shows, she seems to be doing just fine in her career regardless. Her fans know where to find her.