Kathy Griffin Has Joined the Cast of HBO Max Comedy 'Search Party'
Kathy Griffin will appear in the next season of HBO Max comedy 'Search Party.'
It's not all bad for Kathy Griffin. The comedian, who recently announced a diagnosis of stage 1 lung cancer, joined the cast of HBO Max comedy Search Party, season 5. Here's what we know so far. 
It's a recurring role as a conspiracy theorist 
According to an exclusive report by Variety, Griffin's role will be recurring. She will play conspiracy theorist Liquorice Montague, who acts as a mentor of sorts to Chantal (played by Clare McNulty). In the new scenario, debuting in season 5, Chantal will be Montague's "co-dependent apprentice." 
In a joint statement obtained by Variety, showrunners Charles Rogers and  Sarah-Violet Bliss praised Griffin for her performance. 
"Working with Kathy was a huge life moment for us," reads the statement. "She brought so much warmth, humanity and professionalism to set, and delivered a performance that will delight the world." 
Griffin recently admitted to suicidal ideation and a prescription drug addiction
Ever the controversial and outspoken personality, Griffin spoke out on ABC News' Nightline last week. She said after a highly-publicized 2017 photoshoot in which she held up a prop that looked like a severed Donald Trump head, she became both suicidal and addicted to prescription drugs. 
The fallout from the scandal, which included a federal investigation, being fired from CNN's New Year's Eve coverage, death threats, and canceled appearances, was more than she could take. 
After an overdose attempt in June 2020, she said that she was over a year clean and sober on social media. She also noted that, following her diagnosis of lung cancer (despite never having smoked) and surgery, she would be refusing narcotic painkillers to deal with post-surgical pain. 
"Tonight will be my first night without any narcotic pain killers," she wrote via Instagram. "Hello Tylenol, my new best friend! The last time I was in a hospital was in June 2020 when I tried to take my life and overdosed on prescription pills," she wrote. "With over a year clean and drug free, I now know I can do this and anything I want without those devil pills." 
And she was right. We now know that during her time in recovery, she was busy getting her career back on track and filming Search Party episodes. 
Kathy Griffin commented on the new role on social media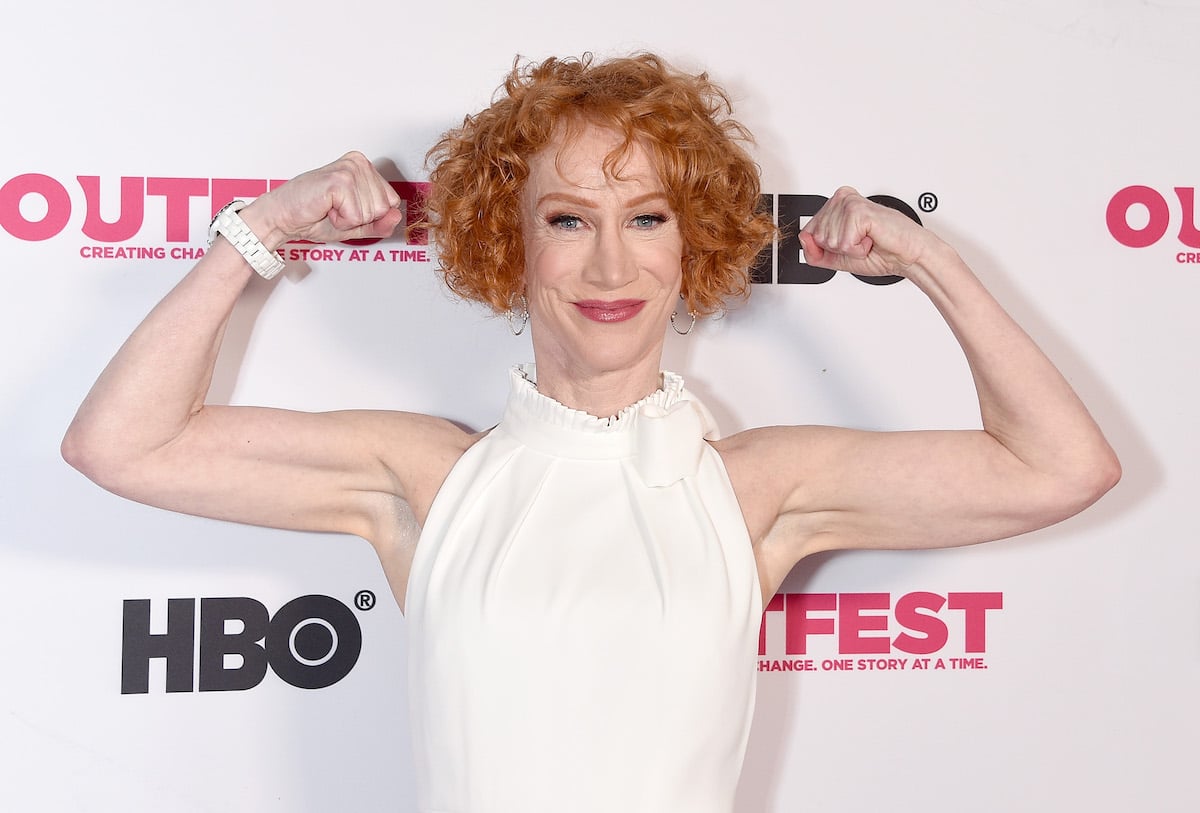 Referring to a cryptic social media tease, Griffin addressed the Search Party news directly on Wednesday. She also kindly reassured fans that she wasn't over-extending herself post-surgery. 
"So THIS is what I was mystery posting about a couple weeks ago!!!" Griffin wrote via Instagram and Twitter. "I'm so excited! (Don't worry. I filmed my episodes before my surgery.)" 
While Griffin is still battling cancer (and a gravelly voice from the surgical ordeal,) she told Nightline co-anchor Juju Chang that her attitude had shifted dramatically since last year. 
"The irony is not lost on me that, a little over a year ago, all I wanted to do was die," she said. "And now, all I wanna do is live." 
She's doing just that. With credits under her belt from Netflix's You to My Life on the D-List and everything in between, the author/actor/stand-up comedian is still proving that nothing can keep her down. 
How to get help: In the U.S., contact the Substance Abuse and Mental Health Services Administration helpline at 1-800-662-4357.
How to get help: In the U.S., call the National Suicide Prevention Lifeline at 1-800-273-8255. Or text HOME to 741-741 to speak with a trained crisis counselor at the free Crisis Text Line.