Kathy Griffin's Lung Cancer Diagnosis Isn't the Only Tribulation the Comedian Has Overcome
Fans of Kathy Griffin were shocked this week to learn that the controversial comedian has lung cancer. It wasn't the first significant tribulation Griffin has faced. From childhood sexual abuse to a photoshoot scandal that rocked the country, here are some of the hardships the My Life on the D-List star has endured.
Despite never smoking, Kathy Griffin was diagnosed with lung cancer weeks ago
In a surprise move, Griffin announced on social media just before surgery last week that she'd been diagnosed with stage 1 lung cancer. 
"I've got to tell you guys something," Griffin wrote. "I'm about to go into surgery to have half of my left lung removed. Yes, I have lung cancer even though I've never smoked! Hopefully no chemo or radiation after this and I should have normal function with my breathing."
She'd been diagnosed weeks earlier and told fans that her doctors were "optimistic."
"The doctors are very optimistic as it is stage one and contained to my left lung," Griffin wrote on Instagram. "I should be up and running around as usual in a month or less," she added.
Kathy Griffin also admitted that she attempted suicide
The revelation came on the heels of a Nightline interview, in which Griffin disclosed that she had become addicted to prescription drugs following her infamous 2017 photoshoot scandal — the one in which she appeared with a mask in the image of a severed and bloody Donald Trump head. The death threats, public criticism, and industry rejection drove her further and further down a dangerous path. 
Compounding her grief, Griffin's sister, Joyce, died in 2017 after battling cancer, and her beloved mother, Maggie, died in March of 2020 at the age of 99. A rare bright spot during a dark few years was her surprise New Year's wedding to Randy Bick on December 31, 2019, officiated by none other than Lily Tomlin. 
But Griffin told ABC News' Juju Chang in a Nightline interview that she attempted suicide as a result of the growing pill addiction and subsequent emotional spiral in June of 2020. "I had become very severely addicted to prescription pills," she said. 
She's been "clean and drug free" for over a year now, she told followers on Instagram and Twitter, and even said she wouldn't be relying on prescription painkillers — opting instead for Tylenol to manage post-surgery symptoms. 
"With over a year clean and drug free, I now know I can do this and anything I want without those devil pills. Y'know what? I fear drugs and addiction more than I fear cancer. So, I think I'll be OK."
She said she suffered sexual abuse at the hands of her brother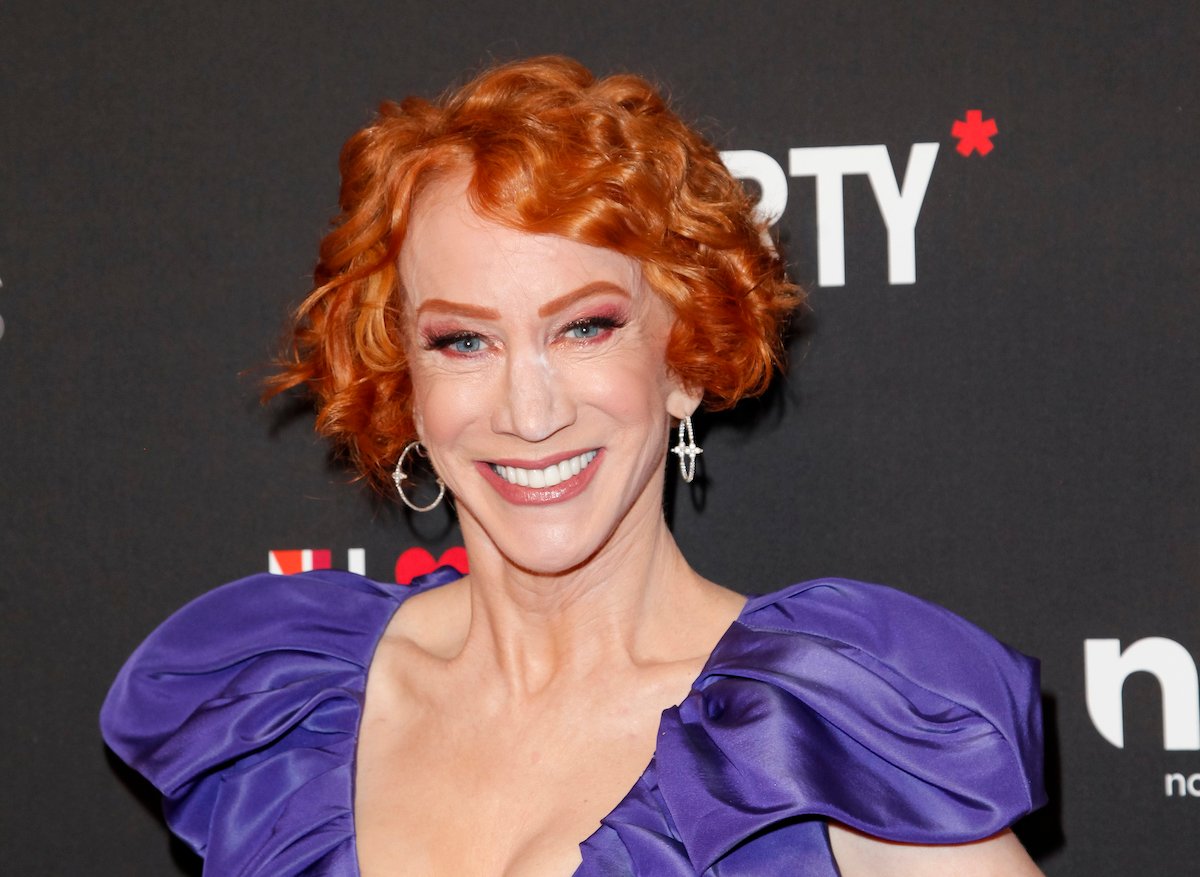 Griffin has discussed sexual abuse in the past, notably in her bestselling book Official Book Club Selection: A Memoir According to Kathy Griffin. Raised in Chicago with four siblings, she was sexually abused starting at the age of 7 by the eldest in the family, Kenny. He was 30 at the time, says Griffin. In time, she says she called him out to family, and he readily admitted it. He has since died. 
In her memoir, Griffin said she believed a binge-eating disorder she'd developed stemmed from the abuse. She continues to suffer from food issues but has "learned to deal with them."
While her problems currently seem to be centered around her health, Griffin told Chang that she appreciates the irony of the diagnosis.
"The irony is not lost on me that, a little over a year ago, all I wanted to do was die," she said. "And now, all I wanna do is live."
She's lived a big life thus far, and all indications point to it continuing on that way. 
RELATED: Following Surgery For Lung Cancer, Kathy Griffin Refuses Narcotic Painkillers
How to get help: If you or someone you know has been sexually abused, text HOME to the Crisis Text Line at 741741 for free and confidential support.
How to get help: In the U.S., contact the Substance Abuse and Mental Health Services Administration helpline at 1-800-662-4357.
How to get help: In the U.S., call the National Suicide Prevention Lifeline at 1-800-273-8255. Or text HOME to 741-741 to speak with a trained crisis counselor at the free Crisis Text Line.