Kathy Griffin Was Banned From 'The View' Multiple Times
Kathy Griffin is not a stranger to controversy. Over her career as a comedian and actress, she has dealt with lawsuits, feuds, and more.
Celebrities are notorious for stirring up controversy and drama. Some stars, like Kanye West, seem to thrive on it. Wild nights, controversial Instagram posts, and feuds with other celebrities are just a few of the many sources of celebrity-fueled gossip. Kathy Griffin is not a stranger to controversy.
Over her career as a comedian and actress, she has dealt with lawsuits, feuds, and more. In fact, The View banned Griffin not once but twice.
Who is Kathy Griffin?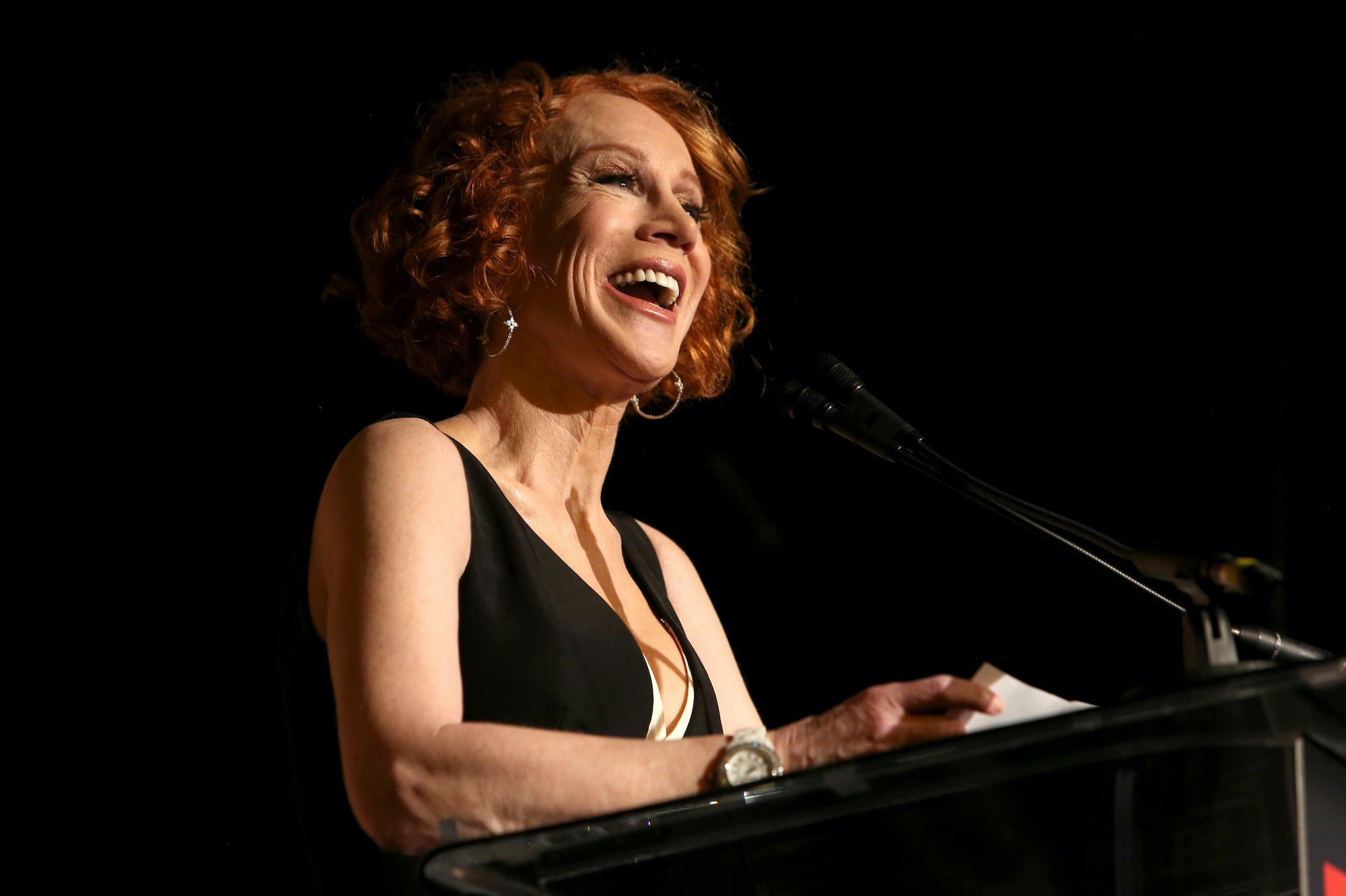 Griffin was born in Chicago. From an early age, the future star knew that she wanted to be in show business. Her parents were retired, so they moved with her to Los Angeles. There she found success as a stand-up comedian. Although Griffin appeared in several sitcoms, including Suddenly Susan and ER, comedy was her stardom ticket.
Over the years, Griffin amassed a sizable net worth, won many awards, and broke records like the Guinness World Record for most televised stand-up specials. In addition to her stand-up tours, Griffin worked on television hosting and co-hosting significant events like CNN's annual New Year's Eve program.
Viewers enjoy her antics. She has no problem poking fun at other celebrities. Her abrasive humor draws in the ratings, but unfortunately, it goes too far. The comedian is banned from several talk shows, including The View. Actually, the show banned her twice. 
Banned and re-banned
There is no line Griffin won't cross in her comedy routines. When the source of her jokes doesn't find her humorous, drama ensues. This is how Griffin found herself banned from The View the first time.
She was guest hosting the program when she made one joke Barbara Walters decided went too far. Griffin made a joke about Walters hooking up with Howard Stern, and Walters found it far from funny.
However, she did end up inviting Griffin back on the talk show, but Griffin hadn't learned her lesson. According to Page Six, Walters and Griffin had a private conversation about Walter's lubricant preference. Rather than keeping the conversation private, Griffin used it as material for her stand-up special, 'Straight to Hell'.
"I was supposed to be on 'The View' [today]," said Griffin. "But then I get a call from [producer] Bill Geddie, and he says, 'You were too mean to Barbara [Walters] on your last special, so you can't come on.' Can you believe it? I've been banned before but never re-banned!"
She wasn't sorry
Eventually, Griffin was allowed back on The View, but her drama was far from over. In 2017, Griffin pulled off, perhaps her most notorious stunt. She posted a picture on Twitter of her holding a bloody, decapitated Donald Trump head.
The photo caused several shows to fire her, including CNN's New Year's Eve special. She received death threats and a lot of other backlash, including an alleged Secret Service investigation. The comedian felt forced to apologize. 
The apology proved to be disingenuous. Griffin took back her apology on where else but The View. She explained she feels that her picture was merely her use of freedom of speech.
According to Salon, she went on to explain why she posted it in the first place:
"When I found out that I was really just part of the Trump wood-chipper, which Michelle Wolf is in now. I didn't know they had this apparatus already set up before my silly picture of a $5 Halloween mask and ketchup, and I wanted to make a statement about what a misogynist he is. And also I remember the eight years of the photos of Obama's lynching and nobody said anything; right, that was all okay. That was all on Facebook."