Kathy Griffin's Former Assistant Shares if She Ever Saw Drugs Backstage on 'WWHL'
Kathy Griffin's former assistant Tiffany Rinehart says she never witnessed the comedian being offered cocaine backstage on Watch What Happens Live with Andy Cohen.
But Rinehart added that she never saw that aspect of Griffin's interactions with producer Andy Cohen. In fact, Rinehart said her interactions with Cohen were few and far between, almost to the point where he seemed to never know who she was. In a 2017 video, Griffin claimed that Cohen offered her cocaine on two occasions before she took the WWHL stage. He denied the accusations.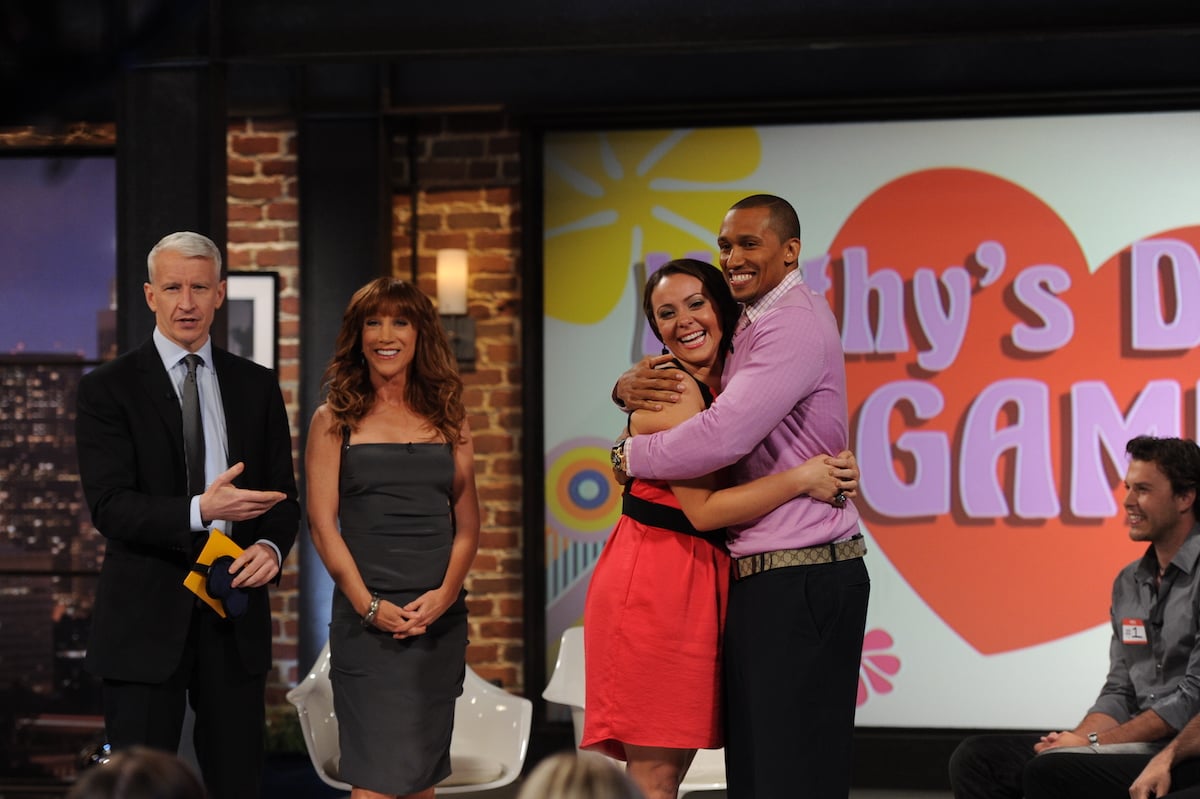 Tiffany Rinehart recalls one particular interaction with Andy Cohen
Rinehart only interacted with Cohen on a few occasions but she recalled one instance that summed up her experience with him.
"I'd only had like a handful of interactions with Andy," Rinehart recalled on the Behind the Velvet Rope with David Yontef podcast. "So I've never actually like spent time with him. I remember when [Griffin] hosted the A-list awards, you see on the reality show, I lose a significant amount of weight on the show."
"And so I ran into him at the A-list awards and he was just like, I felt like he never knew who I was," she admitted about Cohen. "Like, he would never remember my name. Like he was one of those, like, you're not important enough for me to remember your name. So he was just like, wait, what spa did you go to lose the weight? And I'm like, I didn't go to a spa. He's like, no, what did you do? Like what surgery did you have? I'm like, I didn't have any surgery."
"Like I literally just worked out and ate well, you know?" she laughed. "And he was just like, no, but like what did you do? I didn't do anything."
Kathy Griffin was actually closer with Anderson Cooper
Rinehart recalled that Griffin and Cohen went head to head over her show, Kathy Griffin: My Life on the D List. "I mean her and Andy kind of just always, butted heads," she said. "I mean she always butts heads with executives because it's her show, she wanted it to be what she wants. So she always would just fight for what she wants back in the day. The whole Anderson [Cooper] thing. That surprised me because they were such good friends."
"I had met Anderson a bunch of times," she said. "I was actually there with them a few times for New Year's Eve on the platform, seeing everything that they did together. They had a great relationship, a great friendship. They enjoy doing the show together." 
"So I felt sad for her when that happened," Rinehart said about the fallout with Cooper. "And I honestly had no idea how close Andy and Anderson were like when I was with Kathy because they kind of never mentioned each other. All of them never hung out. Like none of that, it was just always Kathy and Anderson, Kathy Anderson and Kathy would only see Andy for work things. But yeah, no, I felt sad for her. She loved Anderson. She loved her relationship with him and she was really good friends with Gloria Vanderbilt, his mom. So, I mean, I just felt bad that she lost her friend."