Kathy Hilton and Kyle Richards' Mother Was Once Rumored to Be a Hollywood Madame and Other Scandalous Facts About Big Kathy
ARTICLE HIGHLIGHTS
Fan have met Kyle Richards, Kim Richards, and Kathy Hilton on the 'Real Housewives of Beverly Hills'
The sisters famously clashed when Kyle chose to produce a TV show based on their mother's life
But for good reason — because thier mother Big Kathy's life is the stuff of legend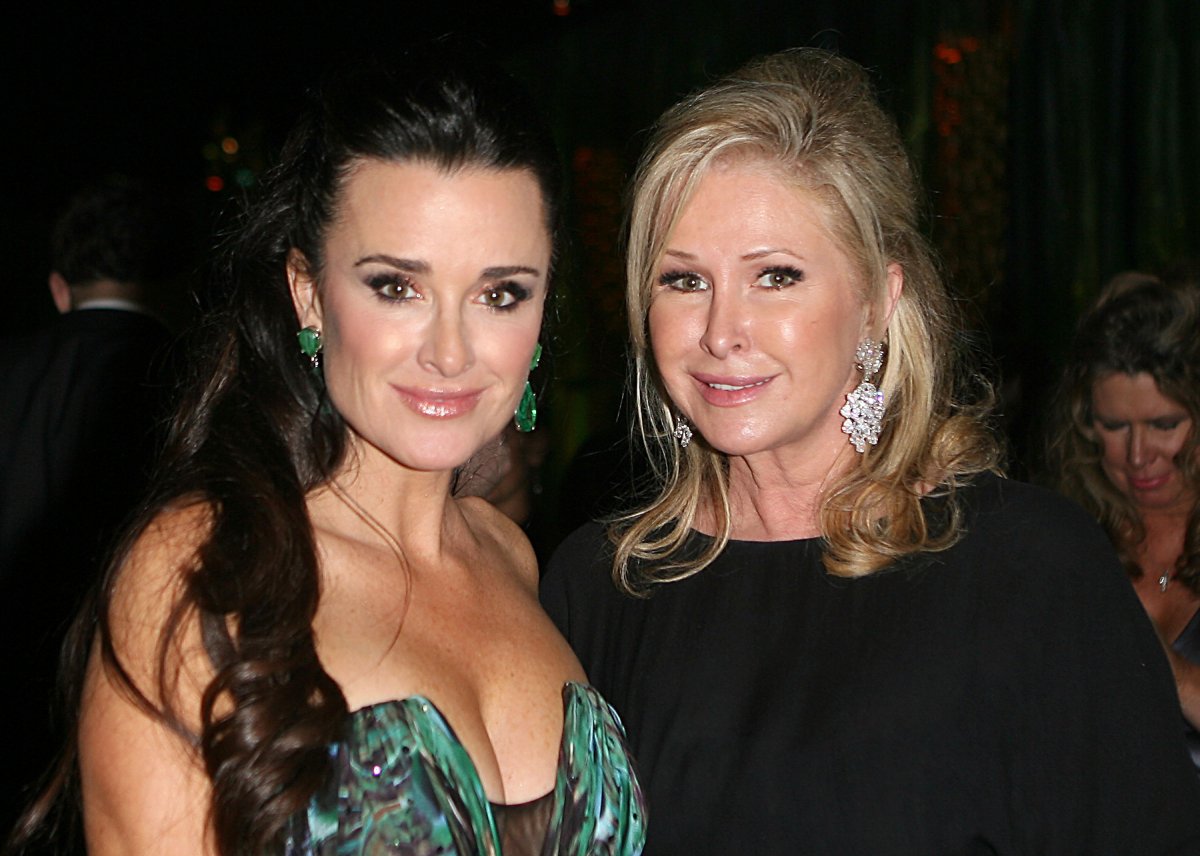 Kathy Hilton's first season on Real Housewives of Beverly Hills delivered more insight into the world of the Richards sisters. Fans already knew Kyle Richards, since she's starred in every season since the Bravo series began. They're also familiar with Kim, who was a regular cast member or "friend" of the show for 10 seasons.
Finally, the most recent season introduced fans to oldest sister Kathy, the wealthiest of them all. But there was another woman in the family whose scandalous life is the stuff of legend — their mother, Big Kathy.
Kathy Hilton and Kyle Richards' mother was married at least four times
The book House of Hilton came out at a time when Paris Hilton was making headlines for being famous for nothing. The focus is primarily on Kathy's oldest daughter. But there's also a lot of juicy details about other members of the Hilton family —  including Kathy, Kyle, and Kim's mom, Big Kathy.
Her full name was Kathleen Dugan Avanzino Richards Catain Fenton. And all of those last names came from her numerous marriages. She was married at least four times. And it's possible she married the same man twice.
Big Kathy was really out there
According to the book, Big Kathy had quite the life philosophy — especially when it came to marriage. Apparently, she instructed her daughters and granddaughters from an early age to follow in her footsteps by marrying rich men and having a lot of babies. At one point, she bragged that her daughters "are married to men who have a total net worth of $13 billion."
When it came to her own relationships, Big Kathy had her eye on Kyle and Kim's dad Ken Richards when he was still married to another woman. The book alleges that Big Kathy and Ken had an affair. And one night, she drugged Ken's wife at a bar before following her to her vehicle and slamming her ankle in the car door.
Kathy Hilton and Kyle Richards' mom was rumored to be a Hollywood Madam
Big Kathy allegedly used the power of sex when manipulating the men in her life. And she taught her daughters how to do the same.
"Big Kathy told Ken that she wanted Kathy Hilton to know all about sex, and how to perform sex, literally, the best way possible," Sylvia Richards asserts in House of Hilton. "So she asked a young man to teach her in his van."
Big Kathy also took her philosophy of hooking up with rich men and turned it into a business. She was rumored to have been a Hollywood Madam because she hooked up so many young girls — who were friends of her daughters — with rich, older men.
Thank you, next
House of Hilton also alleges that once Big Kathy hooked up with a guy — either through marriage or having children with him — she lost interest. She reportedly bragged about her treatment of her last husband Bob.
"I don't do s**t for Bob. I won't travel with him, I won't cook for him, I won't do anything for him," Big Kathy allegedly said.
The book claims that Big Kathy forced Bob to sell his home and put the $250K he received in profits into renovations for her home in Palm Springs. Then, when she died from breast cancer in 2002 at age 63, one of Big Kathy's final wishes was for Bob to move out of the house he helped pay for. She gave him one year to leave because in her will, she left the home to her daughters.
Did Kyle Richards steal Big Kathy's house from Kathy Hilton and Kim Richards?
Real Housewives of Beverly Hills fans may recall that way back in season 1, Kim famously accused Kyle of stealing a house from her sisters. Some believe that the house Kyle "stole" was Big Kathy's house that she forced Bob out of.
Kim screamed her accusation at Kyle from the back of a stretch limo, and Kyle responded with an epic death stare. Then she told her sister, "Mom had to die worrying about you and stressing over you…You're a liar and sick and an alcoholic."
New episodes of Real Housewives of Beverly Hills air on Bravo. Season 11 is also streaming on Peacock.