Katie Thurston Apologizes After Fans Accuse Her of 'Queer Baiting' Picture
Many fans in Bachelor Nation know that the franchise is pretty — well, straight. Neither The Bachelor nor The Bachelorette has had a single lead who was out in the LGBTQ community at the time of filming. While Colton Underwood recently came out as gay, his season was filmed while he was closeted and straight-presenting. The franchise's current lead, Katie Thurston, shared a picture on Instagram that had people speculating if she was coming out — or if she was simply "queer baiting." Here's how fans reacted and what Thurston said after Bachelor Nation's response.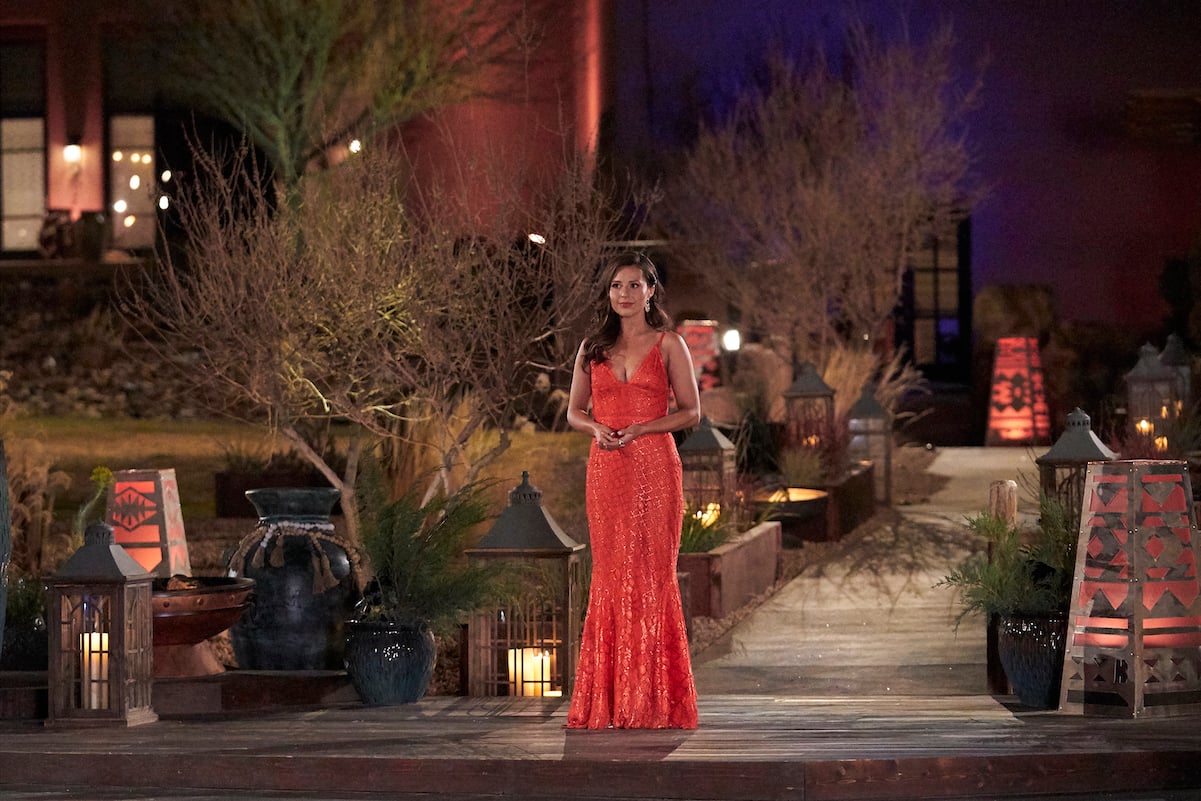 Katie Thurston finished her season of 'The Bachelorette'
Guest host Emmanuel Acho broke the news on The Bachelor: After the Final Rose that both Thurston and Michelle Young would be the next franchise bachelorettes. He shared that Thurston would film her season first, then Young would follow suit after Bachelor in Paradise.
Thurston has already completed filming for her season and been hinting that she's in a relationship. But a new post of hers rubbed many Bachelor Nation fans in the LGBTQ community the wrong way.
The bachelorette shared a photo; fans accused her of 'queer baiting'
RELATED: 'The Bachelor': Emmanuel Acho Is 'Open' to Replacing Chris Harrison as Host
Thurston shared an image of her with her friend in front of a sign that said "Girls Girls Girls" in all capital letters. Her friend grabbed her face, leaning in for a kiss. Thurston pouted with her eyes closed as her friend kissed her neck.
Thurston captioned the image: "Whatever floats your boat," with a purple heart emoji. In a previous TikTok video Thurston posted in May 2020, she said that she is "super straight."
Fans took to Reddit to accuse the new franchise lead of "queer baiting" in the photo. The term is defined on Urban Dictionary as: "When straight men or women pretend to be gay and flirt with people of the same sex as a joke."
"The photo with the caption definitely feels queer-baity," one fan wrote on the Reddit thread. "I think she was trying to go for an ally post, but it was a definite miss. As a queer woman, it makes me feel gross."
"She's queer baiting," another person said. "She said on her TikTok she's straight, she's doing this for engagement and for men and [the] male gaze."
Someone else wrote: "As a queer woman, this is queer baiting to me. It seems innocent, but in reality, it's harmful. We don't have representation. When could we honestly expect a queer lead?"
Katie Thurston apologized after being accused of 'queer baiting'
Thurston deleted her image and expressed an apology in an Instagram comment and story. Her comment read: "I did not intend for this picture to be a statement about my sexuality. This is simply a friendship post."
Thurston then asserted that she never publicly claimed her sexuality — which she did, as straight, in her TikTok — and said she isn't claiming her sexuality with the picture.
Later on, Thurston posted an Instagram story with a rainbow background.
"I've removed my most recent post after realizing how many people from the LGBTQ+ [community] I hurt," she stated. "I am so sorry. I've read the comments and better understand why my post was offensive. I will continue to learn from my mistakes. I want to always be an ally and today I'm sorry I let you down."
One fan responded on the Reddit thread: "I'm glad she deleted it. As a straight [person] she should know better than queer baiting in 2021 making like it's a joke to 'switch teams.'"
"Being queer isn't a choice," the commented continued. "Two [straight people] queer baiting for engagement isn't it."