Are Katy Perry and Miley Cyrus Friends? From 'I Kissed a Girl' to 2020 Collaboration Rumors
Singers Miley Cyrus and Katy Perry have been friends for many years. They've been photographed at many events together, from the Grammy Awards to the Kids' Choice Awards. In fact, their first time meeting was at an awards show. According to Cyrus, the two have known each other "for a really long time."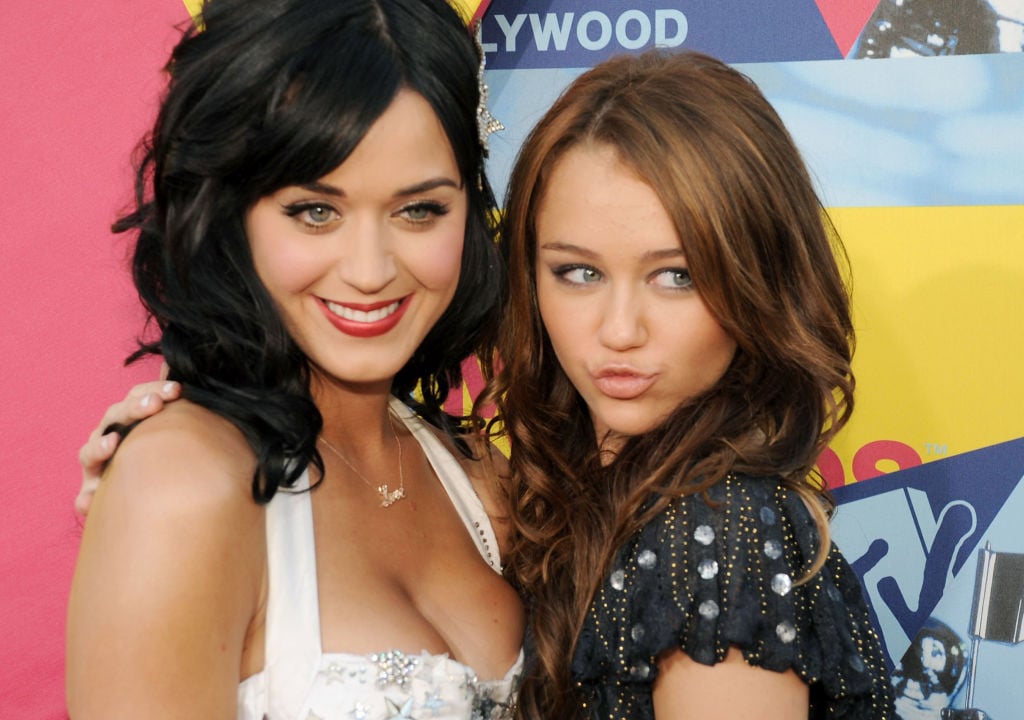 "We were actually just realizing the other day that next year, we'll have been friends for 10 years," she said in a May 2017 WKTU interview, as reported by E! News. "I think that's my friend that I've known the longest." A few months later, Cyrus shared a photo of herself, her sister Noah Cyrus, and Perry, from the latter's Witness tour, on Twitter, writing, "Sisters. All 3 of us."
Is 'I Kissed a Girl' really about Cyrus?
How did they become friends? Cyrus went on to explain that, after hearing Perry wrote her breakout hit, "I Kissed a Girl" about her, she "screamed and started freaking out." The two then attended the VMAs together, along with Cyrus' mom, Tish Cyrus, beginning their friendship. (Perry has since changed her tune, saying that she wrote the song about Scarlett Johansson.)
But there have been some speedbumps in their friendship. After Cyrus kissed her for real at a February 2014 concert during her Bangerz tour, a sort-of feud began. Perry's comments on an Australian morning show the next month indicated that she didn't like how Cyrus "tried to move her head and go deeper" with the kiss, according to The Hollywood Reporter's transcription of the interview.
However, it appears as though this was all in good fun. Cyrus responded on social media, including sharing the above fan sketch of the moment, which Perry replied to in a manner that made it clear they're friendly.
Perry's 'Daisies' is giving fans major 'Younger Now' vibes
Years later, and Cyrus and Perry have both been through many evolutions. As Cyrus' fans (Smilers) mark the three-year anniversary of her last album, Younger Now's release, Perry's KatyCats are rejoicing. The followup to her 2017's album Witness, beginning with the single, "Daisies," has been announced.
On May 8, 2020, Perry has revealed her first promotional image for her upcoming release. And Smilers. who eagerly awaiting new music from Cyrus, have taken notice that the dreamy, floral aesthetic is quite similar to that of Younger Now. Is there a link?
Will Cyrus and Perry finally collaborate?
There are two connections there — albeit loose ones. Twitter user @mileyismyhenny shared the possible evidence of a collaboration between the two singers, writing, "Miley Cyrus x Katy Perry is coming." The images posted reveal the similarities between Perry's Twitter bio and a recent Instagram Story of Cyrus' dog, Bean, both of which use the words, "light" and "love."
The other is from Perry's caption announcing "Daisies," in which she wrote "she's coming" of the single. Almost exactly one year prior, Cyrus announced her EP, She Is Coming, which was meant to be the first of three making up her 2020 album. We'll leave it to fans to decide if these are coincidences or hints, but either way, we're hopeful Cyrus and Perry team up soon.