Katy Perry Shared Her Thoughts on The Weeknd's Super Bowl LV Performance
Katy Perry is one of the biggest pop artists in the world. With a slew of hit records to her name, it makes sense why she's been tapped to perform at the Super Bowl in the past. 
Being a member of the small fraternity of Super Bowl performers, she was interested in seeing how The Weeknd's performance at Super Bowl LV would go. 
Although The Weeknd's performance has been getting mixed reviews and spawning countless memes online, Perry actually enjoyed it. Knowing how difficult it is to perform at such a big event, she spoke highly of The Weeknd, calling his performance "very punk rock."
Katy Perry liked The Weeknd's Super Bowl LV performance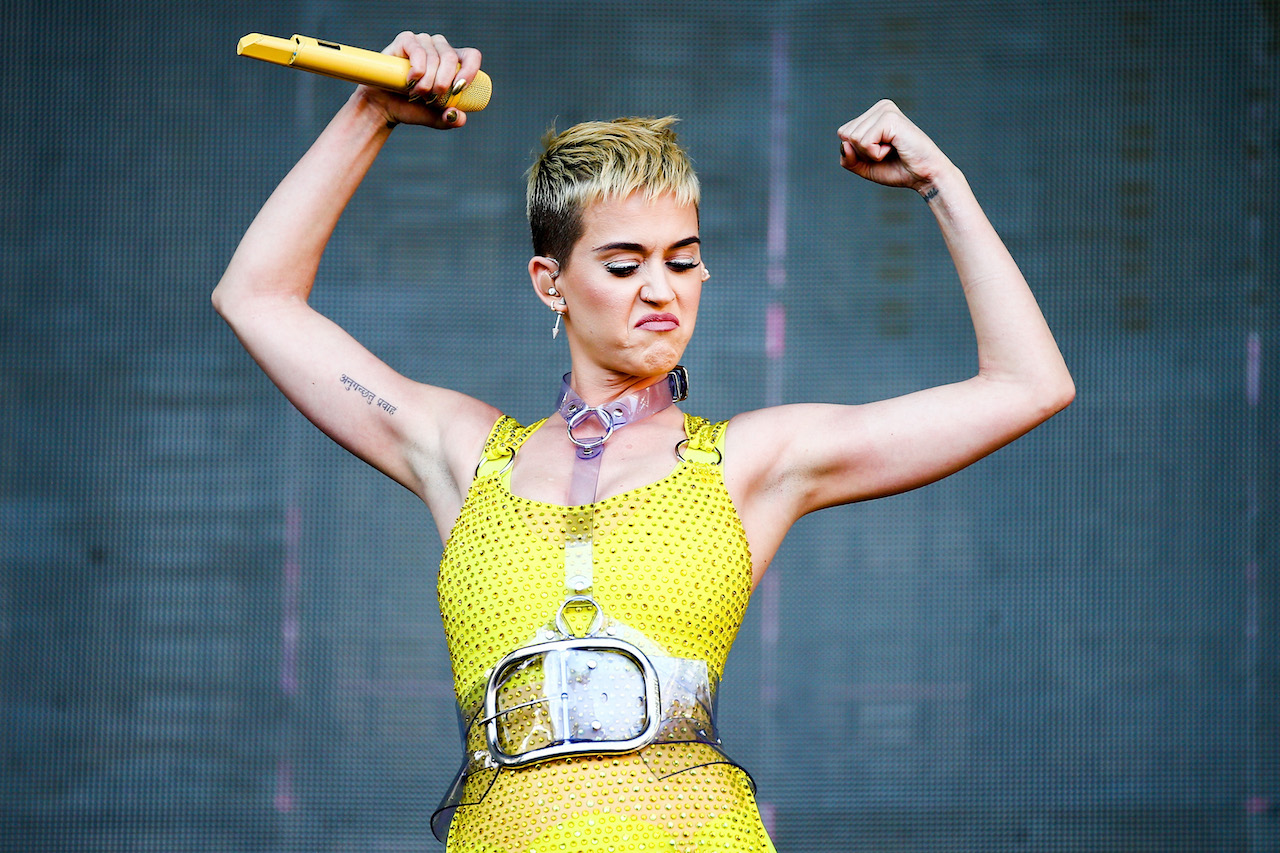 Perry shared her thoughts on the Weeknd's performance during a recent interview on Jimmy Kimmel Live. 
"It was really cool, I liked how Abel commanded the field and all of the dancers were moshing and throwing elbows, it was very kind of, punk rock," Perry said. 
She's never paid $7 million to perform
One of the major talking points of The Weeknd's performance was the fact that he spent $7 million of his own cash on the halftime show's setup. Everyone, including Perry, was surprised to hear he'd dropped that much money on a performance he wasn't paid for.  
"I mean, I don't remember spending anything like that," Perry said. "Maybe like, you know, thousands of extra dollars."
Even though she's never spent that much money on a performance, she can understand why The Weeknd went to such lengths.
"Well, you get a budget," Perry said. "And sometimes your dreams are bigger than the budget, and you're like… You have to be realistic. I think that was a really big, a really—I mean, all that was amazing."
Katy Perry says performing at the Super Bowl is like a rocket launch 
Perry herself performed at Super Bowl XLIX, so she could relate to a lot of the things The Weeknd was experiencing while he was on stage.
"No it was amazing, it's so intense to play the Super Bowl," Perry said. "I mean I saw Abel's eyes and they were like, [makes noise] and I was like, 'Yeah, I know the feeling.' It's—like actually, before I went on stage, I had never given birth. … I've never been close to death or life, or through that thin threshold," Perry said. "And I was like, 'Ooh, is this what it really feels like? Because this is intense. Because it's like a rocket launch."
"And you're kind of waiting backstage, ready to go and do your show, and you only have 12 minutes to get on the field and get everything prepped," Perry said. "And everything has to be … there's no room for error. It was intense, so…"
Her costume ripped during rehearsals for her Super Bowl performance
When Perry was rehearsing for her Super Bowl performance in 2015, she had a serious wardrobe malfunction. She was wearing a latex dress and was using a metal pole to help her jump off of the giant lion that was going to be her stage prop. Unfortunately, when she jumped off during rehearsals, the dress split in half. 
"I was a few days out from actually playing the day," Perry said. "And I was like, 'Oh, this is why we do rehearsals with costumes. Got it.'"