What Katy Perry Thought of Taylor Swift's 'Miss Americana'–'I Saw Some Self-Awareness Starting to Happen'
Taylor Swift's documentary, Miss Americana, first debuted at Sundance Film Festival in January 2020. Currently, the doc, directed by Lana Wilson, can be viewed on Netflix. Miss Americana details Swift's experience in the music industry over the last decade. She touches on her people-pleasing tendencies, her feud with Kanye West, and discovering her political voice.
Swifties, naturally, are huge fans.
"just to let everyone know that I'm watching taylor swift's documentary #missamericana and I have cried several times and I love her with all of my heart," tweeted one fan.
"Finally watched miss Americana on Netflix and cried through the whole thing and I'm so proud of @taylorswift13 also The Man is the greatest video of all time," tweeted another.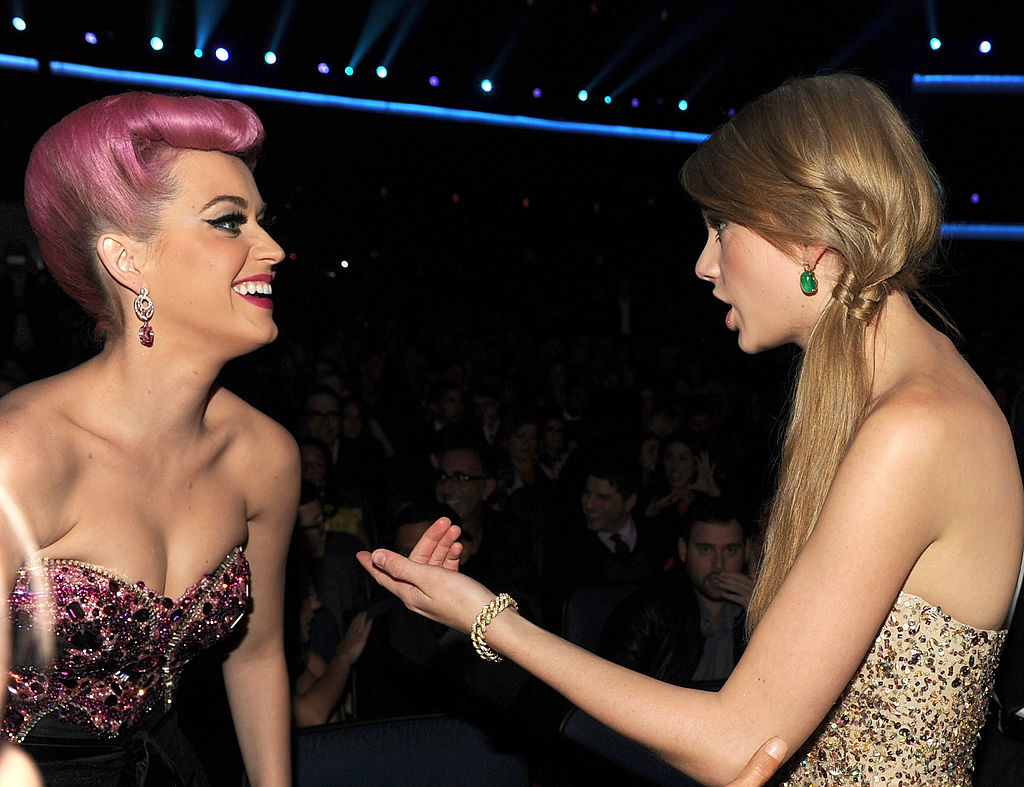 And it seems Swift found herself another Miss Americana fan in her old nemesis, Katy Perry.
Katy Perry and Taylor Swift
Perry and Swift put their differences aside last year–audiences were delighted to see Perry appear in Swift's "You Need To Calm Down" music video.
In a recent interview with Australian magazine Stellar, Perry opened up about where her relationship with Swift currently stands as well as her thoughts on the doc.
"Well, we don't have a very close relationship because we are very busy, but we text a lot. I was impressed by her documentary [Miss Americana] because I saw some self-awareness starting to happen and I saw a lot of vulnerability," she said.
Perry continued: "I was really excited for her to be able to show that to the world: that things aren't perfect, they don't have to be and it's more beautiful when they aren't. Even though it was difficult, it was important to make that appearance in the music video because people want people to look up to. We wanted it to be an example of unity. Forgiveness is important. It's so powerful. If you can forgive your enemy, that's amazing. As difficult as it is!"
Katy Perry's take on feminism and the music industry
Another thing Swift touches on in Miss Americana is how women are treated in the music industry. Perry believes we still have a long way to go.
"I actually haven't seen a whole lot of change for female artists. Although, there's more unity now – which has been great. We used to be in our corners wondering if any of us liked each other. But it's more of a safe place now," she said.
The publication also asked Perry what her response is to "those who ask if we still need an International Women's Day."
"Yes, we do. Because there's so much work still to be done. We still have a discrepancy with pay and utilization of women in job spaces," she replied.
"I'm not one of those people that is solely about 'the future is female.' The future is both male and female. I believe in a more humanitarian future because I have a partner [Orlando Bloom] who is supportive, kind and a champion of women and children. He's sensitive and vulnerable – and still the hottest guy on the beach," Perry concluded.
Read more: Taylor Swift Reportedly Has 'No Regrets' About Speaking Out Against Scooter Braun