Keanu Reeves Has a Side Business That's as Cool as Him
As if he could not be more cool, Keanu Reeves is now getting extra exposure for his motorcycle brand.
Google "Keanu" right now and you'll see no shortage of articles, videos, gifs, and odes to the actor. You don't even have to type in his entire name. The world is pretty enchanted with Keanu Reeves right now, and regardless of how you feel about his acting, it's hard not to like the guy.
Outside of being the kickass assassin John Wick, a mainstay on weekly "#mancrush" lists, and forever meme-able as Neo from The Matrix, he's got other cool stuff going on his life that is totally unrelated to acting. Fans like to know about his good deeds, his book interests, and love life, but in case you're late to the party, "America's Sweetheart" is also quite the businessman. Reeves acts as part owner of a motorcycle company.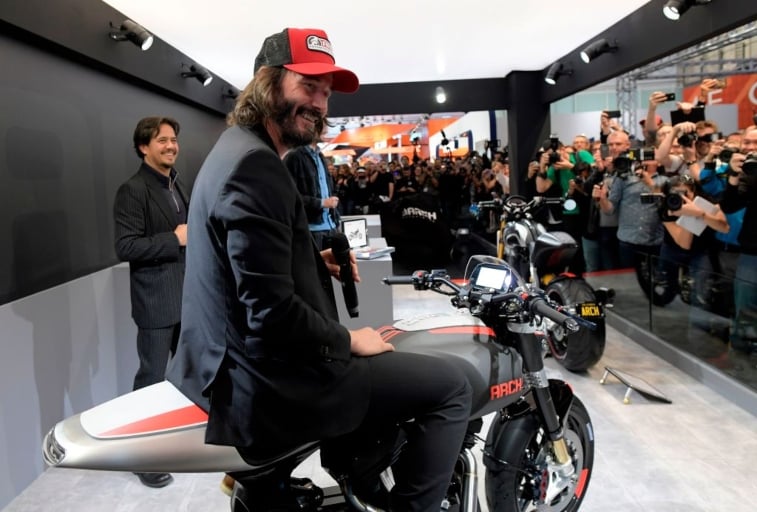 Keanu's Motorcyle Brand, Arch Motorcycle
Keanu Reeves and motorcycle builder Gard Hollinger founded Arch Motorcycle in 2011 as partners. The company launched its first model in 2014 called the KRGT-1. The California-based Arch specializes in custom bikes and the company offers three models at this time. Described as sporty and aggressive with a chopper-like design, the motorcycles are built for cruising.  
How Reeves decided to go into business with Hollinger all started with a conversation. Hollinger was already known for his talents, and as the story goes, Reeves came into his shop asking if he would customize a Harley Davidson bike for him. After falling in love with the finished product, Reeves asked Hollinger about going into business together, and Arch was born.
Recently, Reeves hung with GQ to talk about his favorite bikes and to give a tour of Arch. The video interview is right below and very enlightening.
The motorcycles might be considered pricey by some, but for the enthusiast or collector, buying one could be considered a win. Years ago, Today put a spotlight on a holiday promo from Neiman Marcus that featured a luxury gift from Arch Motorcycle for their Christmas Book catalog. Clients could purchase a new customized bike and a two-day ride experience with Reeves and Hollinger—for $150,000.
Keanu's history with bikes
If you listen to the entire GQ interview, you'll hear that Reeves learned to ride motorcycles during his acting career. He even kept the Ducati from The Matrix! He told Thrillist that he was 22 when he first started riding:
"I started learning how to ride a motorcycle pretty late in life. I started when I was 22. I was filming in Munich, Germany at this film studio, and this young girl had a gorgeous Enduro motorcycle which she would drive around. One day I asked her to teach me how to ride it. So I started to ride that bike around the stage when she wasn't using it, and when I got back to Los Angeles, I got the first bike I saw that was similar. I still have a picture of it."
Besides loving Arch Motorcycles, he shared that one of his favorite bikes is the Norton Commando. While we're not sure how many speeding tickets that actor's gotten while riding, he admitted during his Thrillist interview that he sometimes ponders his love for motorcycles, saying:
"I've had a few accidents in my day. I've been hit by cars; I've gone too fast in turns. I had my spleen ruptured, cracked some teeth. As I've gotten older, I've said to myself, 'If you feel like this, maybe you shouldn't be riding a motorcycle.'"
If his acting career and Arch Motorcycles is booming, fans probably wouldn't want to see him stop hitting the road on a bike in a leather jacket and shades. Does that mean you'll see Keanu Reeves hawking a motorcycle in showroom? Nope. But you might catch him riding one during an event like Festival of Speed or during his free time while he's home in California. Picture that.