'Keeping Up With the Kardashian' Fans Are Worried About North West's Hair
The E! cable network television show Keeping Up With the Kardashians is currently in its 18th season. Keeping Up With the Kardashians captures the lavish lives of the Kardashian and Jenner family. The reality TV series' impressive ratings and popularity have brought a tremendous amount of success to the cast. Over time, the viewers have been able to see the stars explore love and begin families of their own. In the past few seasons, the cast's kids have become arguably just as popular as their moms if not more. Find out why North West has recently been at the center of some discussions between fans.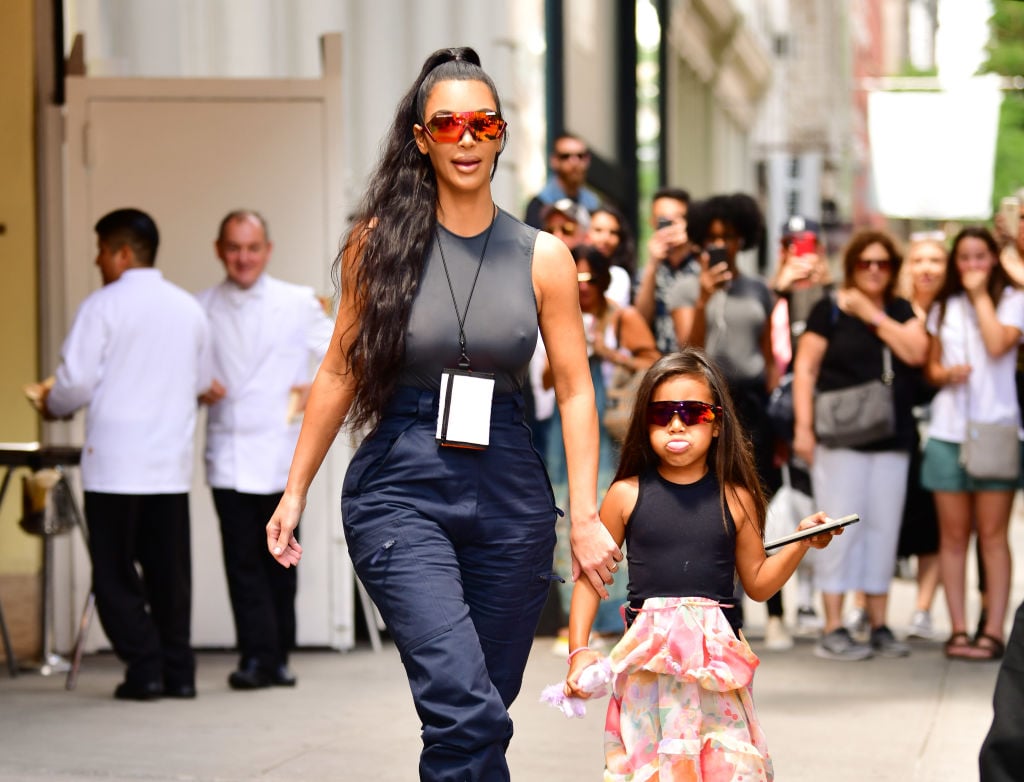 Who is North West?
Keeping Up With the Kardashians viewers have gotten an inside view of West's life from the instant she was born. Just a few months after Kim Kardashian West and Kanye West began dating they announced their pregnancy. Fans and the media anxiously anticipated the birth of the baby. In June of 2013, Kim Kardashian West gave birth to North West. However, some fans will be sure to remember just how long it took the famous couple to reveal the name of their precious new baby. Kardashian fans and the media couldn't get enough of West after she was born, and not much has changed since then.
What recent social media post has brought North West into the spotlight?
Fans of Keeping Up With the Kardashians are always on the watch when it comes to cast's social media posts. Recently, Kim posted a throwback photo on her Instagram account that has caused a lot of speculation. The photo illustrated a slightly younger North while wearing butterfly wings. Kim shared the photo about a week ago with the caption "My little Northie was so small." Take a closer look as to why some fans of Keeping Up With the Kardashians have become increasingly concerned since the reality TV star has shared the post.
Why are fans of Keeping Up With the Kardashians worried about North West's hair? 
A recent thread surrounding Kim's Instagram post has formed since she initially shared the photograph. Fans of Keeping Up With the Kardashians were very candid and straightforward in regards to their concern for West's hair. The status of West's curls in the photo resulted in fans wondering if Kim has made the best decisions for a mixed child. Some fans were speculating that Kim may have had West's hair relaxed, and one user in the thread was eager to highlight how dangerous this could be for someone as young as West. Another user accused Kim of trying to pass down "'traditional' beauty standards" to her daughter, but many people agreed that this could be a result of Kim's mishandling of West's hair in the past. One comment said, "No, I just think they straightened it a lot when she was 5 and now it's really unhealthy, and has lost its curl pattern." Aside from fans wanting to see West's hair healthy and thriving, they, more importantly, want to see Kim show West the importance of loving and accepting her natural hair. 
What are some of the cast's most memorable hair changes on Keeping Up With the Kardashians?
Kim once said, "People go blonde when they want to change," and she most certainly meant it. Fans fondly remember the episode that Kim and Khloé decided to drastically trade their brown hair in for blonde locks. Kim has come a long way from the notorious blow-out the reality TV star was known for. From short bobs to new colors, there isn't anything these stars haven't taken on over the course of the years. Hopefully, in time, West will learn a thing or two from all of their experiences and mistakes.