Keith Richards Says Elton John's 'Candle in the Wind' Is Jarring
Elton John and The Rolling Stones' Keith Richards do not get along, at least they didn't. There have always been many nasty feuds within the music industry, but their feud is savage. Neither artist was new to fighting with other artists by the time their feud started. Elton John once said Madonna should be shot, and Richards has never kept his mouth shut about his fellow Stone Mick Jagger. No one can really explain why the artists despise each other. It likely has something to do with Richards trashing Elton John's song "Candle in the Wind."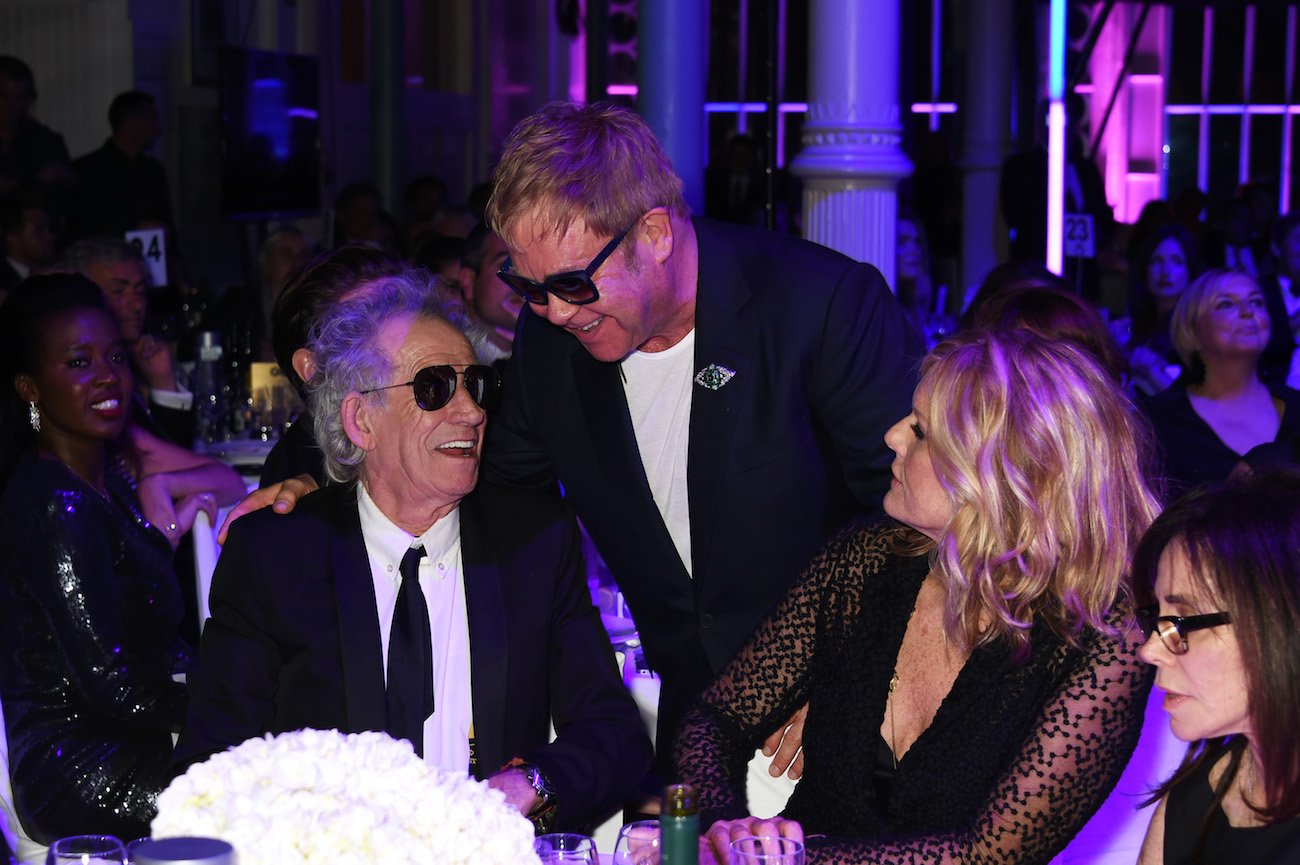 Keith Richards' feud with Elton John started in 1988
We don't know whether Elton John and Richards crossed paths in their early careers. They more than likely did, given they had mutual friends, but there isn't any recorded altercation between them to suggest they didn't really like one another… until 1998. Speaking to Rolling Stone that year, Richards was asked to comment on the Top Ten songs on the charts at the time.
One of the songs was Elton John's "I Don't Wanna Go On with You Like That." Richards didn't really have anything nice to say. "Reg, give me a Rubens, and I'll say something nice. Reg Dwight. Lovely bloke, but posing," Richards said, referring to Elton John's real name. This can't have gone unnoticed by the "Your Song" singer.
Fans certainly noticed and wondered why Richards would have such opinions about Elton John. Rolling Stone theorizes that Richards possibly "harbored a grudge against John for outstaying his welcome during a guest appearance – which stretched to 10 songs – at a 1975 Rolling Stones concert in Fort Collins, Colorado." We'll never know the reason why Richards felt the need to fire insults at Elton John. However, after that, Richards kept firing insults for seemingly no reason at all.
RELATED: Why Did Princess Diana Have a Big Feud With Elton John?
Keith Richards called "Candle in the Wind" jarring
Speaking to Entertainment Weekly in 1997, Richards insulted Elton John once again. He commented on Elton John's recent reworking of "Candle in the Wind," which he sang at Princess Diana's funeral.
Concerning the death of Diana, Richards said, "Only that a pretty young mother had died and what a shame. And then when I saw the funeral on TV — who could avoid it? — what I really saw was Britain trying to focus what they really think about the monarchy. It was a bemused, confused thing. They're probably having family meetings right now [laughs]."
When asked what he thought about the sight of a rock star, Elton John, serenading royalty, Richards said, "Yeah, it did jar a bit. Songs for Dead Blonds. But he was a personal friend, after all. I'd find it difficult to ride on the back of something like that myself, but Reg is showbiz." Songs for Dead Blonds is, of course, a reference to the original blonde that "Candle in the Wind" was written for, Marilyn Monroe.
Elton John fought back
Clearly, Elton John couldn't bear Richards' comments any longer and threw some shade his way for a change, the Daily News reported that same year. The publication's brilliant title was "Elton, Keith Throwing Stones." They wrote, "there's a middle-aged rocker rumble brewing."
Apparently, Elton John had been recorded saying, "I'm glad I've given up drugs and alcohol. It would be awful to be like Keith Richards. He's pathetic, poor thing. It's like a monkey with arthritis, trying to go onstage and look young. I have great respect for the Stones but they would have been better if they had thrown Keith out 15 years ago. … I just think he's an a–hole and I have for a long time."
RELATED: Here's What We Know About Elton John's New Album 'The Lockdown Sessions'
When asked if he was "getting back" at Richards for dissing him, Elton John said, "Yes, I am!" Responding to Richards' other comments about his Vegas shows, he said, "Please, if the Rolling Stones aren't show business, then what is? You know, with their inflatable naked women."
"Mick [Jagger's] a very forward-looking person," he continued. "He's used [alternative rock producers] the Dust Brothers. Keith Richards is still listening to '(Sittin' On) The Dock of the Bay' by Otis Redding."
Elton John also came at Richards in 2011 when he criticized Richards' recent autobiography, Life. Some of Richards' comments about Jagger's anatomy confused the singer. "I was a bit put off by hearing about the bit about Mick Jagger's penis," he said. "If I said that [songwriting partner] Bernie Taupin was a miserable t–t and had a small penis, he'd probably never talk to me again. It's like, why do that?"
However, that seems to be the end of the pair's feud. We have no idea that made it end all of a sudden. Things seemed to be great between them at the GQ Awards in 2015. Hopefully, Richards and Elton John can keep that peace going. But who really knows with them? They're both a bit brutal and say things completely unprovoked.