Kelly Dodd Weighs In On Those Brandi Glanville and Denise Richards Hook-Up Rumors
Real Housewives of Orange County star Kelly Dodd is coming to Brandi Glanville's defense. Glanville continues to claim that she had an affair with Denise Richards, who has vehemently denied that she ever hooked up with Glanville. With the women at a standstill, Dodd recently said that Glanville has proof that her hook-up with Richards actually happened. So what kind of evidence does Glanville have to back up her claims?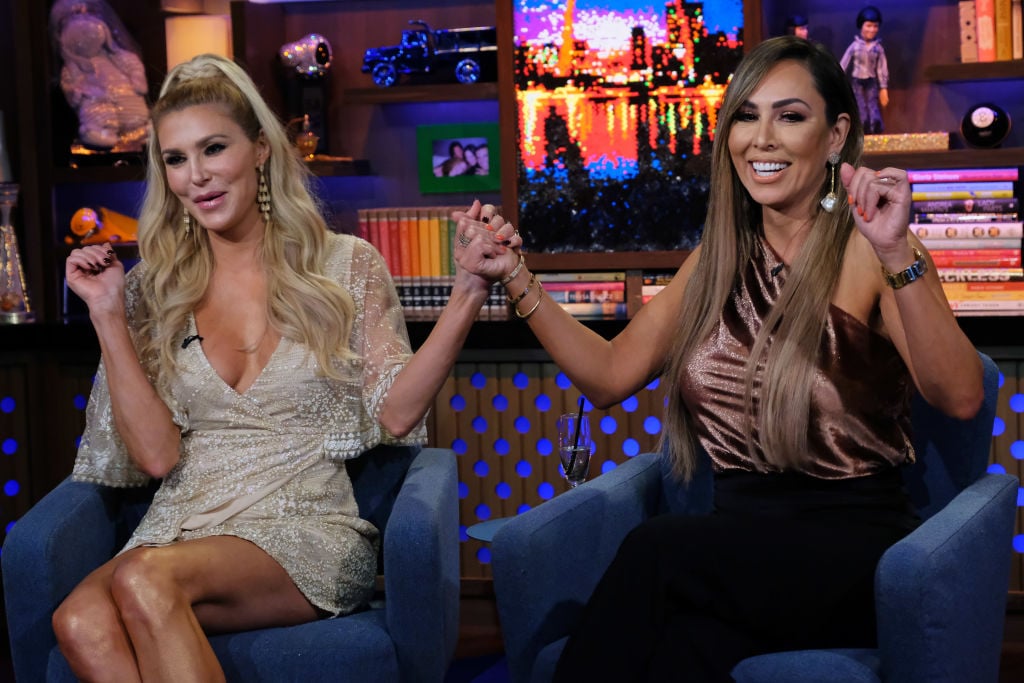 Kelly Dodd backs Brandi Glanville
Over the weekend, Dodd took part in a reality TV panel titled, An Evening With The Celebrity Housewives, where she was asked about Glanville's claims that she had a lesbian affair with Richards.
According to All About The Tea, Dodd says that Glanville has text messages between her and Richards that prove she is telling the truth. We have no idea what the texts say, but we are pretty confident Glanville will reveal them in due time.
"I just talked to [Brandi]. I said, 'What the hell is going on here?' She goes, 'I did hook up with her and I have the text messages and I don't lie,'" Dodd shared.
Dodd added that she did not press Brandi Glanville for details about what happened, mostly because she does not want to know (and we cannot blame her).
Real Housewives of New York star Sonja Morgan was also on the panel and made a few quips about Glanville and Richards. At one point, the RHONY star joked that they are "scissor sisters," which prompted Dodd to say that she refused to dig any deeper.
Inside Glanville's claims
Glanville says that she first hooked up with Richards in early 2019. The two allegedly slept with each other on multiple occasions for half the year.
Richards' husband, Aaron Phypers, supposedly knew about Richards and Glanville, though sources say he was actually kept in the dark. When he found out about what happened, he was reportedly "hurt" by the lies.
The drama heated up after Brandi Glanville told some of her Real Housewives of Beverly Hills co-stars about the tryst, and some of them turned around and confronted Richards about it. The conversation led to a blowout fight in Rome, and Richards allegedly stopped filming shortly after.
Bravo has not confirmed that Richards left the season before filming ended. We do know, however, that she did not make it to the cast party following the finale.
Brandi Glanville prepares for war
Considering the serious nature of her allegations, Glanville understands that the drama is going to get very heated on RHOBH. Although Glanville is sticking by her original story, she recently took to Twitter to clear up some misconceptions about the upcoming season.
For starters, Glanville told fans that nobody stopped filming the show and that all of the cast members, including Richards, are going to be at the reunion. This means that all of the rumors about Richards quitting were blown out of proportion.
Brandi Glanville went on to say that she knows her life is going to be "ruined" this season, but she didn't seem too worried about it.
"Apparently my life is about to be ruined," Glanville stated. "Should be fun. Someone called in some lesbianic back up."
A rep for Richards has since denied that she ever quit filming. We still do not know what happened between Richards and her co-stars, but it definitely sounds like things got very heated.
How has Richards reacted?
So far, Richards has stayed relatively silent about all of the rumors surrounding the new season of RHOBH. That does not mean Brandi Glanville is telling the truth, but it is interesting that Richards has not come out and defended herself.
Glanville, on the other hand, has been anything but quiet about the situation. Taking to Twitter, Glanville has posted several messages about the drama and has been holding nothing back.
This includes a recent post in which she assured her followers that she is telling the truth about her affair with Richards. She also said that she is willing to take a lie detector test to prove that she really did hook up with her RHOBH co-star.
"I am not lying about ANYTHING that I said on housewives and I'm willing to take a lie detector test," she wrote. "Let's be clear I was not EVEN the aggressor!!!!"
Richards has stayed out of the spotlight in the weeks following the end of production. She even skipped out on a cast trip to New York City to watch Erika Jayne perform on Broadway in the play, Chicago.
Catch all the drama between Brandi Glanville and Denise Richards when the new season of the Real Housewives of Beverly Hills premieres later this year.