Kelly Ripa vs. Mark Consuelos: Who's Worth More?
Kelly Ripa and Mark Consuelos are a power couple. Each are successful in their own right. Which celebrity is worth more, Ripa or Consuelos?
Kelly Ripa and Mark Consuelos have been married over two decades. The couple, who met filming All My Children, have three children and sometimes still work together. Ripa earns the bulk of her money via co-hosting Live With Kelly and Ryan, while Consuelos is a series regular on the CW show, Riverdale. Between the two, which is "worth" more?
Kelly Ripa wears many hats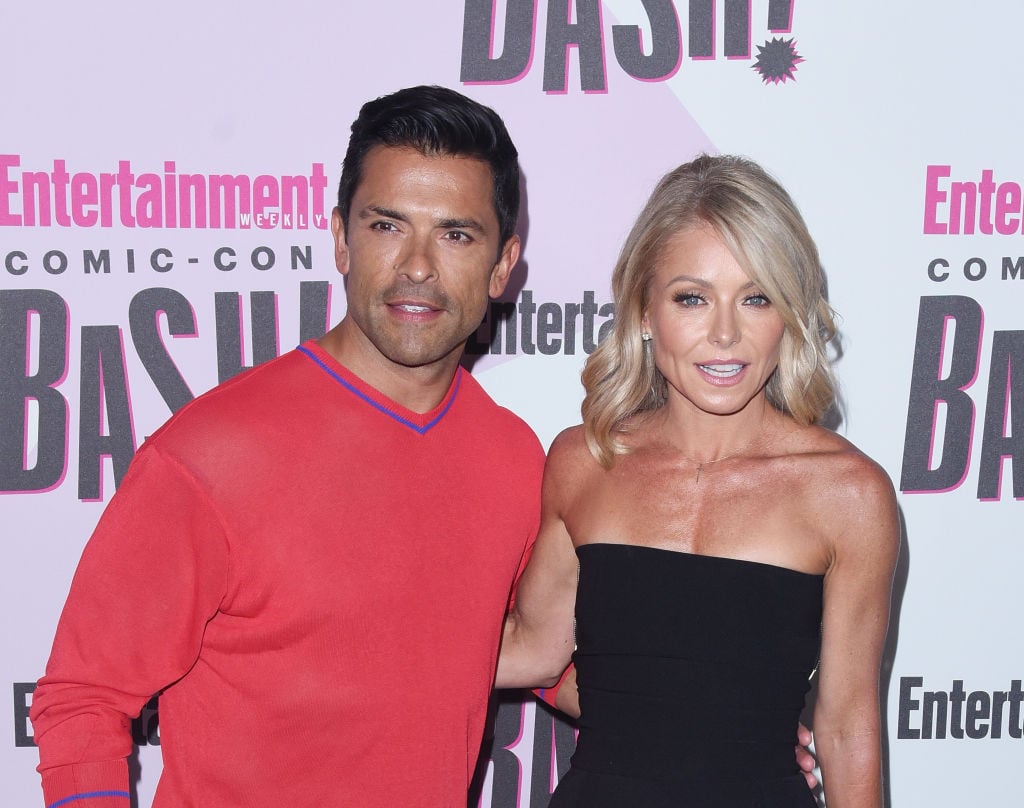 Everyone knows Ripa started out in 1990 with her long-running stong on All My Children. It's where she and Consuelos met and fell in love since he, too, was also on the show. She's earned eight Daytime Emmy nominations over the years for her role as Hayley Vaughn-Santos.
According to her IMDb, Ripa also had a starring role in the ABC comedy, Hope & Faith from 2003-2006, and has since appeared on numerous other shows as a gust star such as American Housewife, Riverdale, and more.
Before Live With Kelly and Ryan, Ripa hosted the show with former NFL player, Michael Strahan, and the legendary Regis Philbin before that. She's been part of the long-running show since 2001 when Kathie Lee Gifford left.
TV shows aside, Ripa is the face for brands like Tide, Colgate, Ancestry.com, Electrolux, and more. She's one busy woman.
Mark Consuelos is best known for his role on 'Riverdale' and 'All My Children'
Consuelos, who graduated from the University of South Florida with a degree in Marketing, also got his big break on the daytime soap, All My Children, in which he appeared from 1995-2010.
According to his IMDb, Consuelos has appeared as a guest star on a lot more projects than many realize. Though he also starred on Ripa's series, Hope & Faith, the actor's also been in Ugly Betty, American Horror Story: Asylum, Alpha House, and Pitch.
Before landing his current role as Hiram Lodge on Riverdale, Consuelos picked up recurring roles in the TV drama, The Night Shift, as well as the crime drama, Queen of the South.
Acting chops aside, Consuelos snagged nominations for Best Supporting Actor in a Drama Series, he won three Soap Opera Digest Awards and two ALMA Awards for his work in All My Children.
Which spouse has a higher net worth?
In 2017, Forbes reported that Ripa was raking in a whopping $18 million salary for Live. It was expected to be closer to $20 million after her annual raise.
This, plus her endorsement and guest-star deals, brings Ripa's estimated net worth to close to $100 million.
Mark Consuleos's estimated net worth is around $40 million. This may or may not include the couple's shared assets, like the 2014 sale of their NYC penthouse that went for $20 million, according to Zillow.
Ripa and Consuelos also run a joint NYC-based production company, Milojo Productions to get future projects off the ground.
It seems this pair is unstoppable both on-screen and off. We foresee more Ripa and Consuelos coming your way in 2020.