Kelly Ripa Shares What Makes Her 24-Year Marriage to Mark Consuelos Works
Coming up on their 24th anniversary, "Live! With Kelly and Ryan" star Kelly Ripa talks of her marriage to Mark Consuelos.
Talk show host Kelly Ripa and Riverdale's Mark Consuelos are one of Hollywood's most admired couples. With three kids – sons Michael, 22, Joaquin, 16, and daughter Lola, 18 – the two have established success in both their professional and personal lives.
Coming up on their 24-year anniversary, Ripa is revealing some of their secrets to keeping their love alive.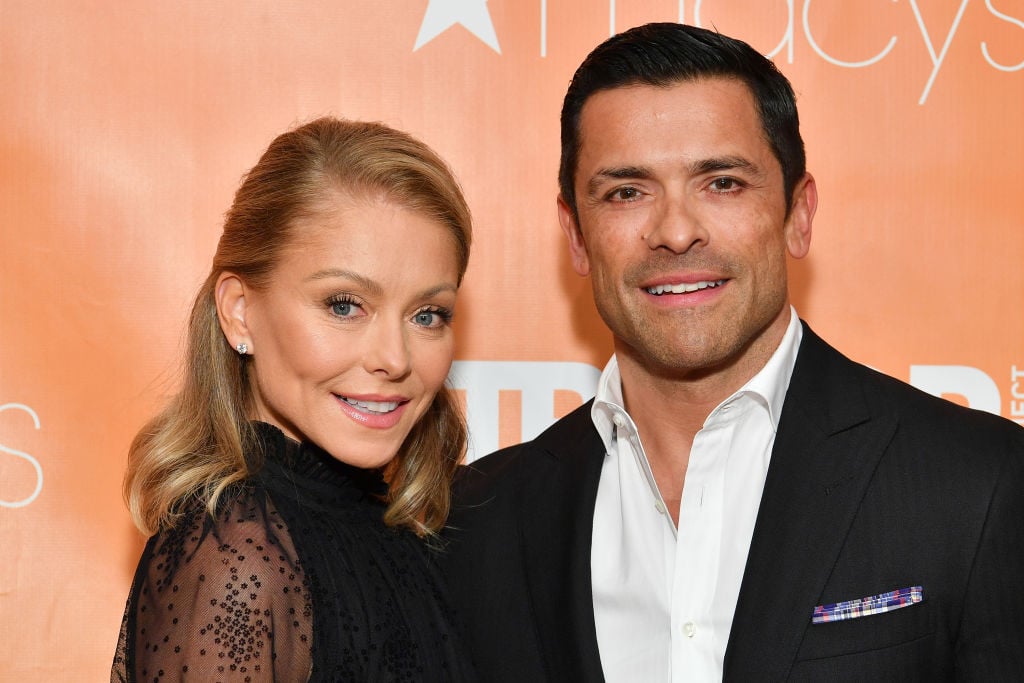 Eloped in Vegas
The two met on the set of ABC's iconic soap opera All My Children where they were cast as a romantic couple. Sparks flew immediately.
"I thought she was adorable, hot, and sexy and all that stuff," Consuelos told HuffPost in 2014."But I was very focused — I didn't really think I had a chance with her, so I wasn't really focused on that."
The chemistry was instant for Ripa even before meeting Consuelos in person. "When I saw him, the photograph of him, I saw my entire future with him flash before — like I saw it," Ripa said of her husband in 2018. "And I don't believe in any of that and now I do because of that moment."
Once they started dating, they kept their relationship a secret from their cast mates. According to Good Housekeeping, it was only a few months into their romance when Consuelos popped the question. "I said, 'Ask me when you're serious,'" Ripa revealed. "And he said, 'I am serious. Let's go to Vegas tomorrow and get married."
Ripa didn't hesitate. Eloping in Las Vegas on May 1, 1996, Ripa chose to wear a simple $199 dress she'd purchased from the clearance rack. "I didn't buy it as a wedding dress," she told Us Weekly. "I just bought it because it was really pretty, and I wanted to buy something from the Barney's Warehouse sale."
The couple worked together for six more years on the soap (playing a married couple on the show as well) until Ripa headed to replace Kathie Lee Gifford on Live! alongside Regis Philbin.
'Marathon' marriage
Ripa recently spoke of her relationship with Consuelos and how it has flourished after all these years. "You're going to fight, you're going to have disagreements," she said, according to Yahoo! Entertainment. "Relationships, marriages are not sprints, it's a marathon."
Acknowledging that all couples will have storms to weather, the Live! With Kelly and Ryan star shares the importance of staying the course. "There's going to be like, mile 24, when you're like, I quit. But you just got to push through. Just push through," Ripa advised. "There's really nothing that's that insurmountable, besides abuse or things of that nature. You're going to fight. You're going to have disagreements. You're going to fundamentally not agree on things."
Communication is key
With Ripa on the East Coast for her talk show and Consuelos out west when he's filming Riverdale, the two make a priority of making contact despite the distance.
"We definitely text a lot because usually one of us is on set and I'm three hours ahead of him, time-wise. On Riverdale, they shoot at night a lot. He's usually working at 2, 3, 4 in the morning," she shared. "Sometimes it's great for me because I'm up and on my way to work and sometimes it's in the middle of the night."
The pair also makes time to see each other face to face, even if it's just on the phone. "When we have the time, we FaceTime, and it's great to see him," Ripa shared.
The couple will be celebrating 24 years of wedded bliss in May!