Kelly Rowland Showed Up For Beyoncé In the Most Destiny's Child Way
These ladies share their love for one another both on and off the stage. Recently, Kelly Rowland appeared wearing some of Beyoncé's maroon and orange "athleisure," created in part with Adidas. Here's what we know about Beyoncé, Kelly Rowland, and the friendship between these powerful ladies.
Kelly Rowland wore clothes from Beyoncé's clothing line with Adidas
It seems like every year, Beyoncé just gets bigger and better. At the start of 2020, the artist released a burgundy and orange clothing collection, Ivy Park x Adidas. Within a few days of the drop, however, one Destiny's Child member, Kelly Rowland appeared wearing the new Ivy Park products. Honestly, no fans of either artist were surprised. 
Beyoncé's BFF took to the streets, sporting the sneakers and a jacket from the new collection. Kelly Rowland received these products, presumably, in the giant PR box, as did celebrities like Zendaya, Ellen DeGeneres, Janelle Monáe, and Hailey Bieber. 
Not that Beyoncé needed the promotion, of course. The diva sold out of products in a matter of hours, with some fans still looking to get their hands on the shoes and clothing items in the collection. In turn, Beyoncé took to social media, promoting new music from this artist and other friends. 
Beyoncé often promotes Kelly Rowland's music
Although Beyoncé has her own endeavors, she's not afraid to promote the music of some of her best friends. During April 2020, the award-winning artist posted about Kelly Rowland's song, "Coffee," captioning her photo, "Get Your Coffee."
In turn, Kelly Rowland posted about Beyoncé for Mother's Day, sharing pictures of the artist with her daughter, Blue Ivy Carter, and her twins. Recently, Beyoncé Knowles-Carter also posted about the recently-released songs of sister duo, Chloe X Halle. She even promotes the music of Destiny's Child member Michelle Williams and her sister, Solange.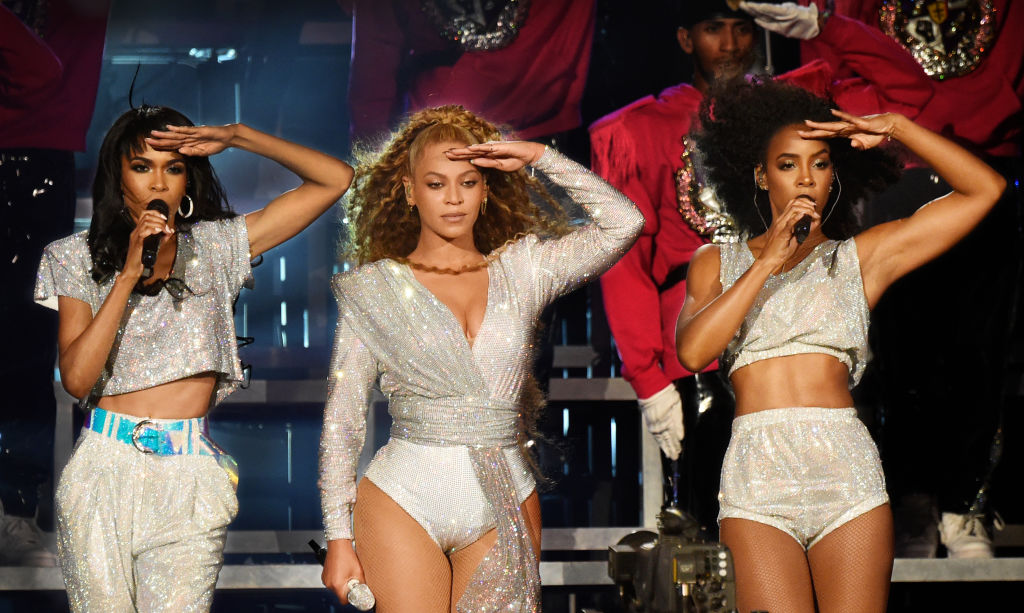 Destiny's Child reunited during Beyoncé's Coachella performance
They're still sisters. Although Destiny's Child technically separated a few years ago, the ladies still get together to perform. That includes Beyoncé's Super Bowl halftime show and her groundbreaking Coachella performance-turned-Netflix-documentary, Homecoming: A Film By Beyoncé.
"We rehearsed like crazy. I would go back to LA and we would be in rehearsals. They were intense. It was so much fun. When we finished I was sad, thank God Michelle and Bey were still in town, so I could still see them. It spoiled me all the time we were able to spend together, but that creative time is pretty remarkable when we are together. It really is," Kelly Rowland said during an interview with Vogue. 
"What a blessing, right? And we still love each other," she continued. "We were laughing at that one day. We were getting ready, but our kids were running around. That's the fun part; it's the sweetest thing: they are going to be friends because we are all so close. Coachella was awesome."