Kendall Jenner Doesn't Need to Abuse Photoshop But Definitely Does It Anyway
The Kardashians are no strangers to selfies. They take tons of them, and then they alter tons of them. In addition to altered selfies, the Kardashian/Jenner clan also edits plenty of their family photos.
Their family photos are full of people pasted into the scene, extra digits on hands and feet, and strangely elongated body parts.
All of this editing in an effort to make their bodies appear perfect has people wondering about their self-image — especially Kendall Jenner, who certainly doesn't need any photo editing. 
Does the Kardashian/Jenner family use a lot of Photoshop?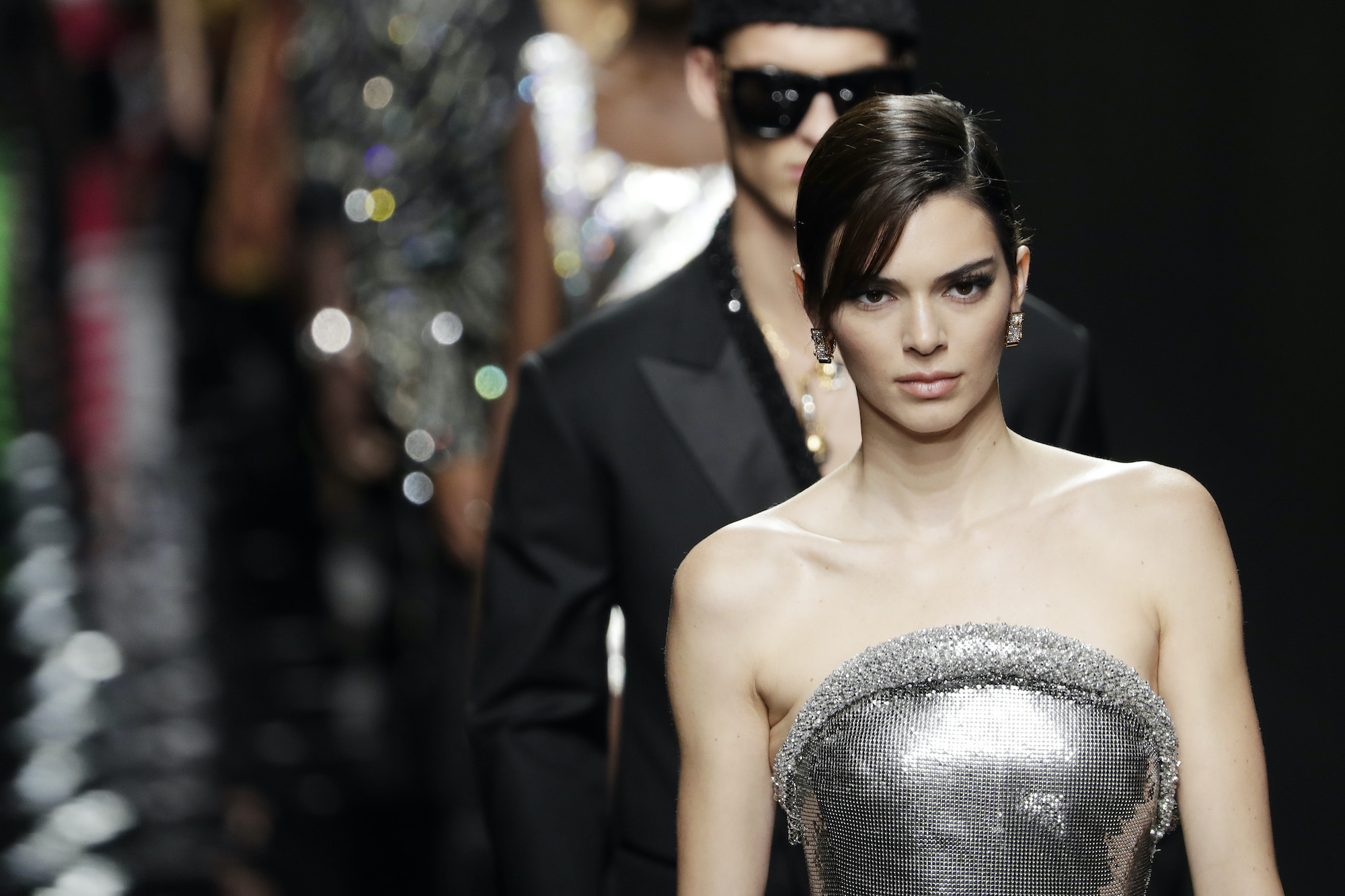 Despite being known as some of the most beautiful people in Hollywood, the Kardashians seem to be big Photoshop fans. Not only do they use a lot of it, they do it badly. You'd think they'd be experts by now.
The Kardashian Photoshop flops are all over the internet. There were several where Kim couldn't get her whole brood to cooperate at the same time, so she simply added the cranky child in later.
It's blatantly obvious in the Flintstones-themed Halloween photo of the Kim, Kanye, and the kiddos, per Harper's Bazaar. Kanye dressed as Dino, and one-year-old Chicago was so afraid of him that she had to be photographed separately and edited in after. Unfortunately, the child looks like she's floating around at the bottom of the picture. 
During a photo shoot for a family Christmas card, North had been grumpy and uncooperative. She didn't want to be on the card, so Kim removed her from the shoot. Later, when North changed her mind, her photo was taken to match the rest of the family and she was added to the final card.
Although this photo was edited better than the Halloween photo, fans still noticed that North seemed to be looking in a different direction than the rest of the family. 
These aren't the only Kardashian/Jenner photo editing snafus. In 2014, Gordon Ramsay posted a picture of himself with Kris Jenner and her new cookbook. Jenner later posted the photo herself, and the heavy-handed editing was really over-the-top. Both Ramsey and Jenner had a lot less wrinkles in the edited photo, along with completely different skin tones. 
In 2016, Kylie Jenner posted a much-talked about photo in her new jeans. Her butt seemed so outrageously unproportionate to the rest of her body that several fans thought she enlarged it. The huge pockets and belt loops seem to support their suspicion.
What are Kendall's biggest Photoshop blunders?
RELATED: How Kendall Jenner Became the Highest Paid Model In the World
Kendall Jenner definitely doesn't appear to use Photoshop as frequently as her sisters, but it may just be that she's better at it. It takes a really sharp eye to notice Jenner's editing mistakes, but some fans do catch them–or they think they do.
Jenner's most common editing faux pas seems to be her warped and bendy backgrounds. In several images, it seems she manipulated her stomach. Unfortunately, she's also altering whatever is behind her in the photos, resulting in walls that bend and curve.
In a steamy photo of Jenner's bottom in a red bathing suit, the wall and stairs in the background don't quite line up right with her body. In a promo pic for Season 16 of Keeping Up With the Kardashians, per Seventeen, Jenner appears to be lying across Kylie's lap, but the angle is really strange. Even more strange is the fact that Jenner's thigh is oddly long and rubbery-looking, and appears to be completely missing a knee. 
Does Kendall have a self-image problem?
Jenner's latest selfie is getting a lot of attention on Reddit. Once again, fans noticed the star's probable editing blunder. The photo shows Kendall in a teeny, tiny yellow bikini, looking trim with a super tiny waist.
Eagle-eyed fans on Reddit noticed the warped and bending tiles in the background, insinuating that she trimmed her waist a little too much.
Redditors commented on how Jenner has had a lot of stomach editing fails, and some mentioned that she must have a very warped self-image. "Kendall of all people does not need to be edited. Shows how warped their self-image is."
Considering the amount of selfies the Kardashian/Jenner clan posts–and the fact that they alter so many of those selfies–it's probably safe to say that there are some kind of self-image issues happening there…