Why Kendall Jenner Fans Think She and Devin Booker 'Must Be Serious'
Kendall Jenner and Devin Booker recently celebrated their first anniversary. The model and the Phoenix Suns player have quietly enjoyed time with each other in between their hectic schedules. Jenner even confirmed that they're dating during the Keeping Up With the Kardashians Final Curtain Call reunion in June 2021.
Jenner and Booker also caught the attention of the influencer's solid fan base. Here's what many of her supporters think of her new beau.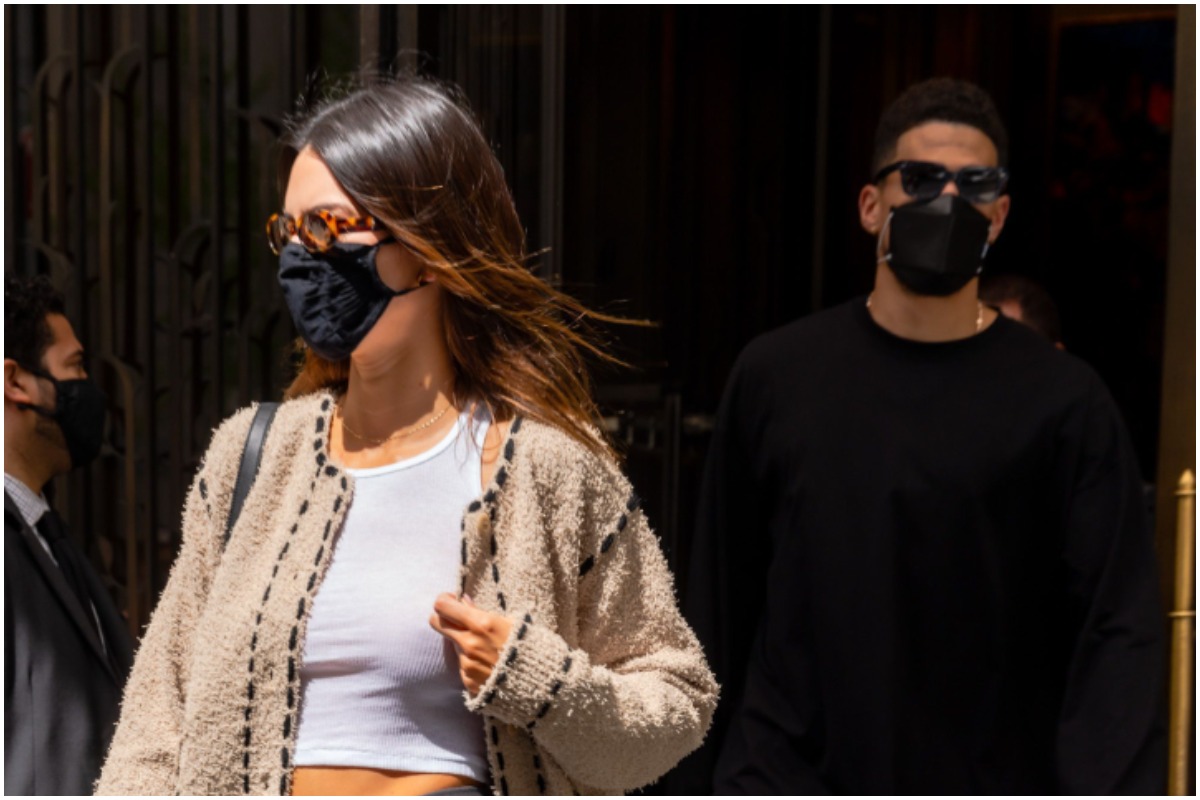 Kendall Jenner and Devin Booker are 'serious' for this reason, according to her fans
Many of Jenner's fans first met her on KUWTK. In the beginning, she and Kylie Jenner became famous for being Kim Kardashian West, Khloé Kardashian, and Kourtney Kardashian's little sisters. However, when Jenner decided to start modeling, her career slowly took off. Soon, she graced the runways of several fashion houses and has established herself as a working model.
RELATED: Is Kendall Jenner Older Than Her Boyfriend Devin Booker?
As Keeping Up fans watched Jenner grow up, some of them noticed that the 25-year-old reality star had kept most of her personal life away from the spotlight. However, that didn't stop Jenner from making headlines in 2020 when she and Booker got photographed together. Although she didn't say they were an item at first, fans connected them almost immediately. 
After several months of keeping their romance under the radar, the couple celebrated their anniversary earlier this year. In honor of their special day, they each left several photos and messages on Instagram. Following the shout-outs, some fans believe that Jenner and Booker will last. Others, however, felt "really weird" seeing the private reality star so open about her boyfriend.
"Wow, it must be serious," one fan declared on Reddit. "This is, like, her first-ever public relationship. I'm happy for her!"
How did Kendall Jenner and Devin Booker meet?
Jenner and Booker were first spotted together in April 2020. At the height of the coronavirus (COVID-19) pandemic, the couple took a road trip from Los Angeles to Arizona. Although it's unclear when they met, the pair started dating shortly after the trip.
RELATED: Kendall Jenner Has a Lower Net Worth Than Her Sisters But Is She Worth More Than Boyfriend Devin Booker?
Before Booker, Jenner reportedly dated several celebrities, including Nick Jonas and Harry Styles. She's also dated Jordan Clarkson, Blake Griffin, Kyle Kuzma, and Ben Simmons. However, Jenner said in 2017 that she planned to keep her romantic relationships as private as possible. 
"If I'm not fully, fully in it with someone, why would I make it public to everyone else?" she told Harpers Bazaar. "People want to start drama. If I had a boyfriend, people are going to say all this stuff that's probably going to cause us to break up."
Does Jenner's boyfriend have kids?
Since their relationship began, fans have wanted to know more about Booker. In 2020, rumors swirled that the athlete dated Kylie's former best friend, Jordyn Woods. However, the story was false.
Booker also faced rumors that he has a child with a woman named Aaleeyah Petty. The Grandville, Michigan native is 24.