Kendall Jenner Got Slut-shamed for NBA Dating History and the Kardashian-Jenner Sisters Came Out to Support Her
Every Kardashian-Jenner sister came out in support of Kendall Jenner after she was slut-shamed on TikTok.
Nobody has time for slut-shaming in 2020, least of all Kendall Jenner. After becoming the subject of a sexist tweet referencing her history of dating basketball players, Jenner clapped back in epic fashion. Unsurprisingly, her Kardashian-Jenner sisters were here for it and took to Twitter to show their support.
Kendall Jenner's dating history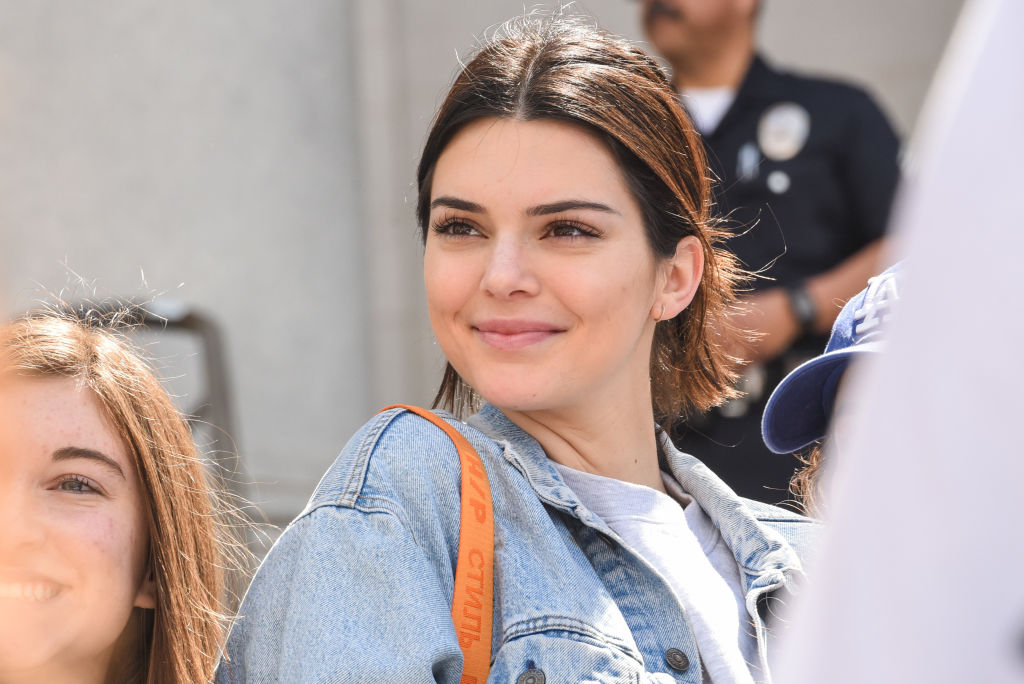 Jenner, second youngest of the Kardashian-Jenner clan, rose to fame on Keeping Up With The Kardashians. After expressing her interest in modeling to her mother, Jenner signed with Wilhelmina Models.
She quickly found success; the 24-year-old is currently one of the highest-paid models in the world. However, despite her professional success and continued appearances on KUWTK, Jenner is more private with her personal life in comparison to the rest of her famous family. 
Jenner rarely comments on her relationships, but her list of suspected exes is populated by celebrities including musicians, models, and of course, NBA stars. Rumors continue to swirl regarding Jenner's past involvement with Blake Griffin and Ben Simmons, and the supermodel has also been linked to Kyle Kuzma, D'Angelo Russell, and Jordan Clarkson.
Most recently, Jenner is rumored to be dating Phoenix Suns' point guard Devin Booker. TMZ reported the two were spotted on a "quarantine road trip" in Arizona.
While sources close to Booker and Jenner claim they're just friends, the sighting sparked a wildly sexist tweet referencing Jenner's supposed penchant for basketball players. The now-deleted tweet captioned a TikTok video: "Nba players passing around Kendall Jenner." The video shows some kind of game where three grown men toss a gleeful child in a circle.
Kendall Jenner claps back
Even though the misogynistic implications of the tweet were clear, the tweet blew up. One commenter went so far as to disrespect all of the Kardashian Jenners, saying: "That family been passed around for decades now."
However, Jenner's fans quickly came to her defense. "Maybe she passing them around," wrote one Twitter user. 
That's when Jenner decided to end the conversation. In reply to @demi1220's tweet, Jenner wrote: "They acting like I'm not in full control of where I throw my cooch."
The internet lost it.
"SAY IT LOUDER FOR THE PEOPLE IN THE BACK," one commenter wrote.
"PERIODDTTT" replied another.
Still, others noted the difference in how men and women are treated in the same situation. When a man dates a specific set of people, it's applauded. But when the woman does the same, she's shamed for it.
"Nobody cracked jokes that the models were passing Leonardo DiCaprio around," wrote one Twitter user. "But they want to crack jokes about @KendallJenner and Bballers."
The Kardashian-Jenner sisters respond
Fans on the internet were not the only ones supporting Jenner. All of Jenner's sisters showed their support for the model on Twitter. Kylie Jenner got the first reply. Just, two minutes after Kendall Jenner's Tweet, Kylie Jenner wrote: "lmfao tweet of the year."
The beauty mogul also tweeted (then deleted), "love a good cooch throw."
The remaining sisters kept their replies brief. Kim Kardashian West and Khloe Kardashian each retweeted Kendall Jenner's original post. West conveyed her amusement at her little sister's tweet with three of the cry-laughing emojis. Kardashian also used emojis to express her appreciation of the tweet.
Oldest sister Kourtney Kardashian simply retweeted Kendall Jenner, most likely thinking no additional comment was necessary. Even though their tweets were short, it was clear that they all had Jenner's back. Humorously, one fan speculated that the family group chat must have been "ACTIVEEEE."
Unfortunately, this is not the first time Jenner has had to speak up against a sexist and inaccurate post about her and NBA players.  Last year, Jenner shut down a meme comparing her dating history to a playoff team.
The narrative surrounding Jenner's dating history is entirely sexist and problematic. It sends a poor message to women. Jenner standing up for herself is an empowering way to foster change in the patriarchal and outdated dialogue around dating.